JAMAICA



Geography and Landscape
Geography
Jamaica (in Arawak: xaymaca = land of forest and water) is a British Commonwealth parliamentary monarchy on the island of the same name in the Caribbean Sea. It is an island of the Greater Antilles and is located 160 kilometers west of Hispaniola, 145 kilometers south of Cuba, 160 kilometers west of Haiti and 960 kilometers south of Miami in the United States.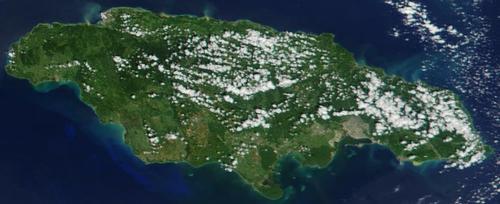 Jamaica Satellite photoPhoto: Public domain
Jamaica has a total area of 10,991 km2. The island is 235 kilometers long and ranges from 35 to a maximum of 82 kilometers wide and has a coastline of approximately 1022 kilometers. It is the third largest island in the Caribbean after Cuba and Hispaniola, consisting of the countries of Haiti and the Dominican Republic. Jamaica includes the island groups of Morant Cay and Pedro Cay to the south of the island.
Landscape
Jamaica was created about 60 million years ago when upward pressure and a drop in sea level caused many volcanic cones to rise above sea level. One of these volcanic cones would later become Jamaica. The islands that were created in this way were gradually surrounded by belts of coral limestone. Jamaica is quite mountainous, more than half of the island is more than 300 meters above sea level and more than 100 square kilometers is above 1500 meters. The coastal plains vary greatly in height, from flat to mountainous with peaks of 1366 and 1923 meters high. In the southwest are the famous elongated sandy beaches. The rest of the coast can be very steep with large and small bays. The capital Kingston is located on a bay in the southeast of the island.
The northeast is the highest part of the island where the Blue Mountains rise within eighteen kilometers from sea level to an altitude of about 2300 meters.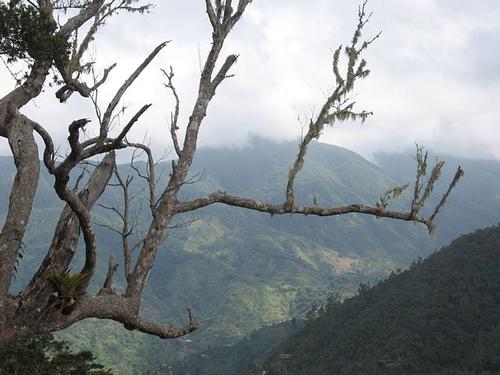 Blue Mountains, JamaicaPhoto: Wolmadrian in the public domain
A limestone plateau with karst phenomena (Cockpit Country) in the western part of the island covers over two thirds of the island. The wooded landscape is dotted with holes created by erosion. We also find extensive cave systems here. About five percent of the total area is lowland. On the north coast there is a coral reef that protects the coast there from the waves.
More than 120 rivers cross the island. Some rivers suddenly disappear underground and return to the ground miles away. The rivers in the north are often narrow with many rapids and waterfalls. The rivers in the south are wider and flow a little less fast. Most rivers dry up in summer. Only the longest (approx. 80 km) river in Jamaica, the Black River, is somewhat navigable. Other rivers are the White River, the Rio Grande and the Martha Brae. In the southwest is also an extensive marsh area, the "Great Morass".
Jamaica is in an earthquake zone: Port Royal was destroyed in 1692 and Kingston in 1907.
---
Sources
Baker, C. / Jamaica
Lonely Planet
Baker, C. / Jamaica
Kosmos-Z&K
Bayer, M. / Jamaica
Koninklijk Instituut voor de Tropen/Novib
Helm, R. van der / Jamaica
Elmar
Jamaica
Cambium
Wilkins, F./ Jamaica
Chelsea House Publishers

CIA - World Factbook

BBC - Country Profiles
Last updated October 2023
Copyright: Team
The World of Info