ARIZONA
Vacations and Sightseeing

Basic information
Official language
English
Capital
Phoenix
Area
295.254 km²
Population
7,640,796 (2021)
Currency
American dollar (USD)
Web
.us .gov .edu .mil .um
Code.
USA
Tel.
+1

Popular destinations USA
Vacations and Sightseeing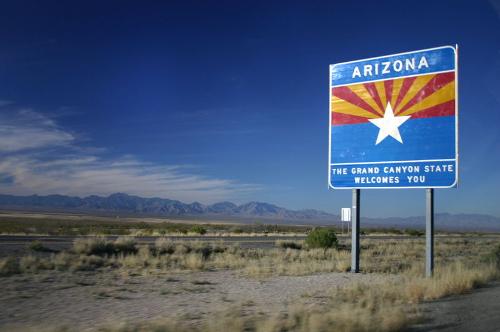 Welcome sign Arizona visitorsPhoto: Wing-Chi Poon CC 2.5 no changes made
The Grand Canyon is Arizona's largest tourist attraction with more than 4 million visitors a year; numbers of more than 5 million as in the 1990s are no longer achieved. It is a deep valley carved by the Colorado River. The gorge is extremely steep in places and there are some beautiful viewpoints on both the northern and southern rims. Daredevils can also take a canoe or kayak through the Grand Canyon. We also recommend a helicopter flight, where you can admire the most incredible panoramas.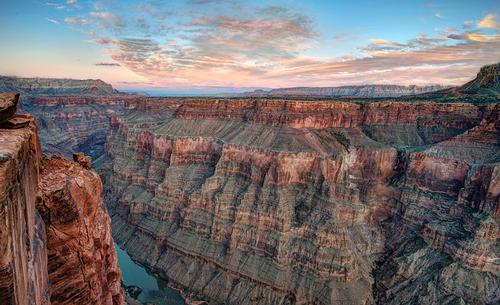 Grand canyon, ArizonaPhoto: John Fowler CC 2.0 Generic no changes made
Northern Arizona has snow-capped mountains, wind-formed table landscapes, dense pine forests, including the largest ponderosa pine forest in the world, and gigantic canyons. This region contains some of the best hiking and biking in the state of Arizona, as well as a wide variety of flora and fauna.

North-Central Arizona has cooling pine forests, numerous mountains, shady hiking trails and many lakes and rivers that make North Central Arizona a perfect area for hiking, biking, camping and fishing. North Central Arizona is also known for its winter sports and is home to many rodeos and festivals throughout the year.

From high to low and wet to dry, Central Arizona has it all, mountain walks are possible, but also a tour through the desert or recreation on a lake. These changing conditions allow for a diverse fauna and flora, such as coyotes, hawks, rattlesnakes, scorpions, palm trees and cacti.
Saguaro National Park ArizonaPhoto: Murray Foubister CC 2.0 Generic no changes made
Rock climbing, desert and mountain biking, skiing, bird watching and golf top the list of activities in Southern Arizona. The region is home to Kartchner Caverns, a 550-acre park with spectacular caves and hiking trails, and Saguaro National Park, home to forests of huge saguaro cacti.

In Western Arizona, Lake Mead and Lake Havasu provide excellent conditions for water sports activities, but this area also has a wide variety of flora and fauna. Yuma, in the southernmost part of the region, is a paradise for avid bird watchers and is also home to a number of protected natural areas.

Very special is Antelope Canyon, consisting of Lower Antelope Canyon (length 407 meters) and Upper Antelope Canyon (200 meters long), near the town of Page, a heavily domed canyon of eroding petrified dunes.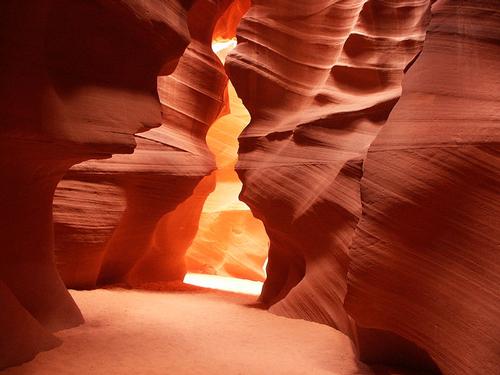 Antelope Canyon, near Page, Arizona Photo: Meckimac CC 3.0 Unported no changes made
One of the most impressive views is Horseshoe Bend, a 300-foot rocky outcrop around which the Colorado River winds. Monument Valley, located in Northern Arizona on the border with Utah is a desert area with beautiful sandstone cliffs and table mountains, up to 360 meters high, with beautiful names such as Three Sisters, Eagle Rock, Bear and Rabbit, Elephant Butte, Totem Pole, Mittens (East and West Mitten Buttes) and John Ford's Point.

Mittens in Monument Valley in winter, ArizonaPhoto: Sirrobcool in the public domain
The London Bridge in Lake Havasu City is very special. The bridge originally stood in real London from 1831 to 1967, but was in danger of collapsing. There was no money for repair and restoration and the American Robert McCulloch conceived the plan to buy the bridge for approximately $ 2.46 million and to be shipped to Laka Havasu City in approximately 10,000 parts. This happened and the bridge is the second most visited Arizona landmark after the Grand Canyon.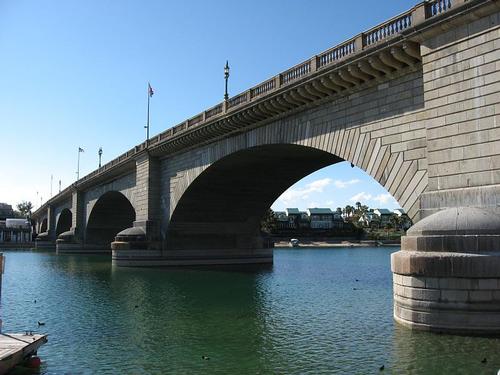 London Bridge in Lake Havasu City, ArizonaPhoto: Ken Lund CC 2.0 Generic no changes made
---
Sources
Balfour, Amy C. / Arizona
Lonely Planet

Balfour, Amy C. / Southwest USA's best trips : 32 amazing road trips
Lonely Planet

BBC - Country Profiles

CIA - World Factbook

Elmar Landeninformatie

Fodor's Arizona & The Grand Canyon 2015
Fodor's Travel

Heetvelt, Angela / Zuidwestelijke staten van Amerika
Gottmer/Becht

Southwest USA
Lonely Planet

USA-Zuidwest & Las Vegas
Van Reemst

Ward, Greg / The rough guide to Southwest USA
Rough Guides

Wikipedia

Zuidwest-USA
Lannoo
Last updated April 2023
Copyright: Team
The World of Info