ANGOLA



Geography and Landscape
Geography
Angola is located in the southwest of Africa, south of the equator, and is bordered to the north by the Democratic Republic of Congo (Congo-Kinshasa, 2421 km, excluding Cabinda) and the Republic of the Congo (Congo-Brazzaville, 231 km), in the south at Namibia (1427 km) and in the southeast at Zambia (1065 km). In the west, Angola borders the Atlantic Ocean with a coastline of approximately 1,650 km. The vast country stretches inland for about 960 kilometers.
Bordering the Atlantic Ocean, the Cabinda exclave is an Angolan province sandwiched between the Democratic Republic of the Congo to the south and east and the Republic of the Congo to the north. The former Portuguese protectorate (Portuguese Congo) has an area of 7270 km².
The area of Angola is 1,246,700 km². Worldwide, 23 countries are larger than Angola, in Africa there are only six countries, Algeria (2,381,741 km²), Democratic Republic of Congo (2,344,858 km²), Sudan (1,886,068 km²), Libya (1,759,540 km²), Chad (1,284,000 km²) and Niger (1,267,000 km²), greater than Angola.
Angola Satellite PhotoPhoto: Public domain
Landscape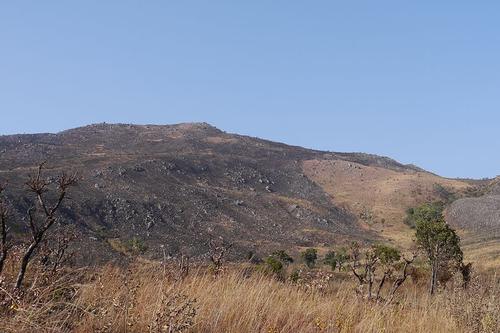 Highest mountain in Angola Morro de MocoPhoto: Benjamin Stauch in the public domain
The landscape of Angola is mainly characterized by three major landscape types: the low-lying coastal strip, the hills and mountains and a vast plateau. The coastal strip in western Angola ranges in width from just 25 kilometers in the Benguela region to 150 kilometers in the Luanda region in the Cuanza River valley.
East of the coastal strip begins a strip of hills and mountains., about 135 kilometers wide in the north and only 30 kilometers wide in Central Angola and to the south. North of the Cuanza River, the lowlands gradually change into a hilly landscape with a height of about 500 meters. South of the Cuanza River, the landscape rises spectacularly fast to heights of up to 2,400 meters in the Serra da Chela mountain range in Huíla province.
The rest of Angola, about 2/3 of the country, is occupied by the high-altitude Biéplateau, part of the Central African Plateau, which stretches from the south of the Democratic Republic of Congo to Namibia. The average height of the plateau is 1828 meters;the higher parts have an average height of 2500 meters. The highest mountain in Angola is Morro de Moco, located in the province of Huambo, with a height of 2619 meters. Other high mountains in Angola are the Lupangue (2554 m), the Ungungi (2511 m), the Senha (2494 m), Mbuindo (2480 m), Vavele (2479 m), Chalima (2478 m), Catchimanha (2451 m), Tchila (2,442 m) and Sacotiquite (2,438 m).
In the southwest of Angola is another offshoot of the Namib Desert or Namib, which extends to the Angolan city of Namibe. The northern part of this desert is also called Kaokoveld Desert and consists of gravel plains, hills, valleys, sand dunes and sand plains.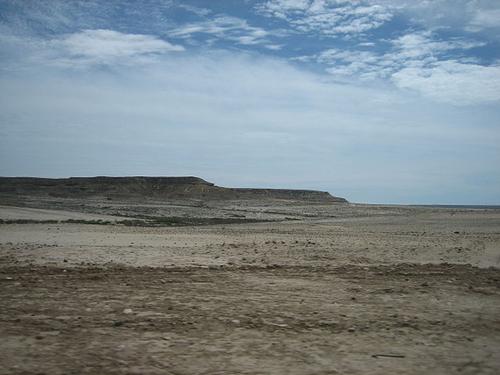 Namib desert in AngolaPhoto: Erik Cleves Kristensen CC 2.0 Generic no changes made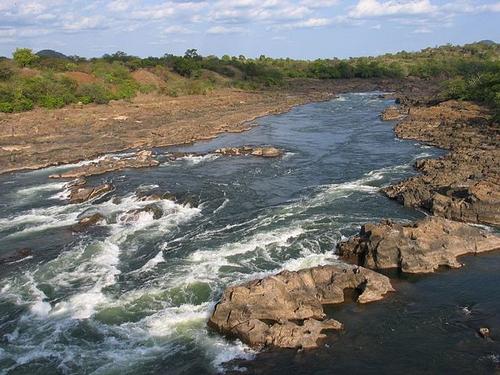 Angola's longest river is the CuanzaPhoto: Jlrsousa CC 2.0 Generic no changes made
Angola has a network of rivers, most of which originate in the mountain region. The country's main rivers are the Cuanza (Kwanza) and Kunene (Cunene). The Cuanza flows to the north, the Kunene to the south, but both eventually flow into the Atlantic Ocean. The Cuanza is the longest (950 km) river entirely in Angola. The Kunene (1050 km) forms in the south of Angola the border with Namibiaa and never dries up in summers with normal rainfall, unlike most other rivers of Angola.
The Cuanza is navigable from the coast for transport purposes for a little over 200 kilometers, the other rivers of Angola are hardly usable for that purpose, but are used for irrigation and hydroelectricity, among other things. Other important rivers of Angola are the Cubango, Cuando, Cassai, Cuito and Chicapa. The border with the Democratic Republic of Congo is formed by the mighty Zaïre (aka Congo).
Climate and Weather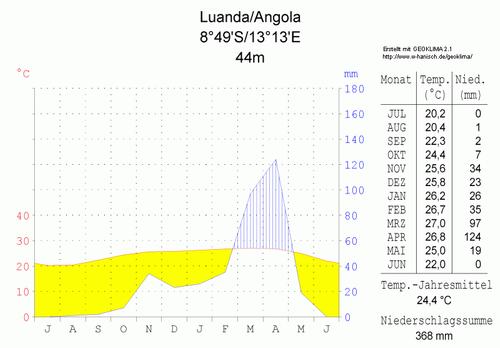 Climate table Luanda, capital of AngolaPhoto: Hedwig in Washington, CC 3.0 Unported no changes made
The climate of Angola varies with elevation and depends on latitude, but is most affected by the relatively cool Benguela Gulf Stream, which is particularly the temperature on the coastal strip. bearable and the rainfall limited. In a broad sense, Angola can be divided into four climatic zones: the north, with heavy rainfall and high temperatures;the central plateau, quite dry with average temperatures around 19°C and cold nights;the cool and relatively dry coastal plain;and finally an offshoot of the Namib desert in the south of Angola with drought and very high temperatures.
Angola has two seasons: the rainy summer season officially starts on September 15th. The hottest months are September and October, the rain starts to take on severe form from November to May. The dry and cooler season is also called 'cacimbo' and lasts from May to September. This period is characterized by gray skies and heavy morning mist, which often only dissolves around noon. In the capital Luanda, not a drop of rain falls during this period. July and August are the coolest months. The provinces with the most rainfall are Cabinda, Malanje, Uíge, Lunda Norte, Lunda Sul, Moxico, Cuando Cubango and Cunene.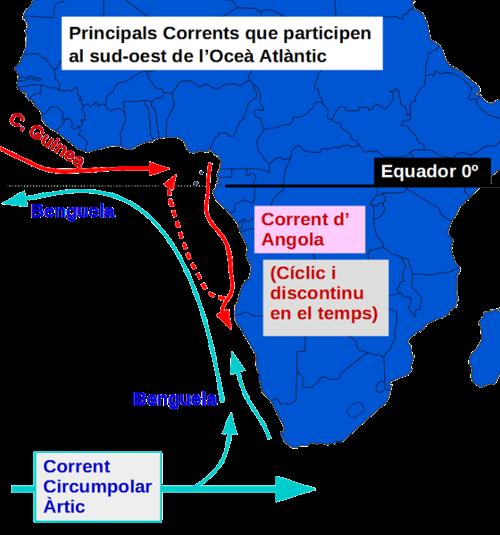 Benggala Gulf Stream, influence the climate of AngolaPhoto: Castell CC 4.0 International no changes made
North of Angola, where the highlands no longer rise above 1000 meters, and in the exclave Cabinda, has a tropical climate with a rainy season that lasts from mid-October to mid-May in the west and from mid-September to April in the east. More than 1000 mm of precipitation falls in this part of Angola every year. In the west the sun shines relatively little, from February to June only six hours a day, from July to January only four or five hours a day. This is due to the heavy clouds that hang over the area, even in the dry season. In the east, the sun shines much longer on average, especially in the dry season.
Plants and Animals
Plants
Angola is home to at least 8,000 plant species, of which 1,260 are endemic, placing Angola in second place of countries in Africa with endemic plant species. About half of the country, including the inland high plains in the provinces of Moxico, Bié, Malanje and Lunda Norte, is covered with open tropical forest or 'miombo'. 30% of Angola is covered with savannahs or dry tropical forest;5% of the inland plateau and the provinces of Huambo, Bié, Kwanza Sul and Huíla are covered with grassland and meadows;2% of the country is covered with tropical rainforest or 'maiombe'. This rainforest is home to special tree species, including the most expensive and second most expensive wood species in the world, respectively from the m'pingo or (African) grenadilla and the African sandalwood tree Osyris lanceolata, and also the ebony tree.
M'pingo, one of the most expensive woods in the worldPhoto: Abu Shawka, CC 4.0 no changes made
Tropical rainforest can still be found in the provinces of Uíge and Lunda Norte, but it is under severe threat from agricultural activities and logging. Other types of vegetation are the African mountain forest above an altitude of 2000 meters and the dense tree savannas, mainly with the mopane tree, a subfamily of the legume family. This landscape, in the south of Angola in dry, warm areas between 200 and 1150 meters high, is mainly in the front of Cuando Cubango and the Cunene provinces. Growing as a shrub and tree, the mopane can reach heights of up to 18 meters and is an important food source for a variety of animals, including elephants and the night peacock caterpillar.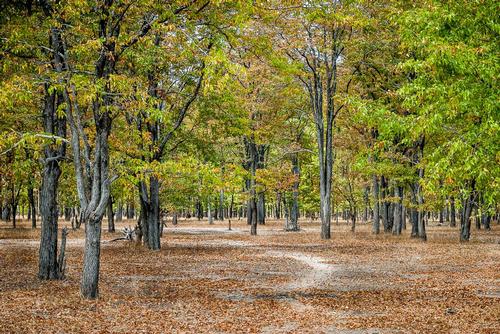 Mopane forest, AngolaPhoto: Van Staden Joggie CC 3.0 Unported no changes made.
A unique plant, the tumboa (Weltwitschia mirabilis), grows in the Namib Desert, 0.5% of the surface of Angola and located in the southwest of Angola. This plant has broad leaves of several meters in length that lie on the desert soil.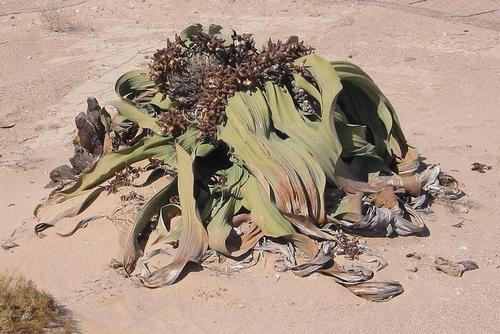 Weltwitschia Mirabilis AngolaPhoto: Freddy Weber in the public domain
The African baobab or monkey bread tree is also fairly widespread in the dry semi-arid climate north, east and especially south of the capital Luanda.
In Angola, the tree, with a trunk circumference of up to seven meters and a height of up to 25 meters, is known under the Kimbundu name 'imbondeiro'. The tribe is home to thousands of gallons of water during the rainy season and the seed and fruit are also eagerly utilized by the local population.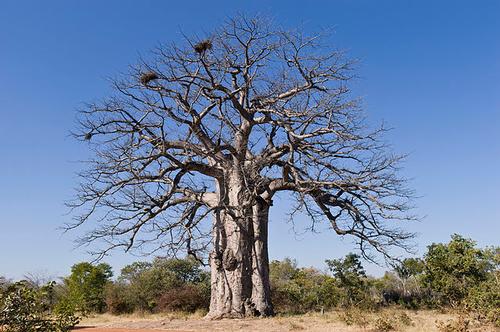 Imbondeiro or African baobab, AngolaPhoto: Alfred Weidinger CC2.0 Generic no changes made
Animals
It is estimated that Angola is home to 275 mammal species, 78 amphibian species, 227 reptile species (19 of which are endemic), 915 bird species and 300 insect species. The best place to see these animals in their natural habitat are the six national parks, not all of which are in great shape.
The national parks Mupa, Cameia and Bicuar can really only be regarded as national parks on paper;resources, infrastructure, conservation and information are seriously inadequate, poaching and environmental degradation through human intervention are the order of the day. The Iona National Park, Cangandala National Park and the Kissama National Park are doing better, only the latter park is allowed for tourists and facilities are available.
Angola's national animal is the endangered giant sable antelope, with horns up to 1.5 meters long and found in a small area between the city of Cuango and the Luando River.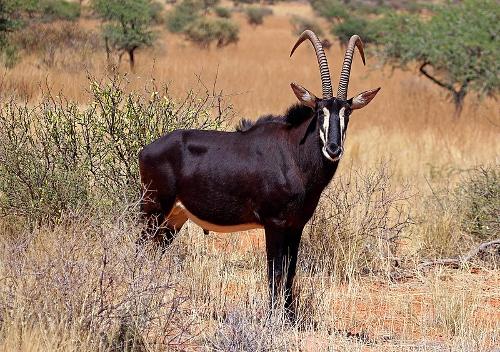 Giant saber antelope, national animal of Angola Photo: Charles J. Sharp CC 4.0 International no changes made
Only the English name of a number of animals below is known
| | | |
| --- | --- | --- |
| mammals | | |
| great otter shrew | Congo gold mole | short-nosed elephant shrew |
| South African Elephant Shrew | Elephant Shrew | four-toed elephant shrew |
| aardvark | southern treetop tie | steppe or yellow spot tie |
| Cape cliff badger, dassie or rock badger | elephant savanna | West African manatee |
| golden angwantibo | potto | South African galago |
| dwarf galago | southern keel rivet galago | swamp monkey |
| Dwarf Meerkat | malbrouck | red-tailed meerkat |
| gag meerkat | diadem meerkat | brazzameerkat |
| big white-nosed meerkat | crown or Graymeer cat | mantle or gray-cheeked mangabey |
| crested mangabey | yellow baboon | bear or Cape Baboon |
| southern frilly monkey | western gorilla | chimpanzee |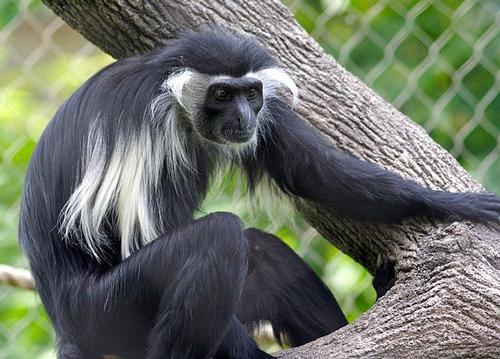 Southern frilly monkey (Colobus angolensis) is almost non-existent in Angola Photo: Ryan E. Poplin CC 2.0 Generic no changes made
| | | |
| --- | --- | --- |
| mammals | | |
| Bocage's mole-rat | Damara molrat | Mechow's mole-rat |
| rock or dassierat | Lord Derby's scaly-tailed squirrel | beecroft spiny-tailed squirrel |
| South African springhare | damar round squirrel | Funisciurus bayonii |
| congo squirrel | fire-footed rope squirrel | little solar squirrel |
| Smith's bush squirrel | oil palm squirrel | Angolan African dormouse |
| Kellen's dormouse | small-eared dormouse | Monard's dormouse |
| Rock dormouse | Stone dormouse | Ankole molrat |
| pygmy rock mouse | Shortridge's rockmouse | gray climbing mouse |
| dorsal stripe | Nyika climbing mouse | African tree mouse |
| gerbil or long-eared owl | gambia hamsterrat | South African race mouse |
| dorsal grass mouse | striped grass mouse | many-nipple mouse |
| African Dwarf Mouse | African Red-nosed Rat | stripe mouse |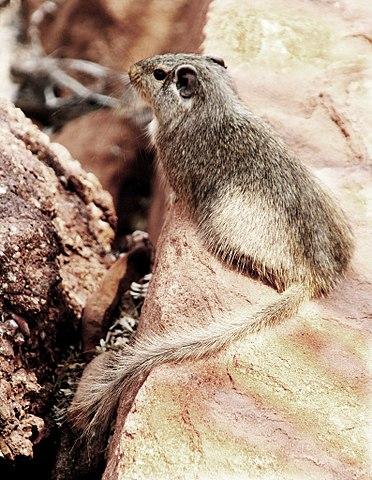 Rockrat, AngolaPhoto: Vernon Swanepoel CC 2.0 Unported no changes made
| | | |
| --- | --- | --- |
| mammals | | |
| Woosnam's broad-headed mouse | Hildegarde's broad-headed mouse | Middle African Rabbit |
| Jameson's red rock hare | Cape Hare | black-tailed tree rat |
| South African hedgehog | reddish-gray musk shrew | heather shrew |
| bicolored musk shrew | lesser red musk shrew | moonshine shrew |
| swamp musk shrew | blackish white-toothed shrew | African black shrew |
| African giant shrew | small-footed shrew | Roosvelt's shrew |
| lesser gray-brown musk shrew | turbo shrew | greater dwarf shrew |
| climbing shrew | palm fox (photo) | Angolan epauletted fruit bat |
| Peters's epauletted fruit bat | lesser Angolan epauletted fruit bat | Wahlberg's epauletted fruit bat |
| Dobson's epauletted fruit bat | Franquetvleerhond | hammerhead bat |
| angolaroezet | Hayman's dwarf epauletted fruit bat | small epaulette bat |
| collared bat | D'Anchieta's fruit bat | nijlroezet or nijlrousette |
| African Long Tongue Flying Fox | Damara woolly bat | Angolan hairy bat |
| Rufous mouse-eared bat | welwitsch bat | silvered bat |
| Beatrix's bat | Machado's butterfly bat | butterfly bat |
| Anchieta's pipistrelle | broad-headed pipistrelle | Angolan long-eared bat |
| Moloney's mimic bat | Cape serotine | yellow serotine |
| banana dwarf bat | smallest bat | Zulu serotine |
| Schlieffen's bat | Rüppell's pipistrelle | rusty pipistrelle |
| white-bellied lesser house bat | dark-winged lesser house bat | white-bellied yellow bat |
| Natal long-fingered bat | Ansorge's free-tailed bat | Nigerian free-tailed bat |
| little free-tailed bat | angola free-tailed bat | white-bellied free-tailed bat |
| large-eared free-tailed bat | Egyptian free-tailed bat | African sheath-tailed bat |
| Pel's pouched bat | mauritiusgrafvbat | Bate's slit-faced bat |
| shaggy slit-nosed bat | intermediate slit-faced bat | large-eared slit-faced bat |
| dwarf slit-faced bat | Theban slit-nosed bat | Geoffroy's horseshoe bat |
| Darling's horseshoe bat | Dent's horseshoe bat | Rüppell's horseshoe bat |
| lander horseshoe nose | Swinny'shorseshoe bat | Sundevall's roundleaf bat |
| giant roundleaf bat | Noack's roundleaf bat | three-leaf bat |
| | | |
| --- | --- | --- |
| mammals | | |
| giant pangolin | Temmincks, Cape or steppe pangolins | long-tailed pangolin |
| tree pangolin | minke whale | Antarctic Minke Whale |
| sei whale | Brydevinvis | blue whale |
| fin whale | humpback whale | southern right whale or Australian whale |
| sperm whale | dwarf sperm whale | dwarf sperm whale |
| Blainville's beaked whale | Gray's beaked whale | Cuvier's dolphin |
| Haviside dolphin | rough-toothed dolphin | tumbler |
| slender or Pantropian spotted dolphin | striped dolphin | Atlantic Spotted Dolphin |
| long-beaked or spinner dolphin | sarawak dolphin or Fraser's dolphin | killer whale or killer whale |
| dwarf friend | black sword whale | Indian Pilot Whale |
| white-lipped dolphin | | |
| cheetah or cheetah | caracal | African Golden Cat |
| black-footed cat | African Wildcat | serval |
| lion | leopard or panther | African Civet |
| miombogenet | genetkat | rustgenet |
| pardelroller | swamp mongoose | angolakoesimanse |
| fox mongoose or red meerkat | Angolan slender mongoose | slender mongoose |
| dwarf mongoose | Egyptian ichneumon | white-tailed mongoose |
| zebra mongoose or mungo | gray meerkat | meerkat |
| spotted hyena | brown hyena or beach wolf | aardwolf |
| Cape or Kamavos | striped jackal | black-backed jackal |
| long-eared fox or spoon dog | African Wild Dog or Hyena Dog | striped polecat or zorilla |
| white-necked weasel | honey badger or rattle | stain neck otter |
| Cape otter | Cameroon clawless otter | Cape fur seal |
| southern elephant seal | | |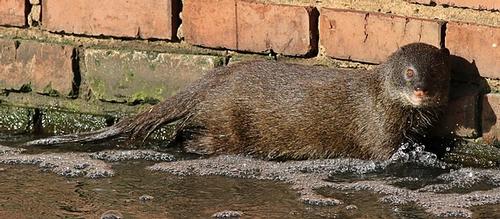 Swamp mongoose, predator AngolaPhoto: Derek Keats (Johannesburg, South-Africa) CC 2.0 Generic no changes made
| | | |
| --- | --- | --- |
| mammals | | |
| Chapman's zebra | steppe or plain zebra | Hartmann's mountain zebra |
| south-central black rhinoceros | south-western black rhinoceros | warthog |
| wild boar | hippo | water dwarf deer |
| angolagiraffe | hartbeest | Lichtensteinantilope |
| blue, striped, or common wildebeest | lyre antelope or topi | springbok |
| Kirk's of damaradikdik | klipspringer | orbi |
| ibex antelope or ibex | kaffir or African buffalo | bongo |
| eland antelope | bushbuck | sitatunga or swamp antelope |
| big kudu | bay duiker | blue diver |
| black-fronted diver | yellowback duiker | common diver or buck |
| Roan or horse antelope | sable or black horse antelope | gems or skewers |
| impala or rooibok | waterbuck | litschiewaterbok or lechwe |
| puku | reed buck | |
AngolagiraffePhoto: Charles James Sharpe, CC 4.0 International no changes made
The national bird of Angola is the red-crested turaco.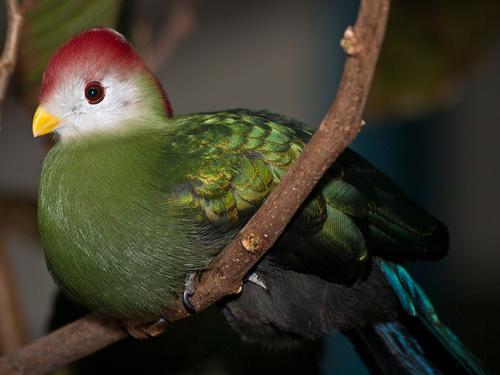 Red-crested turaco, national bird of AngolaPhoto: William Warby CC 2.0 Generic no changes made
| | | |
| --- | --- | --- |
| ostriches | | |
| ostrich | | |
| | | |
| ducks | | |
| white-faced whistling duck | red whistled duck | white-backed duck |
| knob billed duck | Hartlaub's duck | Egyptian Goose |
| Goose Goose | African Dwarf Dwarf | Hottentot teal |
| Cape Shoveler | shoveler | African Black Duck |
| Yellow-billed Duck | Cape Teal | red-billed pintail |
| brown crown duck | African spiny tail | |
| | | |
| guinea fowl | | |
| helmet guineafowl | black guinea fowl | crested guineafowl |
| crown guineafowl | | |
| | | |
| pheasants | | |
| quail | blue quail | harlequin quail |
| Hartlaubs frankoline | Grants franklin | scaled franklin |
| red-beaked franklin | Swierstra's frankoline | Swainson's franklin |
| red-throated franklin | crested franklin | Coqui franklin |
| white-throated franklin | Latham's franklin | redwing franklin |
| Finsch 'frankoline | Archer's frankoline | |
| | | |
| flamingos | | |
| flamingo | little flamingo | |
| | | |
| grebes | | |
| killer | grebe | black-necked grebe |
| | | |
| pigeons | | |
| rock pigeon | speckled pigeon | African wood pigeon |
| olive pigeon | bronze-necked pigeon | cinnamon tart |
| weeping dortel | red-eyed root | Cape Dove |
| palm turtle dove | emerald speckled pigeon | steel spotted pigeon |
| tambourine pigeon | Brehmer's pigeon | mask dove |
| African Puffin * | | |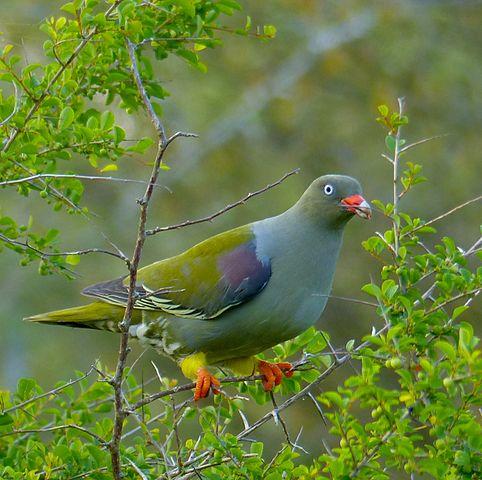 African puffin, pigeon species in AngolaPhoto: Bernard DUPONT CC 2.0 Generic no changes made
| | | |
| --- | --- | --- |
| sand fowl | | |
| namaqua sandgrouse | yellow-throated sandgrouse | double band grouse |
| fur sand grouse | | |
| | | |
| stairs | | |
| koritrap | Ludwigs trap | Denham's trap |
| senegal trap | Rüppels trap | South African crested staircase |
| botwana trap | black bellied stairs | |
| | | |
| turacos | | |
| giant turaco | green turaco | Schalows tourism |
| black-billed turaco | yellow-beaked turaco | red-crested turaco |
| Lady Ross's turaco | pale turaco | |
| | | |
| cuckoos | | |
| cuckoo | Senegalese spurgeon | monk spur cuckoo |
| copper-tailed spore cuckoo | eyebrow spur cuckoo | black track cuckoo |
| yellow-billed blue malkoha | crested cuckoo | Levaillant's cuckoo |
| Jacobin cuckoo | Fat-billed Cuckoo | diederik cuckoo |
| Klaas' cuckoo | yellow-throated cuckoo | emerald cuckoo |
| gray long-tailed cuckoo | brown long-tailed cuckoo | black cuckoo |
| hermit cuckoo | African Cuckoo | gabon spur cuckoo |
| | | |
| nightjar | | |
| nightjar | pennant nightjar | red-faced nightjar |
| black-shouldered nightjar | sooty nightjar | roughenzorin nightjar |
| swamp nightjar | rocky nightjar | long-tailed nightjar |
| gabon nightjar | | |
| | | |
| swifts | | |
| common swift | iturigierzwaluw | swift swift |
| Cassin's Swift | Böhms swift | scarce swift |
| alpine swift | scaly mountain swift | baobab swift |
| pale swift | Cape Swift | ladybird swallow |
| house swift | horus swift | raven swallow |
| African Palm Swift | | |
| | | |
| down tail rails | | |
| pearl blotch | brown spotral | European robin |
| ugallaral | Böhms ral | stripesral |
| | | |
| rales, cows and moorhens | | |
| African water rail | corncrake | African Corn Crake |
| spotted crake | African Moorhen | moorhen |
| cooty coot | African Grouse | emerald purple hair |
| nkulengural | African Spotted Crake | Black Spotted Crake |
| smallest moorhen | | |
| | | |
| Grebe Coots | | |
| water treadle | | |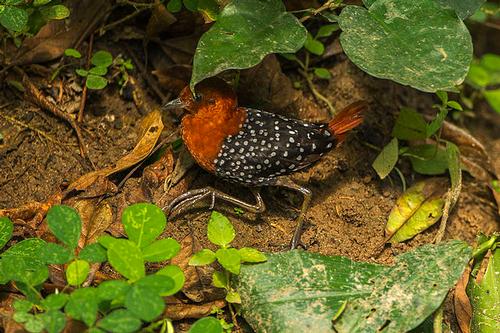 Pearl blotch, AngolaPhoto: Francesco Veronesi CC 2.0 Generic no changes made
| | | |
| --- | --- | --- |
| cranes | | |
| gray crowned crane | black crowned crane | wattled crane |
| | | |
| Burhinidae | | |
| water thick-knee | Cape Griel | |
| | | |
| Crocodile Guardians | | |
| crocodile guardian | | |
| | | |
| avocets | | |
| pied avocat | black-winged stilt | |
| | | |
| Oystercatchers | | |
| Oystercatcher | African Black Oystercatcher | |
| | | |
| lapwings and plovers | | |
| silver plover | Asian Golden Plover | Blacksmith's Plover |
| Caspian plover | shepherd's plover | sand plover |
| ringed plover | three-banded plover | Forbes' plover |
| sand plover | Cape Plover | long-toed lapwing |
| spur lapwing | white crested lapwing | mourning lapwing |
| crowned lapwing | African wattled lapwing | |
| | | |
| goldsnipe | | |
| greater painted-snipe | | |
| | | |
| jacanas | | |
| dwarf jacana | lily runner | |
| | | |
| sandpipers and snip | | |
| curlew | whimbrel | red-tailed godwit |
| black-tailed godwit | stone runner | knot |
| ruff | curved sandpiper | three-toed sandpiper |
| spotted sandpiper | little sandpiper | great snipe |
| Afrikaanse snip * | terekruiter | rosy phalarope |
| sandpiper | witgat | American Woodland Rider |
| green-legged rider | pool rider | forest rider |
| redshank | | |
| | | |
| buttonquail | | |
| striped button quail | natalfight quail | |
| | | |
| racing birds and fork-tailed plovers | | |
| rosse renvogel | Temminck's renvogel | double-banded racing bird |
| three-banded run bird | bronze-winged running bird | fork-tailed plover |
| black-tailed plover | rockforktail plover | gray fork-tailed plover |
| | | |
| hunters | | |
| Sub-Antarctic Great Skua | middle fighter | little hunter |
| smallest hunter | | |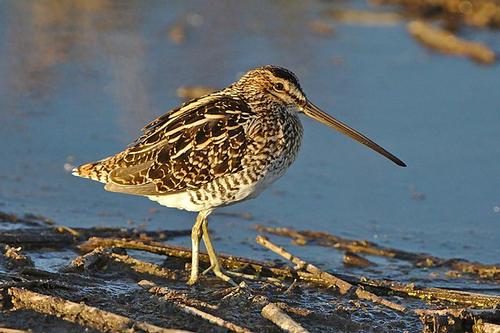 African snipe occurs in AngolaPhoto: Derek Keats CC2.0 Generic no changes made
Shoebill
| | | |
| --- | --- | --- |
| gulls | | |
| fork-tailed gull | gray-headed gull | black-headed gull |
| Little Gull | Franklin's Gull | lesser black-backed gull |
| kelpgull | noddy | variegated stern |
| Little Tern | damarastern | laughsern |
| giant tern | black star | white-winged tern |
| white-faced tern | Rose stern | common tern |
| arctic tern | royal tern | crested tern |
| sandwich tern | African scissor beak | |
| | | |
| tropic birds | | |
| white-tailed tropicbird | red-billed tropicbird | |
| | | |
| pinguïns of geese | | |
| black-footed penguinïn | | |
| | | |
| albatross | | |
| large albatross | yellow-billed albatros | gray-headed albatros |
| white-headed albatros | Salvins albatros | black-browed Albatross |
| royal albatros | | |
| | | |
| southern storm petrels | | |
| Wilson's Petrel | | |
| | | |
| northern storm petrels | | |
| petrel | pale storm petrel | |
| | | |
| petrels and shearwaters | | |
| southern giant petrel | northern giant petrel | Cape Petrel |
| long-winged petrel | down petrel | Antarctic prion |
| white chin petrel | Kuhl's Shearwater | great shearwater |
| gray shearwater | Arctic shearwater | |
| | | |
| storks | | |
| African gaper | black stork | Abdim's stork |
| bishop's stork | stork | saddle-billed stork |
| African Marabou | African nimmerzat | |
| | | |
| gannets | | |
| Gannet | Cape Gannet | brown gent |
| | | |
| snake-necked birds | | |
| African snake-necked bird | | |
| | | |
| cormorants | | |
| African Pygmy Cormorant | Cormorant Cormorant | great cormorant |
| Cape Cormorant | Cormorant | |
| | | |
| pelicans | | |
| pink pelican | little pelican | |
| | | |
| shoe-billed stork | | |
| | | |
| hammerhead | | |
| hammerhead | | |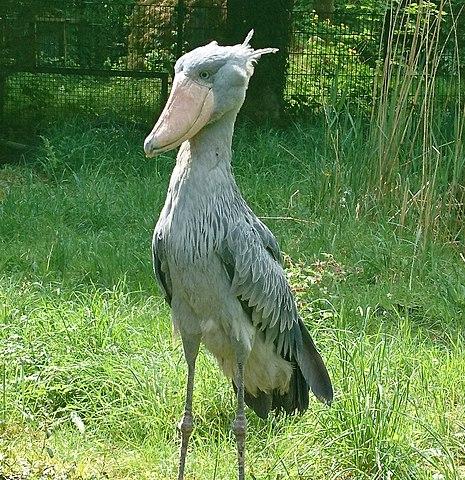 Shoebill, Bird of AngolaPhoto: Bildflut in the public domain
| | | |
| --- | --- | --- |
| herons | | |
| bittern | Little Bittern | African Little Bittern |
| African Tiger Bittern | Blue Heron | Black-headed Heron |
| giant heron | purple heron | great egret |
| middle egret | little egret | Sharpes heron |
| black heron | Cattle Egret | ral heron |
| madagascarral heron | red-bellied heron | mangrove heron |
| kwak | white-backed quail | |
| | | |
| ibises and spoonbills | | |
| black ibis | sacred ibis | scaly ibis |
| hadada-ibis | African Spoonbill | |
| | | |
| secretary bird | | |
| secretary bird | | |
| | | |
| Ospreys | | |
| osprey | | |
| | | |
| hawks | | |
| gray kite | bald-headed harrier | palmgier |
| Egyptian vulture | honey buzzard | African Koekoekswouw |
| white-headed vulture | oorgier | kapgier |
| witruggier | bateleur | Congolese snake eagle |
| black-breasted snake eagle | brown snake eagle | little gray snake eagle |
| bat kite | crowned eagle | fighting eagle |
| African black crested eagle | screaming eagle | Wahlbergs arend |
| pygmy eagle | Ayres' hawk eagle | savanna eagle |
| steppearend | Cassin's crested eagle | black eagle |
| African hawk eagle | lizard hawk | dark chanting goshawk |
| chanterelle | gabarhavik | Marsh Harrier |
| African Marsh Harrier | marsh harrier | Montagu's Harrier |
| robin hawk | African Hawk | cameroon hawk |
| shikra | East African Dwarf Perwer | ovambosperwer |
| African Sparrowhawk | black hawk | long-tailed hawk |
| black kite | African Bald Eagle | buzzard |
| African Red-tailed Hawk | augur buzzard | |
| | | |
| Barn Owls | | |
| Cape Grain | barn owl | |
| | | |
| owls | | |
| scops owl | African scops owl | southern white-faced owl |
| African Eagle Owl | little eagle owl | Shelleys oehoe |
| Verreaux 'oehoe | akoenoehoe | Fur fishing owl |
| little fishing owl | beaded pygmy owl | Cape Little Owl |
| Ituri-dwarf owl | African Tawny Owl | African Short-eared Owl |
| | | |
| mouse birds | | |
| brown mouse bird | red-rumped mouse bird | red-eared mouse bird |
| | | |
| trogons | | |
| narinatrogon | band-tailed trough | |
| | | |
| hopping | | |
| hop | | |
| | | |
| tree hopping | | |
| green poop | damara-kicker | black boom hop |
| South African boomhop | | |
| | | |
| horn raves | | |
| southern hornet | | |
| | | |
| hornbills | | |
| dwarf stick | crest dock | Bradfields tok |
| colorful tok | gray tok | thick-billed stick |
| southern yellow-billed stick | Monteiro's tok | southern red-billed stick |
| damaratok | white-crested flock * | black tok |
| blue-throated hornbill | Gray-eared Hornbill | brown-eared hornbill |
| white-legged hornbill | hornbill hornbill | whistling hornbill |
White-crested flock, bird from AngolaPhoto: Tony Hisgett CC 2.0 Unported no changes made
| | | |
| --- | --- | --- |
| kingfishers | | |
| cobalt kingfisher | luster kingfisher | malechiette kingvogel |
| white-bellied kingfisher | African Pygmy Kingfisher | brown-headed kingfisher |
| brown-headed kingfisher | white-throated kingfisher | gray-headed kingfisher |
| Common Kingfisher | bridle kingfisher | brown-hooded kingfisher |
| striped kingfisher | African Giant Kingfisher | pied kingfisher |
| | | |
| bee-eaters | | |
| black bee-eater | white-hooded bee-eater | dwarf bee-eater |
| bluebird eater | Swallowtail Bee-eater | black-headed bee-eater |
| white-throated bee-eater | green bee-eater | madagascar bee eater |
| bee-eater | pink bee-eater | southern crimson bee-eater |
| | | |
| free-range | | |
| roller | fork tail roller | flag-tailed roller |
| red-crowned roller | broad-beaked roller | blue-throated roller |
| | | |
| African barbet | | |
| yellow-billed barbet | crested barbet | gray-throated bristle nose |
| Sladens brush nose | Fur brush nose | bald-headed barbet |
| yellow-headed barbet | speckled tinker | Yellowback Kettler |
| red-rumped kicker | yellow-throated kettler | yellow-rumped kicker |
| yellow-fronted tickler | yellow-spotted barbet | pearl barred bird |
| miombabaardvogel | Cape Barbet | white-headed barbet |
| black-necked barbet | red-bellied barbet | double-toothed barbet |
| | | |
| honey guards | | |
| dwarf honeyguide | gray honeyguide | brown back honeyguide |
| pale honeyguide | smallest honeyguide | thick-billed honeyguide |
| little honeyguide | spotted honeyguide | scale honeyguide |
| big honeyguide | lyre tail honeyguide | |
| | | |
| woodpeckers | | |
| African wryneck | African woodpecker | Elliot's woodpecker |
| Cardinal Woodpecker | bearded woodpecker | yellow-backed woodpecker |
| gray green woodpecker | olive woodpecker | brown-eared woodpecker |
| termite woodpecker | green-backed woodpecker | Bennett's woodpecker |
| golden-tailed woodpecker | | |
| | | |
| falcons | | |
| African pygmy falcon | lesser kestrel | kestrel |
| rock falcon | great kestrel | gray kestrel |
| Dickinson's kestrel | redhead smeleken | red-legged falcon |
| amur redpootvalk | falcon | African tree falcon |
| lannervalk | peregrine falcon | |
| | | |
| Parrots of the Old World | | |
| redmask agapornis | peach-faced lovebird | |
| | | |
| parrots of Africa and the New World | | |
| African Gray Parrot | brown parrot | congo parrot |
| Meyer's parrot | Rüppells parrot | |
| | | |
| screaming birds | | |
| Cape broadbill | red-flanked broadbill | |
| | | |
| pittas | | |
| Angolapitta * | | |
| | | |
| caterpillar birds | | |
| white-breasted stupid bird | Cape caterpillar | Congolese caterpillar bird |
| red-shouldered caterpillar | purple caterpillar | |
| | | |
| Oriole and Figbirds | | |
| Oriole | African Oriole | blue-winged oriole |
| mask oriole | black-winged oriole | |
| | | |
| Platysteiridae | | |
| wheatear shrike | wattle and daub flycatcher | Angolan Wattled Flycatcher |
| wattle-throated flycatcher | white-rumped flycatcher | Red-faced Flycatcher |
| Reichenows wattled flycatcher | yellow-bellied wattle trap | Boulton's flycatcher |
| white-sided flycatcher | pririt flycatcher | western savanna flycatcher |
| Angolan Flycatcher | | |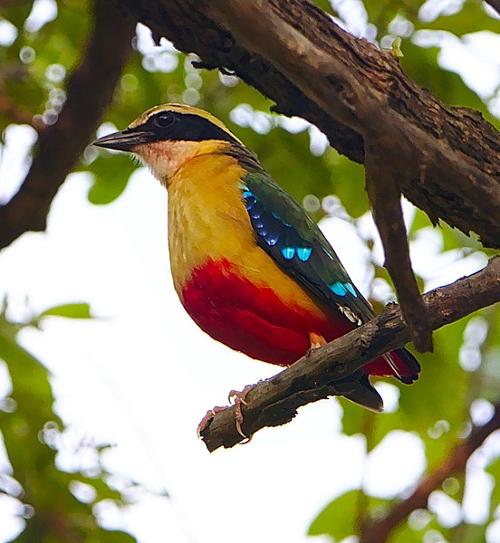 AngolapittaPhoto: Derek Keats CC 2.0 Generic no changes made
| | | |
| --- | --- | --- |
| catches | | |
| helmet shrike | red-billed shrike | rust-bellied shrike |
| Retz 'Shrike | gable shrimp | African Shrike Flycatcher |
| black and white shrike flycatcher | | |
| | | |
| Malaconotidae | | |
| broebroe * | gambia powder puffer shrike | powder puff shrike |
| powdered down shrike | gabon powder puffer shrike | Sabines Powder Down Shrike |
| small chagra | blackcartshagra | bruinkoptsjagra |
| Lühders tax | Angolan fiscal | gabelafiskaal |
| tropical fish | swamp fish | Burchell's fiscal |
| black fish scale | bokmakierieklauwier | gray forest shrike |
| orange forest shrike | multicolored wood shrike | Reichenows Wood Shrike |
| Spotted Wood Shrike | ghost shrike | Monteiro's Shrike |
| | | |
| drongo's | | |
| Sharpes drongo | plain straight-tailed drongo | treurdrongo |
| bosdrongo | hair tuft drongo | |
| | | |
| monarchs and fan-tailed flycatchers | | |
| blue-headed monarch | roodbellyparadijsmonarch | gabonparadijsmonarch |
| Bates' paradise monarch | African paradise monarch | |
| | | |
| shrike | | |
| red-backed shrike | lesser gray shrike | Mackinnon's Shrike |
| northern collared shrike | southern collared shrike | Souza's Shrike |
| Red-headed Shrike | magpie shrike | white-crowned shrike |
| | | |
| crows | | |
| Cape rook | schildraaf | |
| | | |
| Hyliotidae | | |
| yellow-bellied hyliota | mashonahyliota | |
| | | |
| Stenostiridae | | |
| turquoise crested flycatcher | white-tailed crested flycatcher | |
| | | |
| tit | | |
| Rüppells mees | rust-bellied tit | black tit |
| Carps mees | gabonmees | miombomees |
| acacia | | |
| | | |
| possum tits | | |
| acacia gooseberry | Cape Hooded Tit | |
| | | |
| larks | | |
| chirpleeuwerik | namible lark | Bengali long-billed lark |
| thrush lark | brown-backed lark | gray-backed lark |
| sabota lark | savanna lark | red-necked lark |
| Angolan Lark | rattle lark | sparrow lark |
| red-hooded lark | Stark's Lark | red-billed lark |
| | | |
| Nicatoridae | | |
| gray-throated nicator | yellow-throated nicator | |
| | | |
| Macrosphenidae | | |
| green curved beak | yellow-bellied curmudgeon | red-hooded curly-haired |
| Cape Cormorant | red-rumped rock warbler | barred grass bird |
| yellow beaked warbler | gray long-beaked warbler | angola long-beaked warbler |
| hylia | meeshylia | |
| | | |
| Cisticolidae | | |
| Salvadori's eremomela | yellow-bellied emomela | green hijacker emomela |
| redcap emomela | blackhalseremomela | rusthalseremomela |
| white-throated prinia | miombosavannezanger | little savannah singer |
| banded savannah singer | Mekker-camaroptera | Harterts camaroptera |
| yellow-browed camoptera | olive green camaroptera | black-throated apalis |
| mask apalis | yellow-breasted apalis | black rumpa |
| Goslings apalis | gray apalis | brown-headed papalis |
| rust-flankprinia | black-breasted prinia | zebraprinia |
| red mask grass warbler | white-browed grass warbler | flute grass warbler |
| forest warbler | angola warbler | long-tailed warbler |
| rattle grass warbler | red-tailed warbler | rock warbler |
| bumblebee warbler | Heuglin's grass warbler | luapula grass warbler |
| marsh warbler | valley grass warbler | tall grass warbler |
| natal grass warbler | brown-headed grass warbler | black-tailed warbler |
| short-winged grass warbler | grass warbler | kalaharigraszanger |
| tinktinkgrass warbler | dambogras warbler | bleach-head grass warbler |
| dwarf warbler | | |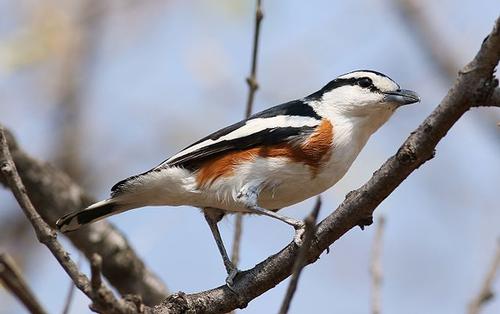 Broebroe, bird of AngolaPhoto: Derek Keats CC 2.0 Generic no changes made
| | | |
| --- | --- | --- |
| Acrocephalidae | | |
| reed warbler | yellow reed warbler | Cape Warbler |
| papyrus warbler | mockingbird | little reed warbler |
| short-winged reed warbler | great reed warbler | |
| | | |
| Locustellidae | | |
| fan-tailed warbler | cameroon shrub warbler | swamp warbler |
| | | |
| swallows | | |
| pale sand martin | sand martin | white-browed swallow |
| Brazza's swallow | pale rock martin | barn swallow |
| Angolan Swallow | black swallow | white-throated swallow |
| red-crowned swallow | pearl-breasted swallow | benguelazwaluw |
| Cape Swallow | savannah swallow | red-breasted swallow |
| mosque swallow | red-throated cliff swallow | Cape Cliff Swallow |
| gabonzwaluw | house martin | jungle swallow |
| white-headed crested swallow | blue-black crested swallow | gray-rumped swallow |
| | | |
| bulbul | | |
| thin-billed bulbul | goudbuulbuul | black-collared bulbul |
| redstart leafa | small green-tailed leafa | Hartlaubs buulbuul |
| yellow-necked bulbul | yellow-breasted bulbul | white-tailed bulbul |
| yellow collar bulbul | spotted bulbul | swamp bulwark |
| red-tailed bearded bulbul | Cassin's Bearded Bulbul | Reichenows Bearded Bulbul |
| dwarf bulbul | Ansorges buulbuul | Alexanders buulbuul |
| yellow-bearded bulbul | green bulbul | singing gabonloofbuulbuul |
| Cape Deciduous Buul | angolaloofbuulbuul | gray deciduous bulb |
| Cabanis loofbuulbuul | small deciduous bulb | Xavier's loofbuulbuul |
| white-throated foliage bulbuul | gray bulbul | mask bulbul |
| | | |
| forest warblers | | |
| whistler | fitis | Boulton's forest warbler |
| | | |
| Scotocercidae | | |
| roodkapelfmonarch | | |
| | | |
| Sylviidae | | |
| Ethiopian monkstimalia | garden warbler | Cape Tit's Warbler |
| warbler | | |
| | | |
| spectacled birds | | |
| Orange River Brilvogel | African spectacled bird * | |
| | | |
| Pellorneidae | | |
| brown frame timalia | gray-cheeked timalia | scaly bristles timalia |
| witbuiklijstertimalia | | |
| | | |
| Leiothrichidae | | |
| southern white-rumped babbler | black bridle babbler | arrowhead babbler |
| nude-cheeked babbler | | |
| | | |
| real tree creepers | | |
| African spotted tree creeper | | |
| | | |
| oxpeckers | | |
| red-billed oxpecker | yellow-billed ox picker | |
| | | |
| starlings | | |
| wattlebirds | amethyst starling | pale-winged starling |
| chestnut winged starling | white-winged starling | Great-tailed Starling |
| purple-headed starling | great starling | Meves' long-tailed starling |
| gleaming starling | pintail starling | green-tailed starling |
| red-shouldered starling | | |
| | | |
| thrushes | | |
| Fraser's Short-legged Thrush | white-tailed thrush | Gurneys thrush |
| acacia thrush | kurrichanelijster | Cape Thrush |
| pelio thrush | | |
| | | |
| flycatchers | | |
| Cape Flycatcher | fantasy flycatcher | gray flycatcher |
| Cassin's flycatcher | Böhms flycatcher | berry flycatcher |
| dull blue flycatcher | marico flycatcher | pale flycatcher |
| thrower flycatcher | white-browed forest flycatcher | Stricklands forest flycatcher |
| Gray-throated Flycatcher | blackbird trap | blue-gray flycatcher |
| herero Wheatear | Cape Snake Flycatcher | Angolan Helleborine Flycatcher |
| firecapalethe | forest fan tail | stripehead fan street |
| beard fan tail | kalahari fan tail | brownback fan tail |
| white-brow fan tail | greyvleugeljanfrederik | white-brow noise maker |
| red-head noise maker | Edge noise maker | white crown noise maker |
| cave noise maker | zambesi palm thrush | gabon palm thrush |
| bruinborstalethe | Bocages janfrederik | gabela-akalat |
| pied flycatcher | white flycatcher | collared redstart |
| short-toed rock thrush | miomborot thrush | African Stonechat |
| karoospekvreter | bacon eater | black ant wheatear |
| Cape Ant Wheatear | congomier's wheatear | mountain wheatear |
| Arnots ant wheatear | wheatear | natural wheatear |
| izabeltrape | White-faced Wheatear | red-tailed bacon eater |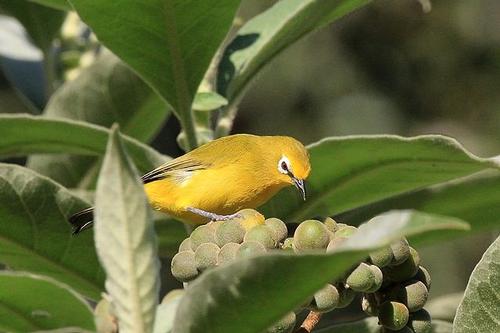 African spectacled bird, bird from AngolaPhoto: Charles J Sharpe CC 4.0 International no changes made
| | | |
| --- | --- | --- |
| honeysuckers | | |
| red-plume honey sucker | Anchieta's honey extractor | brown honey sucker |
| violetback honey sucker | violet-tailed sucker | scabbard honey ewer |
| gold band honey sucker | collar honey sucker | Reichenbach's honey extractor |
| greenhead honey sucker | Bannerman's honey extractor | brown-backed honey sucker |
| olive green honey extractor | carmelite honeyziger | green-throated honey sucker |
| amethyst honey sucker | robin honey sucker | Bocages honey extractor |
| bronze honey sucker | olive-bellied honey sucker | western miombo honey sucker |
| eastern miombo honey sucker | mountain honey sucker | big frilled honey sucker |
| marico honey sucker | Shelly honey sucker | plain purple band honey sucker |
| Bouvier's honey extractor | red-bellied honey sucker | green crown honey sucker |
| beautiful honey sucker | angola honey sucker | white-bellied honeysuckle |
| regalia honey sucker | sooty honey extractor | Bates' honey sucker |
| copper honey sucker | | |
| | | |
| weavers | | |
| red-billed buffalo weaver | bearded weaver | mahaliwever |
| rust cheek weaver | redback weaver | republican weaver |
| black-throated beauty weaver | red-throated beauty weaver | crested weaver |
| red-headed weaver | scarlet weaver | black chin weaver |
| thin-beak weaver | loangodunbekwever | black-necked weaver |
| spectacle weaver | Bocages weaver | saffron weaver |
| king weaver | brown-eared weaver | small textor weaver |
| mask weaver | velvet weaver | large textor weaver |
| chestnut weaver | tricolor weaver | woudwever |
| brown-hooded weaver | Preuss' weaver | miombowever |
| brown weaver | red-headed weaver | red-billed weaver |
| short-tailed weaver | grenadierwever | red-fronted weaver |
| black fireman | Napoleonwever | goldback weaver |
| velvet widavink | mirror widavink | yellow-backed widowl |
| red-throated widowl | red-shouldered widowl | Hartlaubs widavink |
| rooster tail widowl | thick-billed weaver | |
| | | |
| finches | | |
| whitekopnegervink | gray-headed nigger | brown-breasted nigger |
| white-breasted nigger | ant picker | collarastrild |
| Angolan astrild | yellow-bellied chestnut | green dropletastrild |
| Reichenows bergastrild | blacktailastrild | cinderella-astrild |
| swamp shake | oranjekaakje | Saint Helena Pheasant |
| blackcapastrild | elfenastrild | robin blue beak |
| red-headed blue beak | purpleastrild | Angolan Blue Pheasant * |
| blue pheasant | grenade trill | slate gray astrild |
| red drop astrild | brown drip tape | melba-astrild |
| wenerastrild | fire checkmark | brown amaranth |
| dark red amaranth | bleached amaranth | pink amaranth |
| band finch | roodkopamadine | golden belly |
| quail stretch | grasshopper flutter | just magpie |
| luster text | giant kitty | |
| | | |
| Viduidae | | |
| dominicanerwida | broadstaartparadijswida | smalstaartparadijswida |
| shaft-tailed whydah | steel finch | green steel finch |
| purple steel finch | cuckoo-finch | |
| | | |
| sparrows | | |
| house sparrow | rust sparrow | Cape Sparrow |
| gray-headed sparrow | southern grey-headed sparrow | Cape Rock Sparrow |
| | | |
| wagtails and squeakers | | |
| Cape Wagtail | mountain wagtail | yellow wagtail |
| African Pied Wagtail | white wagtail | cinnamon beep |
| forest beeper | long-beaked beeper | brown-backed pipit |
| buffy pipit | long-legged pipit | striped beeper |
| boom beeper | short-tailed pipit | savanna beeper |
| yellow-throated claw | Fülleborns longclaw | red-throated longclaw |
| Grimwoods longclaw | | |
| | | |
| finches | | |
| yellow-fronted canary | African citril | yellow-crowned canary |
| mask canary | black-throated canary | sulfur canary |
| yellow-bellied canary | white-throated canary | mountain canary |
| black-cheeked canary | stripe head canary | yellow-throated canary |
| | | |
| buntings | | |
| Cabanis' bunting | acacia gors | Cape Bunting |
| lark bunting | seven-barred bunting | |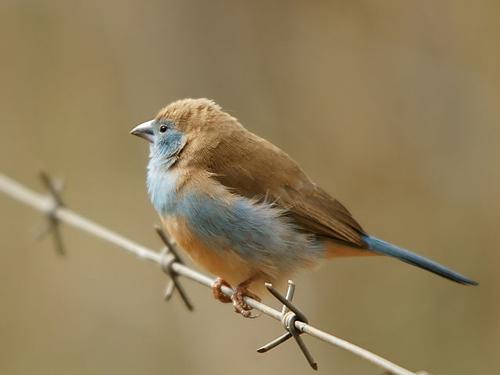 Angolan Blue PheasantPhoto:Hans Hillewaert CC 3.0 Unported no changes made
| | | |
| --- | --- | --- |
| reptiles | | |
| loggerhead sea turtle | soup or green sea turtle | warana or pygmy tortoise |
| Hawksbill (real) turtle | leatherback turtle | smooth-edged hulled tortoise |
| spiny flapper tortoise | panther or leopard tortoise | African Terrapin |
| Okavango hinged terrapin | natterjack box turtle | dwarf hinged terrapin |
| variable hinged terrapin | brown hooded turtle | African three claw |
| red-backed softshell turtle | | |
| Nile Crocodile | Central African slendersnouted crocodile | wide-fronted crocodile |
| Angolan tree agama | ground agama | Anchieta's agama |
| Congo agama | Mucoso agama | spiny dragon |
| Schack's rock agama | | |
| Angola blunt-tailed worm lizard | Zambezi blunt-tailed worm lizard | Welwitch's blunt-tailed worm lizard |
| Anchieta's spade-snouted worm lizard | infuscate spade-snouted worm lizard | Luanda spade-snouted worm lizard |
| confusing spade-snouted worm lizard | Vanderyst's spade-snouted worm lizard | Black round-headed worm lizard |
| Kalahari round-headed worm lizard | | |
| Angolan chameleon | patch chameleon | Etienne's chameleon |
| desert chameleon | Owen's three-horned chameleon | northern grass lizard |
| Cape Leg Snake | Angola girdled lizard | Machado's girdled lizard |
| Kaokoveld girdled lizard | | |
| Bogert's flat gecko | Ansorge's leaf-toed gecko | button-scaled gecko |
| Pulitzer's gecko | Fisher's gecko | Bayao's house gecko |
| Benguela house gecko | western house gecko | long-headed house gecko |
| house gecko | forest house gecko | plume-tailed gecko |
| Angolan dwarf gecko | Bradfield's dwarf day gecko | Cape dwarf day gecko |
| Hewitt's punctate gecko | Angola thick-toed gecko | Caricul thick-toed gecko |
| Kaokoveld thick-toed gecko | punctate thick-toed gecko | desert gecko |
| Scherz's thick-toed gecko | rough-scaled thick-toed gecko | large-scaled thick-toed gecko |
| Kalahari ground gecko | Van Zyl's web-footed gecko | common Namib day gecko |
| Barnard's Namib day gecko | Benguella Namib day gecko | two-pored Namib day gecko |
| Boulton's Namib day gecko | montane Namib day gecko | Angolan Namib day gecko |
| blue-black shield lizard | Kalahari plated lizard | Laurent's plated lizard |
| keeled plated lizard | black-lined plated lizard | sand shield lizard |
| giant shield lizard * | Ellenberger's snake lizard | |
| bushveld lizard | northern blue-tailed tree lizard | wstern rough-scaled lizard |
| pale rough-scaled lizard | Cape rogh-scaled lizard | Overlaete's rough-scaled lizard |
| small-scaled rough-scaled lizard | shovel-snouted lizard | reticulate desert lizard |
| rough-scaled desert lizard | Laurent's sandfield lizard | Western sandfield lizard |
| Benguella sand lizard | Haacke's sand lizard | Huntley's sand lizard |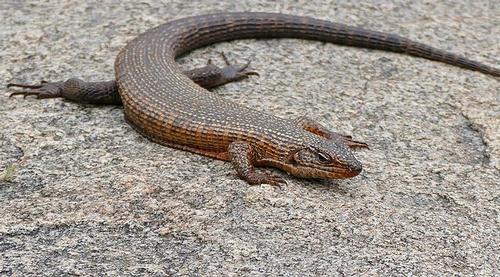 Giant shield lizard, reptile AngolaPhoto: Bernard DUPONT CC 2.0 Generic no changes made
| | | |
| --- | --- | --- |
| reptiles | | |
| shorted-headed snake-eyed skink | Cabinda snake-eyed skink | speckle-lipped snake-eyed skink |
| Angolan snake-eyed skink | De Witte's leaf-litter skink | Hinkel's red-sided skink |
| Sundevall's writhing skink | Anchieta's snake skink | Lunda western snake skink |
| Iven's water skink | wedge snouted skink | Senegal skink |
| Monard's skink | Bayao's skink | Huila skink |
| Ovambo stree skink | Bocage's skink | Chimba skink |
| Damara skink | Hoesch's skink | bronze rock skink |
| Angolan blue-tailed skink | speckled-lipped skink | grass skink |
| western three striped skink | speckled skink | Kalahari tree skink |
| African striped skink | Ansorge's rock skink | Angolan variable skink |
| Wahlberg's skink | | |
| African snake lizard | large-scaled burrowing skink | western limbless skink |
| Angola burrowing skink | Bayao's burrowing skink | Cope's burrowing skink |
| Johnson's western burrowing skink | speckled western burrowing skink | Bogert's western burrowing skink |
| Rohan's western burrowing skink | Rudebeck's western burrowing skink | |
| Nile monitor | savanna monitor | |
| | | |
| Shaba thread snake | Peter's thread snake | Damara thread snake |
| Benguela thread snake | Angolan beaked thread snake | Angolan blind snake |
| Angolan giant blind snake | blotched blian snake | lined blind snake |
| Schmidt's blind snake | Schlegel's blind snake | giant blind snake |
| Leopoldville beaked blind snake | Namib dwarf python | rock or hia roglyph python |
| southern African python | | |
Sources

BBC - Country Profiles

CIA - World Factbook

Elmar Landeninformatie

Oyebade, Adebayo / Culture and customs of Angola
Greenwood Press

Stead, Mike / Angola
Lonely Planet
Last updated June 2022
Copyright: Team
The World of Info