ANGOLA
Economy


Economy
General
Angola's economy is largely dependent on the oil sector. Oil production and support activities account for about 50% of the Gross Domestic Product, more than 70% of government revenues and more than 90% of the country's exports. Angola is a member of OPEC and submits to its guidelines regarding oil production levels. Diamonds make an additional 5% contribution to exports. Most people make a living from subsistence farming, but half of the country's food is still imported.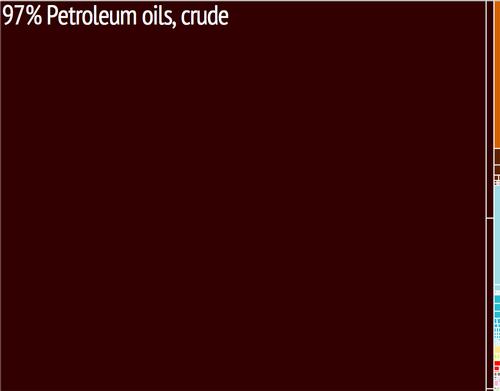 Angola ExportPhoto: R Haussman, Cesar Hidalgo, et. al CC 3.0 Unported no changes made
Increased oil production has led to an average growth of more than 17% per year between 2004 and 2008. Post-war reconstruction and resettlement of displaced populations have also led to strong growth in construction and agriculture. Some of the country's infrastructure is still damaged or underdeveloped as a result of the 27-year civil war (1975-2002). However, since 2005, the government has used billions of dollars in credit from China, Brazil, Portugal, Germany, Spain and the EU to help rebuild Angola's public infrastructure.
The countryside is still plagued by landmines from the Civil War. The national army, international partners and private Angolan companies are therefore stubbornly continuing to remove them.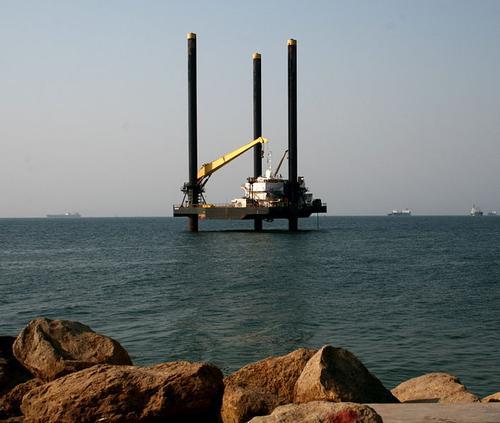 Angola Offshore Oil ExtractionPhoto: Paulo César Santos in the public domain
The global recession that began in 2008 brought Angola's economic growth to a halt and many construction projects have been halted as Luanda built up billions of arrears to foreign construction companies as government revenues plummeted. Lower oil and diamond prices also led to a 0.7% decline in gross domestic product in 2016.
Angola formally abandoned the exchange rate peg in 2009 but reintroduced it in April 2016, maintaining an overvalued exchange rate. At the end of 2016, Angola lost all relations with foreign banks, exacerbating hard currency problems. Since 2013, the Central Bank (Banco National de Angola) has consistently built up reserves to defend the kwanza, gradually allowing a 40% fall in value since late 2014.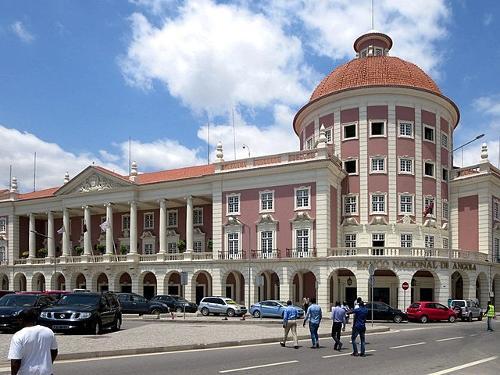 Banco National de AngolaPhoto: David Stanley from Nanaimo, Canada CC 2.0no changes made
Consumer inflation fell from 325% in 2000 to below 9% in 2014, before rising again to above 30% in 2015-2017.
Continued low oil prices, the depreciation of the kwanza and slower-than-expected growth in gross domestic product outside the oil sector have reduced growth prospects, although several major international oil companies remain active in Angola. The fight against corruption, which mainly affects the inactive sectors and threatens the entire economy, is a major long-term challenge for the Angolan government.
Oil
Angola is the second largest oil producing country in sub-Saharan Africa after Nigeria and an OPEC member with a production of about 1.3 million barrels of oil per day (bpd) and an estimated nearly 18 billion cubic meters of natural gas production. Due to a significant drop in oil prices and limited foreign exchange in the Angolan market, very limited investments have been made in new or mature exploration and production fields since 2014. The limited investment has in turn led to a decline in the current daily supply of 1.3 million barrels of oil per day (bpd), well below capacity. However, last year's investment and discovery announcements were expected to boost production from 2020. However, given the COVID-19 pandemic and Angola's commitment to follow OPEC's oil production restrictions to help stabilize global oil prices, the country's output is expected to decline further. Nevertheless, the country has 9 billion barrels of proven oil reserves and 11 trillion cubic feet of proven natural gas reserves, which represent great potential for further economic development and significant business opportunities. Furthermore, the country has started to implement reforms, which has led to announcements of new investments and expects production to increase in the medium to long term.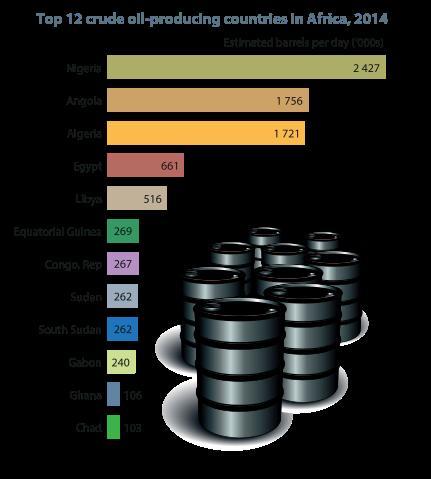 List of oil producing countries in Africa (Angola 2nd place, Nigeria on 1)Photo: UNESCO CC 3.0 no changes made
The oil industry in Angola is dominated by the exploration and production of offshore crude oil and natural gas. Nearly 75 percent of oil production comes from offshore fields. Angola produces light sweet crude oil with a low sulfur content, which is suitable for processing light refined petroleum products. The oil-rich continental shelf off the Angolan coast is divided into 50 fields, but the number of fields is expected to double with the auction of new fields from 2019 to 2025.
Although the country is a major oil producer in the region, it currently imports 80 percent of its demand for refined petroleum products, including gasoline, diesel, kerosene, jet b (naphtha kerosene-based fuel used for its improved cold-weather performance ) for gas turbines, fuel oil, asphalt and lubricants.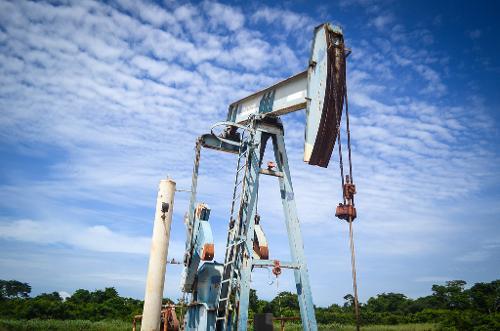 Oil installation AngolaPhoto: Jbdodane CC 2.0 no changes made
Only 20% of refined products are purchased locally. Crude oil refining and refined oil distribution are lagging far behind domestic demand. To reduce the country's reliance on imported refined petroleum, Angola's government plans to build three national refineries and expand an existing factory.
Diamants
Angola has long relied on diamond production to boost the local economy. Currently, Angola's diamond production ranks third in the African continent, with Botswana and South Africa taking the top two places respectively. In terms of world production, Angola ranks seventh, accounting for about 5% of world diamond production. Angola's production rose 13% to $1.32 billion, while volume grew 2% in 2014 to 8.791 million carats.
In February 2015, Angolan diamond reserves were estimated at 300 million carats, while a significant portion of the country is still unexplored. Out of a total of 108 areas available for reconnaissance, prospecting and research, only 29 areas are preparatory geological surveys.
There are three diamond mines in Angola. The Catoca diamond mine is known as the fourth largest kimberlite mine in the world. It is located in central-west Angola in the province of Lunda Sol, about 55 kilometers from the city of Saurimo. It is the largest diamond mine in the country, covering an area of approximately 64 hectares. In 2013, $594 million worth of rough diamonds mined in Catoca were sold. In the course of 2013, 6.556 million carats of rough stones were mined in Catoca.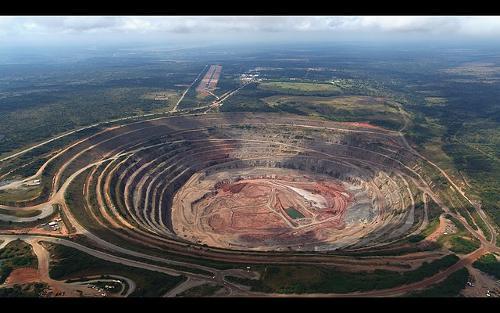 Catoca mine in AngolaPhoto: Gsmart-ao CC 4.0 no changes made
The Luarica diamond mine, which produced 95,000 carats of diamonds in 2004, was shut down after the 2009 global crisis. In 2013, Endiama signed an agreement with Russian miner Alrosa to establish a joint venture for geological exploration in the area.
The third diamond mine in Angola is the Fucauma mine, which is still under construction. Fucauma is expected to produce about 480,000 carats over a four-year period, generating a profit of $70 million. However, the 2009 global economic crisis, which resulted in reduced demand for rough diamonds, halted mining operations that year.
De Beers Group, the world's largest diamond producer, has applied to conduct exploration activities in northeastern Angola after the country implemented "substantial and consistent reforms" in its diamond mining sector that will drive "transformative socioeconomic growth for local communities."
After the submission of the exploration request, the South African group hopes to start negotiations with the Angolan government on an investment agreement in the diamond mining industry.
If De Beers gets an exploration license, Angola will be the only diamond producer to host three of the world's largest diamond mining companies, including Russia's top diamond mine builder Alrosa and the fourth largest Rio Tinto.
Angola produced 7.7 million carats in 2020, down 15.4% from 2019's 9.1 million, according to the Ministry of Mineral Resources and Petroleum. Last year, Luanda also inaugurated the shiny new headquarters of the Geological Institute of Angola. It was built by the Chinese state-owned company CITIC Construction Co. Ltd, and equipped with state-of-the-art laboratories for the treatment of samples from minerals and petroleum resources.
In the far east of Angola, in the province of Lunda Sul, work is also underway on the construction of the Saurimo "Diamond Development Hub", which will house new diamond polishing plants and two training centers specializing in the mining, grading and polishing of diamonds. diamonds. The hub hopes to boost regional industrialization and create jobs for young people.

Production (in million carats) of diamonds in the period 2004-2020:
| | |
| --- | --- |
| 2004 | 6,1 |
| 2005 | 7,1 |
| 2006 | 9,2 |
| 2007 | 9,7 |
| 2008 | 8,9 |
| 2009 | 9,2 |
| 2010 | 8,4 |
| 2011 | 8,3 |
| 2012 | 8,3 |
| 2013 | 8,6 |
| 2014 | 8,8 |
| 2015 | 9,0 |
| 2016 | 9,0 |
| 2017 | 9,4 |
| 2018 | 8,4 |
| 2019 | 9,1 |
| 2020 | 7,7 |
Agriculture
According to World Bank data, arable land in Angola made up almost 4% of the country's total area in 2014. The data shows that the percentage of arable land in Angola has steadily increased since 2004. Angola's soils are among the most fertile in Africa and the climate is exceptionally conducive to agriculture. In the past, Angola was almost self-sufficient in agriculture, with wheat being the only exception. The civil war had a major impact on the sector and limited the country's agricultural production.
Among the main crops currently grown in Angola are coffee, bananas (in 2018 8,525,451 tons) and cassava. Less important crops are sugar cane, sisal (567 tons in 2020), maize, cotton, tobacco and plantains. Government data shows that nearly two-thirds of the Angolan population is directly or indirectly dependent on agriculture for their livelihood.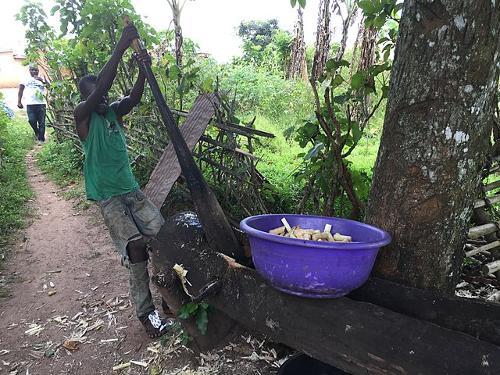 Making the drink lunguila, from sugar cane in AngolaPhoto: CC 4.0 Jjfilipe no changes made
Coffee
Coffee has been one of Angola's most important natural resources since the colonial era. In the colonial era, Angola was one of the most important coffee producers in the world. During that period, coffee was mainly grown in the northwest of the country.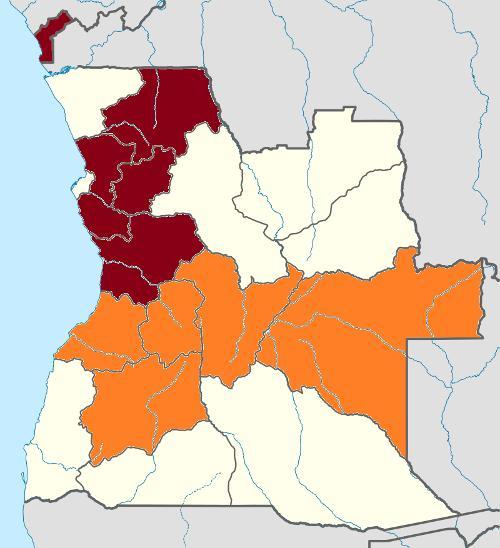 Coffee production areas in Angola. Robusta coffee marked brown, Arabica coffee marked orangePhoto: Iamwarningyoujavert CC 4.0 no changes made
Angola's civil war nearly decimated the country's coffee industry as most of the Portuguese coffee farmers fled to Brazil. At the end of the civil war, the government immediately implemented reforms in the coffee sector in an effort to bring production back to colonial levels. Industry experts believe the related reforms are likely to cost the government $230 million. One of the most important reforms to revitalize the coffee sector is the improvement of the transport sector, especially the roads.
Animal husbandry
Livestock is one of the most critical natural resources in Angola; cattle, pigs and goats are among the most frequently reared livestock. Despite the importance of livestock, like other agricultural sectors, it declined sharply during the civil war.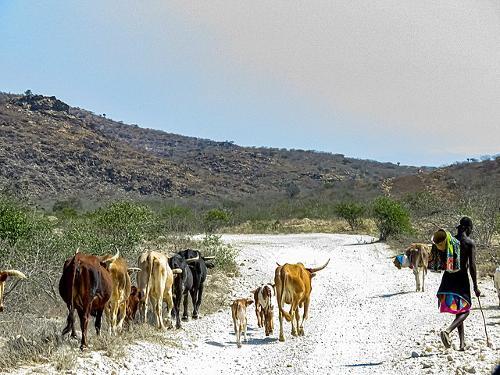 Cattle North of Luanda, AngolaPhoto: Edward niddleton CC 4.0 no changes made
According to official government data, about 36,500 tons of slaughtered cattle were produced in Angola in 1973. By the early 1980s, production had dropped significantly to just over 5,000 tons.
Forestry
Angola's forests cover nearly 18.4% of the country's total area and are one of the country's most critical natural resources. One of the most important forests of Angola is the Mayombe Forest which is located in Cabinda. Some of the trees exported from Angola are cypress, pine and eucalyptus.
Mayombe forest, AngolaPhoto: FabMoustic CC 3.0 no changes made
Fishery
One of Angola's most important natural resources is fish. The importance of fishing to the Angolan economy dates back to the colonial period. In the early 1970s, according to government data, there were nearly 700 fishing vessels in Angola's territorial waters. At that time, nearly 300,000 tons of fish were caught annually in Angola's waters. The civil war has greatly reduced the value of Angola's fishing industry. Like most of the country's industries, the government has invested large sums of money to revitalize the fishing industry.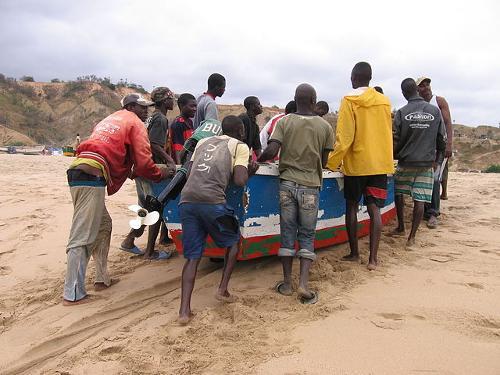 Fishermen in AngolaPhoto: Paulo César Santos in the public domain
As part of its program to revive the sector, the Angolan government is allowing foreign nations to fish in its territorial waters. Some of the countries that are allowed to fish in Angola's waters are Italy, Japan, and Spain. The two main centers of the fishing industry are Namibe and Benguela. Angola exports mackerel, tuna, shellfish and sardines. It is estimated that about a quarter of a million people work in the fishing and fish processing industry.
Minerals
Angola is considered one of the richest African nations in terms of mineral resources. Some of Angola's major minerals are diamonds, iron ore, manganese, and tin. Mining is one of the most important sectors in Angola due to the high quality of the country's minerals. Despite the high value and quantity of Angolan's minerals, the government has struggled to attract major investors to develop the sector.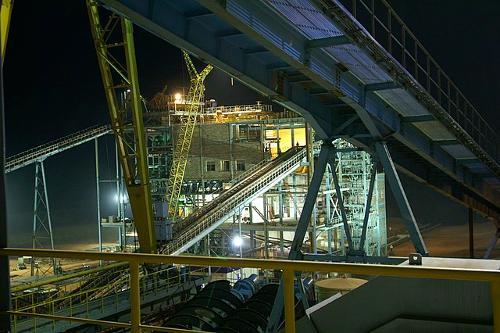 Catoca Diamond Mine, AngolaPhoto: Alex Avdeev CC 3.0 no changes made
Some of the reasons investors shun Angolan minerals include a history of human rights abuses, rampant corruption, especially within the government, and smuggling of minerals, especially diamonds. The government has tried to solve these problems in order to persuade investors to develop the mineral industry.
---
Sources

BBC - Country Profiles

CIA - World Factbook

Elmar Landeninformatie

Oyebade, Adebayo / Culture and customs of Angola
Greenwood Press

Stead, Mike / Angola
Lonely Planet
Last updated October 2023
Copyright: Team
The World of Info