ANGOLA
Climate and Weather


Climate and Weather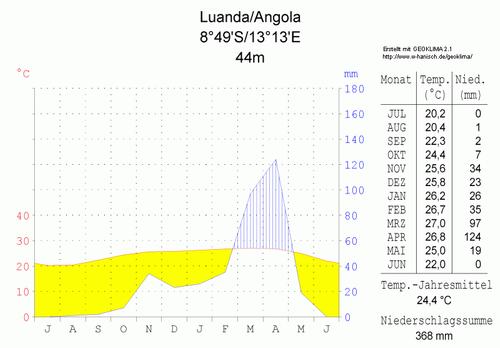 Climate table Luanda, capital of AngolaPhoto: Hedwig in Washington, CC 3.0 Unported no changes made
The climate of Angola varies with elevation and depends on latitude, but is most affected by the relatively cool Benguela Gulf Stream, which is particularly the temperature on the coastal strip. bearable and the rainfall limited. In a broad sense, Angola can be divided into four climatic zones: the north, with heavy rainfall and high temperatures;the central plateau, quite dry with average temperatures around 19°C and cold nights;the cool and relatively dry coastal plain;and finally an offshoot of the Namib desert in the south of Angola with drought and very high temperatures.
Angola has two seasons: the rainy summer season officially starts on September 15th. The hottest months are September and October, the rain starts to take on severe form from November to May. The dry and cooler season is also called 'cacimbo' and lasts from May to September. This period is characterized by gray skies and heavy morning mist, which often only dissolves around noon. In the capital Luanda, not a drop of rain falls during this period. July and August are the coolest months. The provinces with the most rainfall are Cabinda, Malanje, Uíge, Lunda Norte, Lunda Sul, Moxico, Cuando Cubango and Cunene.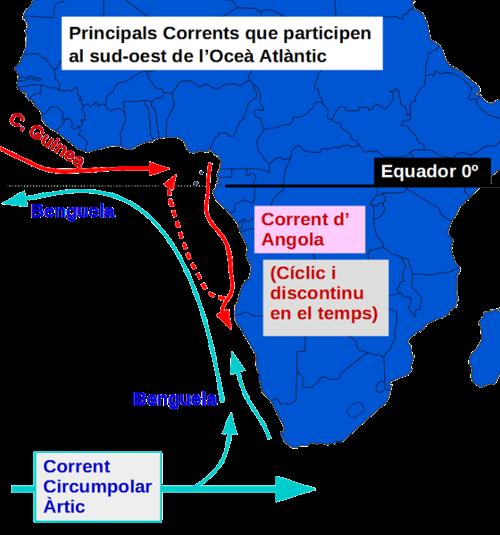 Benggala Gulf Stream, influence the climate of AngolaPhoto: Castell CC 4.0 International no changes made
North of Angola, where the highlands no longer rise above 1000 meters, and in the exclave Cabinda, has a tropical climate with a rainy season that lasts from mid-October to mid-May in the west and from mid-September to April in the east. More than 1000 mm of precipitation falls in this part of Angola every year. In the west the sun shines relatively little, from February to June only six hours a day, from July to January only four or five hours a day. This is due to the heavy clouds that hang over the area, even in the dry season. In the east, the sun shines much longer on average, especially in the dry season.
---
Sources

BBC - Country Profiles

CIA - World Factbook

Elmar Landeninformatie

Oyebade, Adebayo / Culture and customs of Angola
Greenwood Press

Stead, Mike / Angola
Lonely Planet
Last updated May 2023
Copyright: Team
The World of Info