SWITZERLAND
Geography and Landscape

Basic information
Official language
German, French, Italian, Schweizerdeutsch
Capital
Bern
Area
41.277 km²
Population
8,766,801 (2021)
Currency
Swiss franc (CHF)
Web
.ch
Code.
CHE
Tel.
+41

Cities in SWITZERLAND
Geography and Landscape
Geography
Switzerland (officially: German: Schweizerische Eidgenossenschaft; Latin: Confoederatio Helvetica [CH]; French: Confédération suisse; Italian: Confederazione svizzera; Raetoromanian: Confederaziun helvetica, or Svizra for short) is a federal state in Central Europe, bordering Austria, Germany, Italy, France and Liechtenstein.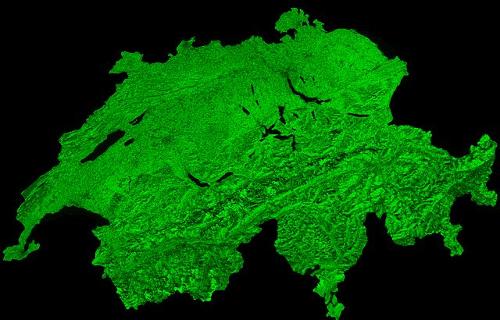 Switzerland Satellite photoPhoto: ESA / Belspo – produced by VITO CC 3.0 IGO no changes made
Switzerland obviously has no seaports, the nearest port is Genoa in Italy at 250 km. Switzerland is a fraction larger than the Netherlands in terms of surface area. The highest point is the Dufourspitze (4634 m) in the canton of Valais. The lowest place is Ascona in Ticino at 196 meters. Other famous mountains in Switzerland are the Matterhorn, the Jungfrau and the Eiger.
Landscape
Sixty percent of the landscape is occupied by the Alps, a high mountain range that stretches from the southwest to the northeast. The valleys of rivers such as the Rhône and the Rhine cut lengthwise through the Alpine massif. The average altitude of the Alps is about 1700 meters. About a hundred peaks are around 4000 meters high. About 3000 km2 of the Alps is covered by glaciers and eternal snow.
The largest glacier is the Grosse Aletsch Glacier with an area of 115 km2. Glaciers generally do not occur below 2000 meters. Up to an altitude of 2000 meters, the Alps are largely covered with forests.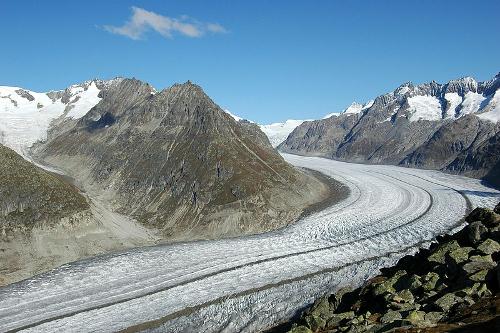 Aletsch Glacier, the largest in SwitzerlandPhoto: Cristina Del Biaggio CC 3.0 Unported no changes made
Ten percent of the landscape is occupied by the Jura Mountains in northwestern Switzerland. The Jura is a middle mountain range with richly covered slopes and mountain ridges that vary in height from 700 meters to 1600 meters. Thirty percent of the landscape is occupied by the Swiss plateau (Mittelland). It is a hilly area between the Jura and the Alps, with an average height of ± 600 meters. Most of the major cities are located in this area. Most of the agricultural lands are also located in the Mittelland, forests are much less to be found.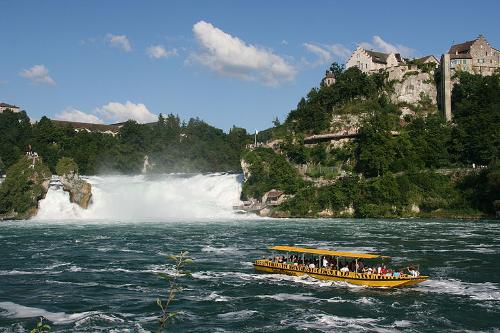 Waterfall of Schaffhausen, SwitzerlandPhoto: Bettyakkemaai CC 3.0 Unported no changes made
Many rivers such as the Rhine, the Rhône, the Aare and the Ticino cross Switzerland. The longest river is the Rhine with a catchment area of 375 kilometers, of which 5% is navigable. All Alpine rivers flow through large lakes; this regulates the water level and purifies the river of debris and silt.
Switzerland also has more than 1000 waterfalls and about 1600 lakes. The largest waterfall in Europe is located at Schaffhausen. The largest lake is Lake Geneva (582 km2). Other well-known lakes are Lake Constance and Lake Maggiore.
---
Sources
Dominicus, J. / Zwitserland
Gottmer
Lamme, M. / Zwitserland
Kosmos-Z&K
Lannoo's autoboek Zwitserland
Lannoo
Mandos, M. / West- en Midden-Zwitserland
ANWB
CIA - World Factbook
BBC - Country Profiles
Last updated November 2023
Copyright: Team
The World of Info