SWITZERLAND
Vacations and Sightseeing

Basic information
Official language
German, French, Italian, Schweizerdeutsch
Capital
Bern
Area
41.277 km²
Population
8,766,801 (2021)
Currency
Swiss franc (CHF)
Web
.ch
Code.
CHE
Tel.
+41

Cities in SWITZERLAND
Vacations and Sightseeing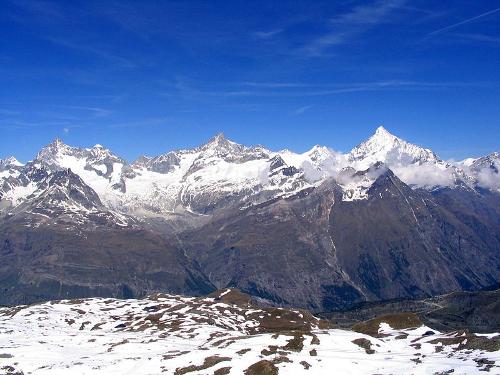 Alps, SwitzerlandPhoto: Dirk Beyer CC 3.0 Unported no changes made
Switzerland has a long experience of mass tourism, which is also reflected in the fact that numerous famous hotel vocational schools are located in the country. The Alps are of course Switzerland's biggest draw. In the winter season there are plenty of ski, snowboard and cross-country skiing options. Due to the high altitude and the many glaciers, the season is long and guaranteed snow.
In summer, hiking is the favorite activity of the tourists. There are more than 50,000 km of hiking trails. There are excellent water sports options in the many lakes. Basel, Lucerne, Bernand Zurich are cities with a good cultural offer.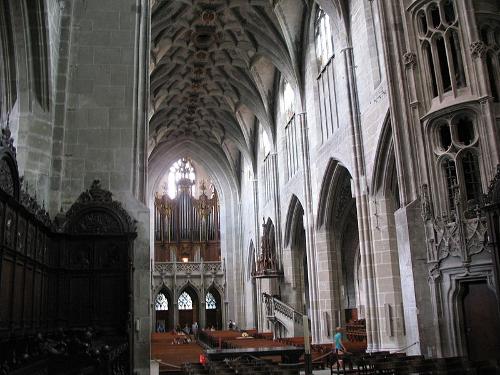 Münster Cathedral in Bern, SwitzerlandPhoto: Andrew Bossi CC 2.5 Generic no changes made
In Bern you can visit the gothic Münster cathedral built between 1421 and 1893. The stained glass windows and rich carvings immediately catch the eye when you visit the Münster cathedral. The Münster cathedral also houses one of the few sculpture collections that survived the Iconoclasm in Bern. The images depicting the Day of Judgment attract many visitors.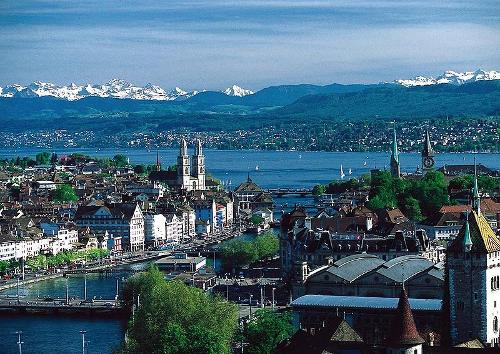 Zurich, SwitzerlandPhoto: MadGeographer CC 3.0 Unported no changes made
Zurich is known for its Altstadt, besides the lake. This includes the Gothic Basilica Fraumünster with three naves and stained glass windows designed by Marc Chagall. On the other side of the river you can see the Grossmünster with its two towers. Another point of interest is the Town Hall, which is a fine example of the late Renaissance architectural style from the seventeenth century.

Jungfraujoch station, SwitzerlandPhoto: Mike Lehmann CC 3.0 Unported no changes made
Switzerland also has the highest train station in the world. Jungfraujoch station offers one of the most spectacular views in Switzerland. Via a nine-kilometer-long rack railway across the north face of the Eiger you reach this highest train station in Europe, at 3,454 meters.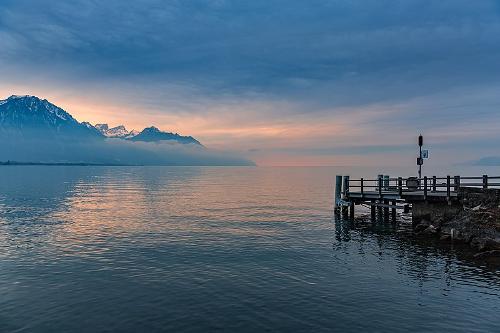 Lake Geneva, SwitzerlandPhoto: Dmitry A. Mottl CC 4.0 International no changes made
Lake Geneva is one of the largest and most famous lakes in Europe. Lake Geneva has an area of nearly six hundred square kilometers and a maximum depth of 310 meters. The lake is surrounded by beautiful Swiss mountain landscapes. The lake's most striking landmark is the Jet d'Eau, a famous fountain that spouts over 140 meters high.
The Rhine Falls is the largest waterfall in Europe and is located near Schaffhausen, Switzerland, in the Rhine, close to the border with Germany. The Rhine Falls is approximately 150 meters wide and 23 meters high. This spectacular waterfall is a major tourist attraction. You can sail with a boat right in front of the waterfall.
---
Sources
Dominicus, J. / Zwitserland
Gottmer
Lamme, M. / Zwitserland
Kosmos-Z&K
Lannoo's autoboek Zwitserland
Lannoo
Mandos, M. / West- en Midden-Zwitserland
ANWB
CIA - World Factbook
BBC - Country Profiles
Last updated November 2023
Copyright: Team
The World of Info