MADEIRA
Climate and Weather


Popular destinations PORTUGAL
Climate and Weather
Madeira has an even, mild and humid subtropical climate, with warm summers and mild winters. Average annual temperatures are between 16 and 22°C, with water temperatures between 16 and 20°C. Temperatures below 16°C are almost never seen, but even here temperatures can drop below freezing at night in winter, only on the highest peaks of course. In the summer, trade winds bring coolness and the rising winds create a cloud crown over the island that subdues the hot midday sun. Only when the African leste wind blows from the southeast, temperatures above 30 °C are measured. January and March are the coldest months, but even then it rarely gets colder than 14°C at night and the mercury rises above 18°C during the day.

Clouds around the Pico do Arieiro, MadeiraPhoto: Bjørn Christian Tørrissen CC3.0 Unported no changes made
Despite the name "Island of Eternal Spring", it often rains in Madeira, especially from October to March. Even in summer, few days pass cloudless. In winter it can rain quite hard, but it never lasts very long. It is typical that it often rains at night, which is of course beneficial for tourists.
Most sunshine can be found on the south coast, and the humidity is not too bad here. In most other parts of Madeira, the average humidity is often above 80%. The north coast is much more volatile and humid than the south coast. Clouds usually drift from the north and then cling to the high mountain slopes.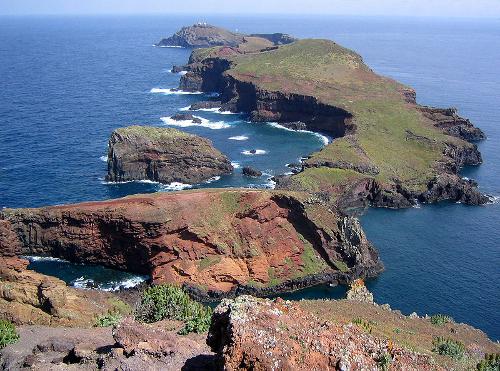 Cloudless skies at the São Lourenço peninsula, MadeiraPhoto: Hannes Grobe CC 2.5 Generic no changes made
The São Lourenço peninsula is probably the driest area in Madeira. There is little rain and often a fierce sea breeze blows over the strange rocky landscape.
The climate of Porto Santo is much drier and hotter than that of Madeira. Only about 350 mm of precipitation is measured per year.
Average rainfall, temperature, hours of sunshine and humidity in Funchal
| | | | | |
| --- | --- | --- | --- | --- |
| | rain | temperature | hours of sunshine per day | humidity |
| January | 100 mm | 18°C | 5 | 66% |
| February | 90 mm | 19°C | 6 | 65% |
| March | 70 mm | 20°C | 7 | 67% |
| April | 45 mm | 21°C | 7 | 65% |
| May | 25 mm | 22°C | 8 | 65% |
| June | 10 mm | 24°C | 9 | 68% |
| July | 2 mm | 25°C | 9 | 67% |
| August | 3 mm | 26°C | 9 | 67% |
| September | 25 mm | 25°C | 8 | 67% |
| October | 75 mm | 24°C | 7 | 66% |
| November | 105 mm | 22°C | 6 | 65% |
| December | 75 mm | 19°C | 5 | 67% |
Sources
Catling, C. / Madeira
Kosmos-Z&K

Lipps, S. / Madeira
Elmar

Madeira
APA Publications

Schetar, D. / Madeira
Het Spectrum

Stiller, R. / Madeira
Van Reemst

Underwood, J. / Het Madeira-boek
Sunflower Books

CIA - World Factbook

BBC - Country Profiles
Last updated September 2022
Copyright: Team
The World of Info