IRELAND
Economy


Cities in IRELAND
Economy
General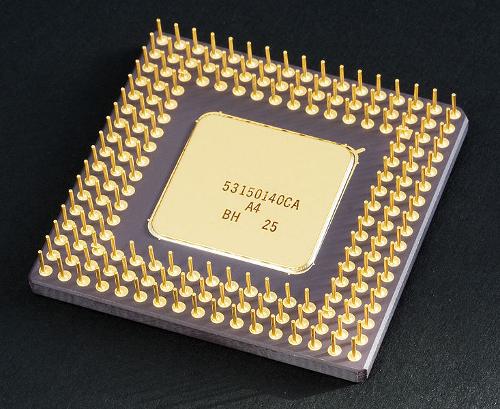 IT industry is behind Ireland's economic growthPhoto: Andrew Dunn CC 2.0 Generic no changes made
Due to a lack of its own industries, minerals and its isolated location, Ireland was economically lagging behind most other countries of the European Union for a long time. In recent years, however, Ireland has experienced tremendous economic growth and unemployment has fallen significantly. It also leads to strong export growth. Foreign companies were lured to Ireland because of low wages, favorable tax rates and establishment premiums. In 1995, about 1000 foreign companies were established in Ireland. Another important factor in the development of the Irish economy is the large-scale financial aid from the European Union, especially for agriculture. Tourism is also an increasingly important source of income.
However, Ireland experienced a period of high economic growth in the 1990s (an average annual economic growth of 9.9% was achieved in the period 1995-2000), making Ireland the second richest country in 2006 of the EU (after Luxembourg) and the fourth richest country in the world (after Luxembourg, Norway and the United States). Ireland was known as the Celtic Tiger in the 1990s, a term referring to the Asian Tigers, who previously experienced similarly spectacular growth. In the 21st century, the economy has plummeted again. Ireland has been hit by the credit crunch. With shrinkage in the beginning and in 2011,2012 and 2013 very little economic growth of 2.2%, 0.2 and 0.6% respectively. Meanwhile, things are going a lot better with growth. In 2017 this was 7.2%. Ireland's GDP is among the highest in the world, reaching $ 73,200 per capita in 2017.
Agriculture, livestock and fishing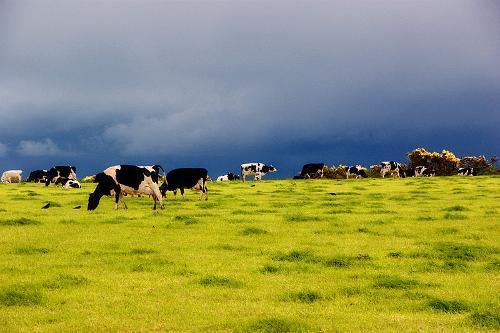 Dairy Cows irelandPhoto: Martin Abegglen CC 2.0 Generic no changes made
Agriculture has been one of the main pillars of the Irish economy. Milk production and export meat in particular make a lot of money. In addition, potatoes, sugar beets, barley and wheat are grown. Sheep are generally kept in the highlands. Two-thirds of farms are small or very small, and therefore focus on self-sufficiency. The large companies are particularly specialized in beef cattle. For a long time, fishing was concentrated on salmon exports. In recent years, sea fishing has again become an albeit modest source of income. They include mackerel, cod, herring, plaice and haddock. At present there are ± 10,000 people working in the fishing industry.

Accession to the European Union and EU agricultural policy has led to specialization and intensification, especially in the fertile east and south of Ireland. This not only lost employment, but also sharpened the contrast with the extensive sheep farming in the west and northwest. The sector contributes 1.2% to GDP. 5% of the population works in the sector. (2017)
Industry and Mining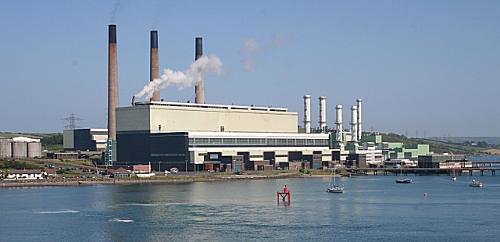 Ballylumford power station IrelandPhoto: Anne Burgess CC 2.0 Generic no changes made
The main industries in Ireland are the food and beverage, steel and mechanical engineering industries. Rapid growers are computers, pharmaceuticals and electronics. Glass industry and textile industry also play an important role. Dublin and Galway are the main industrial centers. Ireland has been a major producer of lead zinc ore with a high silver content since 1970. Furthermore, one also mines gypsum, limestone and sulfur and copper ore. A lot of peat is still being extracted for industrial and domestic use. Petroleum and natural gas are extracted off the southwestern coast. The sector contributes 38.6% to GDP. 11% of the population works in the sector. (2017)
Trade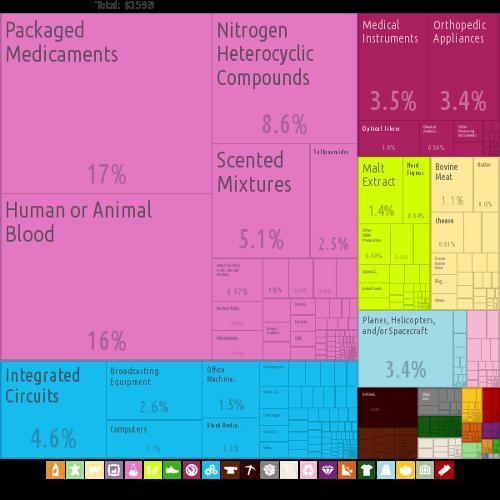 Export IrelandPhoto:Alexander Simoes, Cesar Hidalgo, et. al. CC 3.0 no changes made
The export of medicines tops the export rankings. Other important export products are dairy products, meat, clothing, yarns, chemicals, computers and machines. Imports are mainly fuels, food, technical equipment and petroleum. Great Britain, the United States, Germany, France and the Netherlands are the main trading partners. The main import and export ports are Dublin and Cork.
Service sector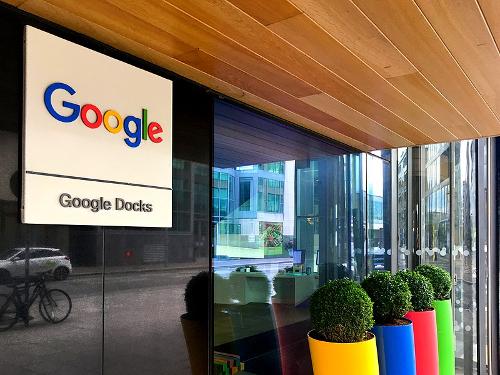 Headquarter Google in IrelanPhoto: www.outreachpete.com CC 2.0 Generic no changes made
The services sector is the major growth sector of the Irish economy. Financial and business services are very high for a country like Ireland. Many international companies have also established their consumer services for the European market in Ireland. The sector contributes 60.2% to GDP and 84% of the population also works in the sector. (2017)
Traffic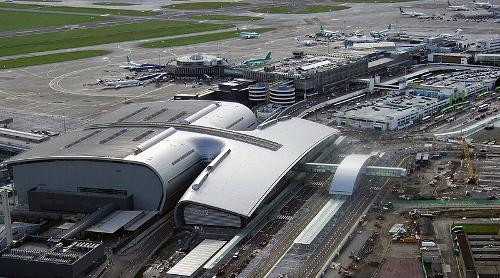 Dublin Airport. IrelandPhoto: ColmDeSpáinn in the public domain
Only the larger towns are connected by railways. Secondary lines cannot be made profitable in sparsely populated Ireland. However, the railways are of great importance for freight transport. Bus services have an important share in passenger transport. Inland waterway transport, on the other hand, is of little economic importance. Maritime transport with Great Britain and the European mainland is increasing rapidly, especially in the tourist season. International airports are located near Dublin, Shannon and Cork. Ireland has its own airline, Aer Lingus-Irish International Airlines.
---
Sources
Beek, D. van / Ierland
Gottmer
Europese Unie
Europees Platform voor het Nederlandse Onderwijs
Hendriksen, B. / Dublin en Ierland
Van Reemst
Ierland
Lannoo
Phenix, P. / Ierland
Kosmos-Z&K

CIA - World Factbook

BBC - Country Profiles
Last updated May 2023
Copyright: Team
The World of Info