IRELAND
Vacations and Sightseeing

Basic information
Official language
English, Irish
Capital
Dublin
Area
70.273 km²
Population
4,937,786 (2021)
Currency
euro (EUR)
Web
.ie
Code.
IRL
Tel.
+353

Cities in IRELAND
Vacations and Sightseeing
Dublin IrelandPhoto:Robzle in the public domain
Dublin has a number of interesting museums. For example, Dublinia provides an overview of medieval Dublin in the period 1170-1540. The National Gallery of Ireland has the largest painting collection in the country, approximately 2,000 paintings, including work by the Irish School. The Dublin Writers' Museum highlights the life and work of George Bernard Shaw, Samuel Beckett, James Joyce and Jonathan Swift, among others. Examples of beautiful architecture include the Georgian Marrion Square, the Bank of Ireland and the General Post Office. Notable are Kilmainham Goal, an old prison. Furthermore, the catacombs of St. Michan's Church, where mummified human bodies can be seen. For children there is the Dublin Zoo and a city tour.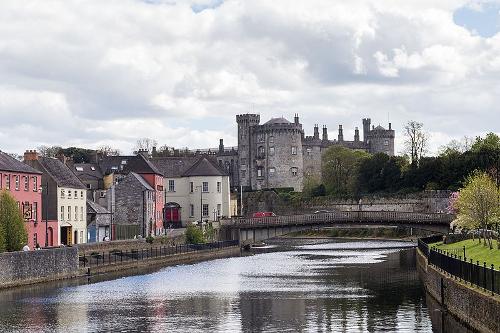 Kilkenny IrelandPhoto: Jimmy joe jazz CC 4.0 International no changes made
The eastern coast of South East Ireland has beautiful long sandy beaches. The southern coast is dotted with rocks, bays, fishing villages and small beaches. Several long-distance paths and cycle routes run through this part of Ireland. In addition, there is plenty of fish-rich water for sport fishermen. Kilkenny, the most beautiful medieval city, and Ennis Corthy are very worthwhile. There are many monasteries, castles, manors and churches. The Glendalough Valley has eighteen medieval religious monuments. Bray is one of the oldest seaside resorts in Ireland. Near Maynooth is St. Patrick's College, one of the largest seminars in the world. Kildare is the center of Irish racing and trotting. Irish National Heritage Park, a historic open-air museum, is located in Ferrycarrig near Wexford. Churchtown lighthouse is said to be the oldest in the world, at least 1,600 years old. Dunmor Cave is a stalactite cave formed 25 million years ago. St. Patrick's Rock, near Cashel, is home to one of Ireland's most beautiful Romanesque churches. The Viking & Medieval Heritage Museum in Waterford displays important finds from the Viking era.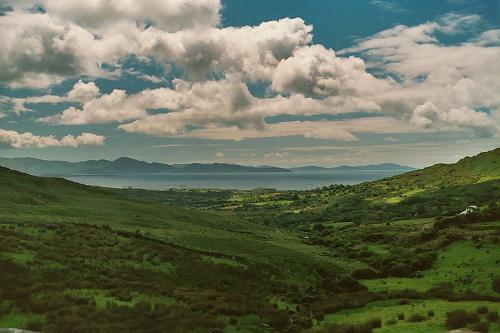 Ring of Kerry IrelandPhoto: Public domain
Most tourists flock to the counties of Cork and Kerry. These counties are characterized by the jagged coast, beautiful walking and cycling routes and subtropical vegetation. Furthermore, many castles, abbeys and fortresses. The Cork Public Museum pays great attention to the Irish freedom struggle against the English. An internationally renowned jazz festival is held in late September and a film festival in October focusing on black and white films and documentaries. Dursey Island can only be visited via a cable car. Many tourists hike or drive through the Gap of Dunloe, a six-kilometer long gorge carved out by a glacier. A very popular car route is the Ring of Kerry. Special boat trips are organized in Dingle to view the harbor dolphin Fungi. Dunbeg Fort is a preserved Iron Age fort. A notable attraction is Geraldine Tralee in Tralee, the capital of Kerry. Here you can take a mini train through a "real" medieval city with tramps, musicians, drunks and old crafts.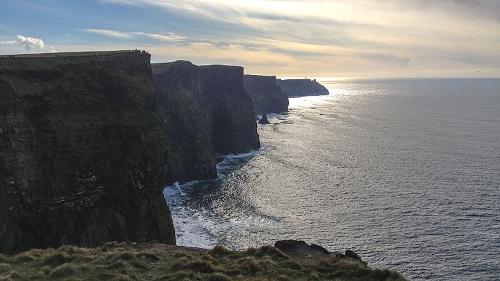 Cliffs of Moher IrelandPhoto: Michal Osmenda CC 2.0 Generic no changes made
Western Ireland is also one of the favorite holiday destinations with beautiful landscapes, beautiful beaches, walking and cycling routes and many historical sites. There is a special museum in Limerick, the National Self Portrait Collection with a collection of self-portraits of mainly Irish artists. Near Cratloe is the Bunratty Castle and Folk Park, which shows, among other things, rural life in the nineteenth century. The Cliffs of Moher rise perpendicularly 200 meters from the sea, and that over a width of eight kilometers, very impressive. Lisdoonvarna is Ireland's only spa. The Burren has been a national park since 1991 and somewhat resembles a lunar landscape. Galway is best known for its many festivals. In July, the eleven-day Galway Arts Festival takes place with many performances in the field of theater, visual arts, literature and music. Life and work of the famous Irish poet William Butler Yeats can be seen in Thoor Ballylee, a sixteenth century tower house. The Connemara region is of breathtaking beauty. Connemara National Park consists of heather, grassland, forests, peat and mountains. The wild orchids also stand out. The Aran Islands are located at the entrance of the Galway Bay. Dún Aengus, a prehistoric fortress, is situated on a cliff edge. Also very impressive is the Conor Fort, located on a rock wall above a small valley.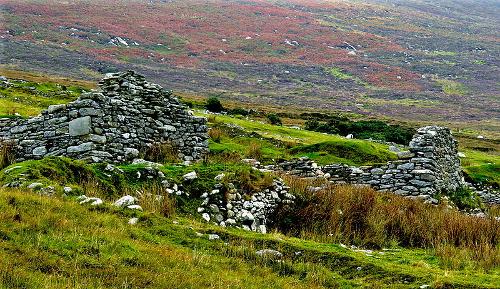 Achill Island IrelandPhoto: Joseph Mischyshyn CC 2.0 Generic no changes made
The northwest is not often visited by tourists from Europe and America, partly due to its location near Northern Ireland. Croagh Patrick is a sacred mountain and therefore a place of pilgrimage. Achill Island is Ireland in miniature: it has beaches, rocks, lakes, hills and mountains. Knock is also a well-known pilgrimage site. Strokestown houses the Famine Museum, which focuses on the Great Famine that struck nineteenth-century Ireland. Prehistoric graves can be found near Castlebaldwin. Yeats town of Sligo is home to the Yeats Memorial Museum and the Yeats Memorial Building. Forty prehistoric stone funerary monuments lie on the Knocknarea peninsula.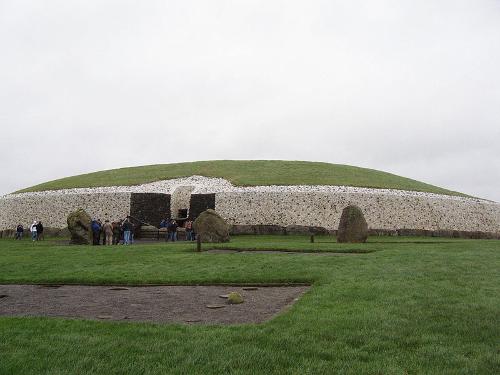 Newgrange IrelandPhoto:Barbara Y Eugenio CC 2.0 Unported no changes made
North East Ireland is not as spectacular in landscape as the rest of Ireland. Nevertheless, it is still a popular tourist destination. The burial mounds of Dowth, Knowth and Newgrange are on the UNESCO list of world monuments. The National Center of Environment provides a lot of information about everything that has to do with the environment. Dundalk's history since 1750 can be seen at the County Museum.
---
Sources
Beek, D. van / Ierland
Gottmer
Europese Unie
Europees Platform voor het Nederlandse Onderwijs
Hendriksen, B. / Dublin en Ierland
Van Reemst
Ierland
Lannoo
Phenix, P. / Ierland
Kosmos-Z&K

CIA - World Factbook

BBC - Country Profiles
Last updated May 2023
Copyright: Team
The World of Info