BELARUS
Population


Cities in BELARUS
Population
Composition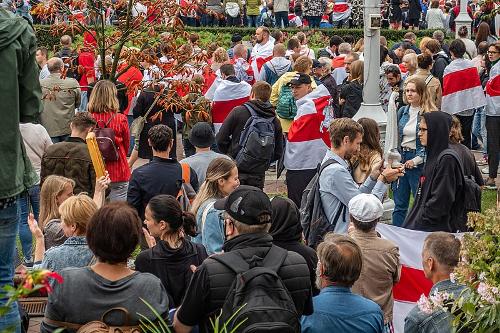 Protesting population of Belarus 2020Photo: Homoatrox CC 3.0 Unported no changes made
Belarus has 9,549,747 million inhabitants (2017), including 83.7% ethnic Belarusians, 8.3% Russians, 3.1% Poles, 1.7% Ukrainians and a small number of Tatars and other populations.
The only non-Slavic minority in Belarus are the Roma ("People"), who mainly live in some towns and villages in the south and southeast.
Before the Second World War, many Poles, Jews and a fairly large German minority lived in Belarus. Most were killed or fled or sent to Siberia.
Before the war, 10% of the population was Jewish and in cities such as Minsk, Hrodna, Brest and Vitsebsk the number of Jews made up between a third and three quarters of the population. As a result of the Holocaust, less than 1% of the population is currently Jewish.
Belarus has no minorities that want to secede, despite a turbulent past and the contrasts between Catholics (Poland) and Russian Orthodox.
Demographic data
The population density is approximately 46 inhabitants per square kilometer. In 2017, 75% of the population lived in cities and 25% in rural areas. There are more than 200 urban regions and twelve cities with more than 100,000 inhabitants. Most Belarusian cities were founded in the 12th century and the oldest northern city Polotsk, founded in the year 862.
Many ethnic Belarusians live in Poland, Russia, Ukraine, Kazakhstan, Latvia, Lithuania and Estonia. More than 1 million Belarusians live in the West, mainly in England, Germany, France, Belgium, the United States, Canada and Argentina.
Natural population growth was -0.22% in 2017.
Birth rate per 1000 inhabitants is 10.3 (2017)
Mortality rate per 1000 inhabitants is 13.2 (2017)
Life expectancy is 67.5 years for men and 78.8 years for women (2017)
Age structure
0-14 years: 15.8%
15-64 years: 69.2%
65+: 15%
The largest city is the capital Minsk with 2 million inhabitants. (2017)
---
Sources
Belarus
Lerner Publications Company
Belarus and Moldova : country studies
Federal Research Division, Library of Congress
Holtbrügge, D. / Weissrussland
Verlag C.H. Beck
Levy, P. / Belarus
Marshall Cavendish
Oost-Europa
The Reader's Digest
Russia & Belarus
Lonely Planet
CIA - World Factbook
BBC - Country Profiles
Last updated November 2023
Copyright: Team
The World of Info