BELARUS
Economy


Cities in BELARUS
Economy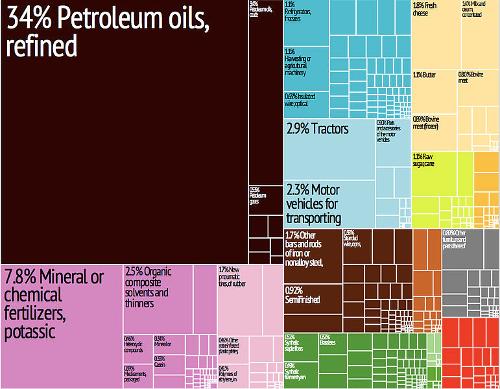 Export BelarusPhoto: R Haussmann, Cesar Hidalgo, et. al CC 3.0 Unported no changes made
The economy is still centrally controlled, as in the Soviet period. Since independence, the country has suffered from high inflation and, after a period of deep recession in the years 1990-1995, has experienced economic growth (estimated at 2.4% in 2017).
Exports to the Russian Federation are very important to Belarus and these good economic relations have ensured that the economic situation is not as bad as in other former Soviet states. A disadvantage of this situation is that an economic crisis in Russia has direct major consequences for the economy of Belarus. Belarus is also totally dependent on Russian natural gas and oil; Lithuania provides a large part of the electricity.
Belarus' conservative economic policies have ensured that bodies like the IMF and the World Bank are reluctant to invest in the country's economy. The GDP was at $ 18,900 in 2017, 6% of the population lives below the poverty line.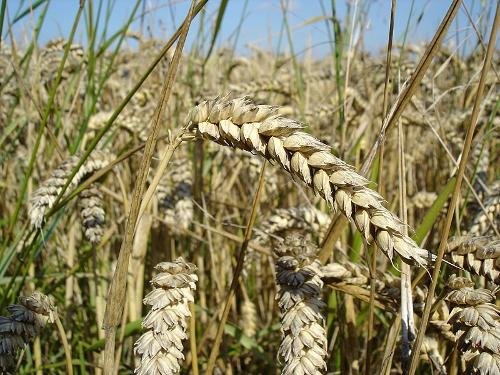 Wheat, an important product of BelarusPhoto: Bluemoose CC 3.0 Unported no changes made
As far as the eye can see, the wheat fields stretch out in Belarus, as part of the grain belt of Eastern Europe, which continues through Poland, Hungary, Ukraine and Moldova. A lot of wheat and crops are grown there for industrial processing, and there are orchards.
Belarus retained its large state farms, but these are no guarantee that the country can provide for its own food needs. The production of the Belarusian collective farms or collective farms is in fact declining due to the undermining influence of private plots. In addition to wheat, a lot of sugar beets, potatoes and flax are grown, in addition to smaller amounts of oats, millet, tobacco and hemp. The agricultural sector provides 8% of the gross domestic product (2017).
Southern Belarus, one of the most fertile regions of the country, was severely affected by the Chernobyl nuclear disaster in Ukraine (1986). Hundreds of kilometers in Belarus were contaminated by the wind, about 20% of the entire agricultural area. Forestry, another vital industry, was also hit hard: 15% of the forest area is no longer usable.
Tractor, BelarusPhoto: Dgolnik CC 3.0 Unported no changes made
Industry provides approximately 40% of GDP (2017). Important are the mineral and chemical factories in cities like Salihorsk and Hrodna with their fertilizer factories and oil refineries in Novopolatsk and Mazyr. also many tractors are manufactured in Belarus. An important energy source is peat, which is common in the Pripet swamps. Furthermore, a lot of potassium is extracted and exported abroad. Copper, nickel, lead and some other metals have been found, but these cannot yet be exploited.
Belarus is central to the European transport system. The rivers have always played an important role in this, with the Black Sea in the south and the Baltic Sea in the north. Railways are also an important part of Belarus' transport system.
---
Sources
Belarus
Lerner Publications Company
Belarus and Moldova : country studies
Federal Research Division, Library of Congress
Holtbrügge, D. / Weissrussland
Verlag C.H. Beck
Levy, P. / Belarus
Marshall Cavendish
Oost-Europa
The Reader's Digest
Russia & Belarus
Lonely Planet
CIA - World Factbook
BBC - Country Profiles
Last updated November 2023
Copyright: Team
The World of Info