BELARUS
Society


Cities in BELARUS
Society
State structure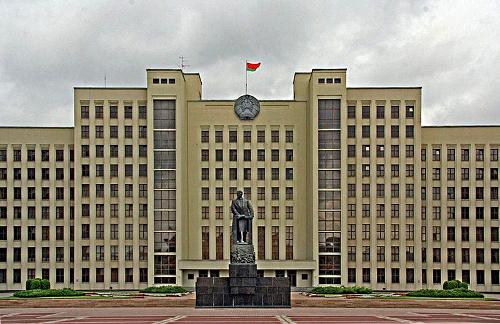 Belarus Parliament BuildingPhoto: Nuno Godhino CC 2.0 Generic no changes made
Belarus is a presidential republic headed by a powerful president. In 1996 a referendum was called by President Lukashenko, after which the 1994 constitution was amended. The 13th Supreme Soviet (parliament) was dissolved and replaced by a National Assembly of two chambers: the House of Representatives with 110 members and the Senate with 64 members (6 of which were appointed by the president). Internationally, the 1996 referendum was considered unconstitutional. As a result, neither the Constitution of November 24, 1996, nor the National Assembly established in that year are recognized by the community of Western countries. To date, they consider the 13th Supreme Soviet, headed by its chairman Sharetsky, to be a legitimate parliament.
The term of office of the head of state was also extended by 2 years to 7 years and he was given important powers. For example, the president appoints a number of key members of the judiciary, including the president of the Supreme Court, as well as the head of the election commission and the president of the national bank.
He also appoints, with the permission of the House of Representatives, the Prime Minister and the heads of regional and local councils. For the current political situation see chapter history.
Administrative division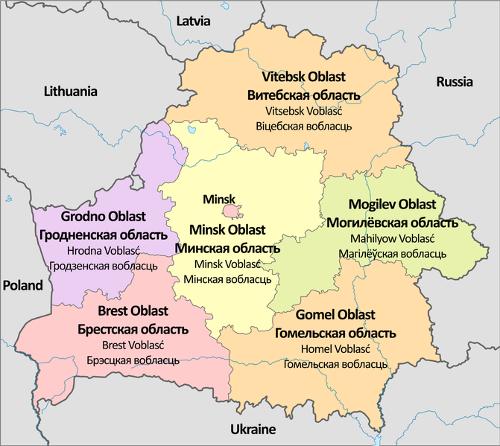 Regions BelarusPhoto: Whiterusian CC 3.0 Unported no changes made
Belarus is divided into six regions or "voblasti", and these regions are divided into 141 districts or "rayoni".
| | | | |
| --- | --- | --- | --- |
| region | capital city | surface | population |
| Brèst | Brèst | 32.300 km2 | 1.460.000 |
| Homel' | Homel' | 40.400 km2 | 1.500.000 |
| Hrodna | Hrodna | 25.000 km2 | 1.140.000 |
| Mahilëu | Mahilëu | 29.000 km2 | 1.165.000 |
| Minsk | Minsk | 40.800 km2 | 1.500.000 |
| Vicebst | Vicebst | 40.100 km2 | 1.300.000 |
Education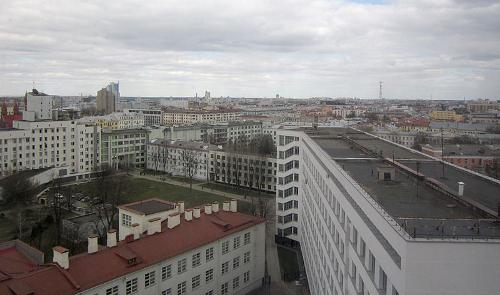 University of Minsk campus, BelarusPhoto: Homoatrox CC 3.0 Unported no changes made
Children are required to attend school from 7 to 17 years old. Primary school lasts five years, followed by five years of secondary education. Pre-school education is subsidized by the state and approximately 60% of all children attend kindergarten.
At the age of 15, students choose between a university degree, a vocational training or a specialized training. There are a striking number of sports training courses, several dozen in Minsk alone.
Most colleges and universities teach in Russian, while most primary schools provide Belarusian education. It is remarkable that Belarusian is taught much more often in "Russian" schools than vice versa.
In the capital, Minsk, the number of "Belarusian" schools decreased from 220 in 1994 to 11 in 2002. Minsk has two universities and 22 Jewish Sunday schools.
Sources
Belarus
Lerner Publications Company
Belarus and Moldova : country studies
Federal Research Division, Library of Congress
Holtbrügge, D. / Weissrussland
Verlag C.H. Beck
Levy, P. / Belarus
Marshall Cavendish
Oost-Europa
The Reader's Digest
Russia & Belarus
Lonely Planet
CIA - World Factbook
BBC - Country Profiles
Last updated February 2023
Copyright: Team
The World of Info