ALGARVE
Vacations and Sightseeing

Basic information
Official language
Portuguese
Capital
Faro
Area
6.500 km²
Population
438,864 (2019)
Currency
euro (EUR)
Web
.pt
Code.
PRT
Tel.
+351

Popular destinations PORTUGAL
Vacations and Sightseeing
The Algarve, the southernmost province of Portugal, is the most popular holiday destination of Portugal due to a friendly climate, more than a hundred clean beaches, a varied landscape, a rich culture, museums, a peaceful hinterland and a hospitable population.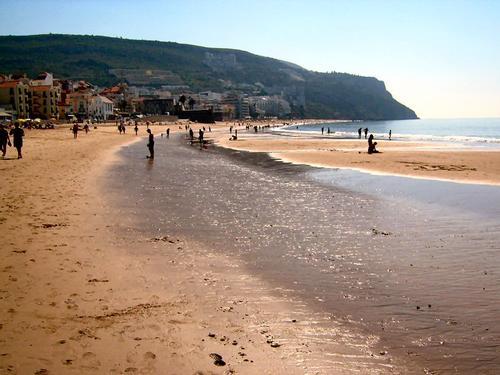 Praia de Ouro Beach Algarve Photo: Filipe Rocha, user: sacavem CC 3.0 no changes made
To the west of the capital Faro you will find rock formations with small stands, to the east of Faro you will find lagoons and kilometers of sandy beaches, including the famous beaches of Praia da Ouro, Praia da Rocha and Praia de Dona Ana. Nature lovers will enjoy Ria Formosa, the Serra da Monchique mountain range, the Caldeirão mountains and Cabo Sagres, areas where more than thirty hiking routes have been set out. Cabo da Sao Vicente is the most south-westerly point of the mainland of Europe and undoubtedly the most impressive place in the Algarve in terms of view.
Golf enthusiasts will also enjoy their attract with more than thirty beautifully situated golf courses. There are no more than 500,000 Portuguese living in the Algarve, ten times as many tourists stay in the holiday period, so we can certainly speak of mass tourism here. The beauty of the Algarve, however, is that a few kilometers inland you end up in a completely different world, without the hectic pace of the narrow coastal region.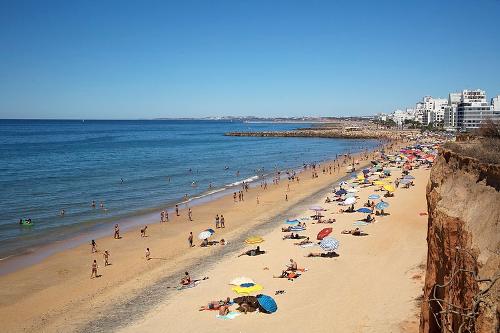 Albufeira Algarve beach Photo: Ricardo Liberato CC 2.0 Generic no changes made
Albufeira is one of the biggest tourist attractions in Portugal. Many caves can be found in Albufeira and the surrounding area. It is highly recommended to visit one of these caves during your stay in Albufeira. For example, at the beach at 'Rua Lationo Coelho' Here the Moors hid from the Christians. The Falesia beach is also recommended. It is one of the most beautiful sandy beaches in all of Portugal and all facilities can be found there. Albufeira's Falesia beach has even been awarded the Blue Flag for the cleanest and safest beaches in Europe. Read more about Albufeira.
---
Sources
Champion,N. / Portugal Corona
Dominicus, J. / Portugal Gottmer
Encarta Encyclopedie
Holisova, J. / Algarve ANWB
Keuning, T. / Portugal ANWB
Wakeren, B. van / Algarve, Zuid-Portugal, Lissabon Gottmer
CIA - World Factbook
BBC - Country Profiles
Last updated April 2023
Copyright: Team
The World of Info