ALGARVE
Climate and Weather


Popular destinations PORTUGAL
Climate and Weather
The sun shines frequently in the Algarve. On average, more than 3000 hours of sunshine are measured annually. Rain falls mainly in autumn and winter, the number of rainless days is over 300.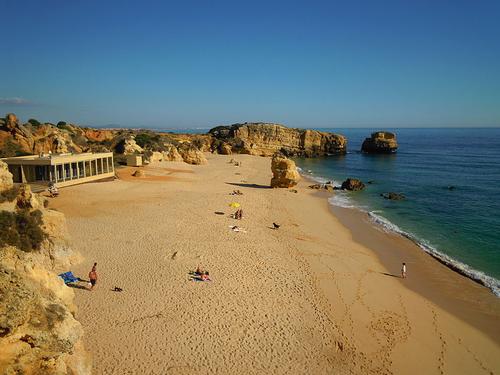 Algarve BeachPhoto: Beeston CC 3.0 Unported no changes made
The climate feels subtropical, despite its proximity to the Atlantic Ocean. In fact, there is a Mediterranean climate with mild winters and not too hot summers. Average daytime temperatures fluctuate between 16 degrees Celsius in January and February and 28 degrees Celsius in July and August. The summer heat is tempered by a fresh breeze from the sea.
---
Sources
Champion,N. / Portugal Corona
Dominicus, J. / Portugal Gottmer
Encarta Encyclopedie
Holisova, J. / Algarve ANWB
Keuning, T. / Portugal ANWB
Wakeren, B. van / Algarve, Zuid-Portugal, Lissabon Gottmer
CIA - World Factbook
BBC - Country Profiles
Last updated November 2023
Copyright: Team
The World of Info