TUNISIA


Geography and Landscape
Geography
The republic of Tunisia (officially: al-Djoemhoerijja at-Toenisijja) is located in the center of North Africa and is the smallest state of the so-called Maghreb. The Maghreb consists of the countries of Morocco, Algeria, Libya, Mauritania and Tunisia. Tunisia borders Algeria to the west, Libya to the southeast and has a natural border, the Mediterranean Sea, to the north and east. The natural border in the south is the Sahara.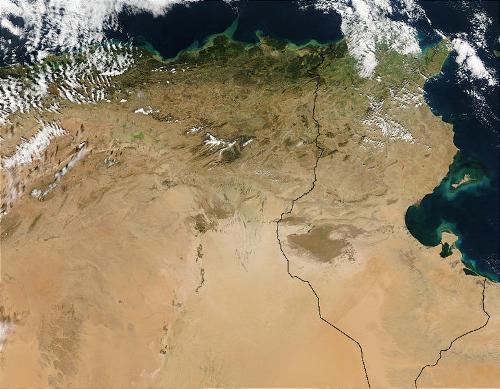 Tunisia: Satellite photoPhoto: Public Domain
Landscape
Tunisia has a very varied landscape. The coastal strip in the north and east of the country is about 1200 km long with beautiful sandy beaches. The east coast also has many bays, including the Gulf of Tunis. Off the coast are several islands, the largest and most famous of which is Djerba. The mountains in the west and northwest continue to Cap Bon in the far northeast. The western and central mountainous region, varying in height from about 500 to 1500 m, slopes gradually from west to east. This Tunisian mountain country, with the highest mountain ridge Dorsale in the mid-west, is a continuation of the mountain country of Algeria. The highest peak is the Djebel Chambi with 1544 meters.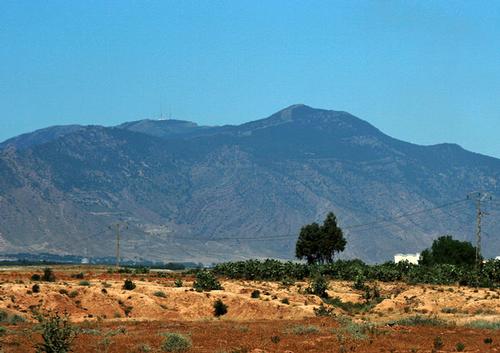 Djebel Chambi, Tunisia's highest mountainPhoto: Tunesien2013 CC 3.0 Unported no changes made
The coastal plain south of the mountain ranges is undulating and fertile. Millions of palm trees grow here. The grass steppe area to the west of this is barren. Furthermore, we find here salt lakes and river beds that are dry almost all year round. In the south, the Sahara starts with stone deserts, salt lakes and palm oases. Extensive sand dunes in the far south. The only river in Tunisia that has water all year round is the Mejerda, which flows into the Gulf of Tunis.
---
Sources
Dominicus, J. / Tunesië
Gottmer

Ruland-Wachters, T. / Reishandboek Tunesië
Elmar

Tunesië
Standaard

CIA - World Factbook

BBC - Country Profiles
Last updated November 2023
Copyright: Team
The World of Info