TUNISIA
Climate and Weather

Climate and Landscape
Local differences in the climate of Tunisia occur due to the influence of the Mediterranean Sea and its location in relation to the mountains and the Sahara. Under the influence of the Mediterranean Sea, the east coast and the northern part of Tunisia have a subtropical climate with mild winters and warm dry summers. Most precipitation falls north of the mountain ranges, averaging more than 400 mm per year with maxima along the coast of 700 to 1200 mm per year.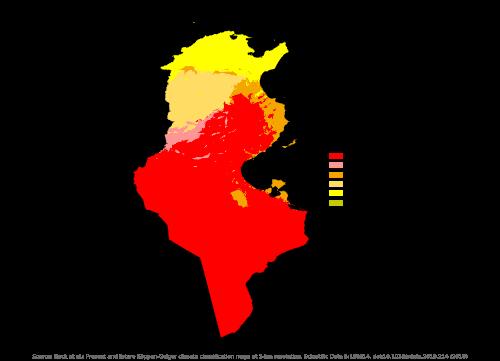 Climate TunisiaPhoto: Beck, H.E., Zimmermann, N. E., McVicar, T. R., Vergopolan, N., Berg, A., & Wood, E. F. CC 4.0 International no changes made
The interior has a steppe climate and the extreme south a desert climate. South of the mountain ranges, the transition to a drier climate begins with precipitation maximums of 300 mm and further south of 100 to 150 mm per year. South Tunisia receives less than 100 mm of rainfall per year. Precipitation mainly falls in the period from October to February. Northern Tunisia is considerably less warm than Southern Tunisia. In the hottest month, July, the Tunis-Bizerte region has an average temperature of 25.9°C; the much more southerly situated Tozeur has an average temperature of 32.3°C. The Tunis-Bizerte area has an average temperature of 11°C in the coldest month, January; the mountainous region of the High Tell 5.9 °C. Snow occasionally falls in the northwestern highlands. Temperatures of 50°C are measured in the center and south of the country. The sandstormed sirocco, a dry, hot southwest wind from the Sahara, blows regularly. Staying indoors is the watchword !
Sources
Dominicus, J. / Tunesië
Gottmer

Ruland-Wachters, T. / Reishandboek Tunesië
Elmar

Tunesië
Standaard

CIA - World Factbook

BBC - Country Profiles
Last updated May 2022
Copyright: Team
The World of Info