IRELAND
Geography and Landscape

Basic information
Official language
English, Irish
Capital
Dublin
Area
70.273 km²
Population
4,937,786 (2021)
Currency
euro (EUR)
Web
.ie
Code.
IRL
Tel.
+353

Cities in IRELAND
Geography and Landscape
Geography
The Republic of Ireland (officially: Republic of Ireland and in Irish: Poblacht Na h'Éireann or Éire for short), is an island located to the west of Great Britain. In addition to the Republic of Ireland, the island also consists of Northern Ireland or Ulster, which belongs to the United Kingdom. The Irish Sea lies between Ireland and Great Britain, and Ireland is otherwise surrounded by the Atlantic Ocean.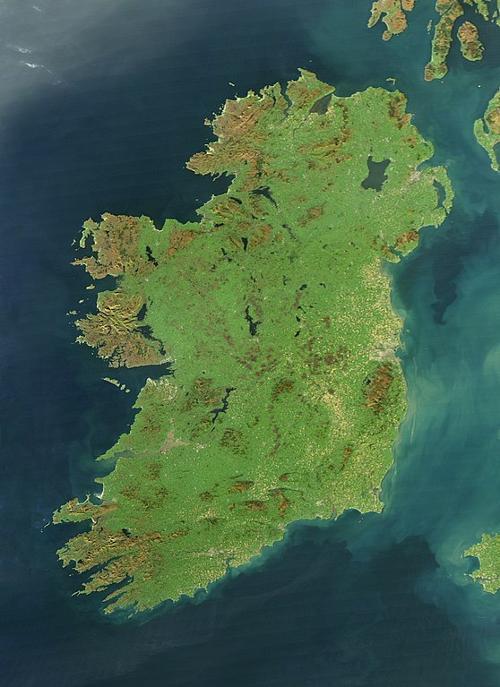 Satellite Photo IrelandPhoto: Public domain
Landscape
The central part of Ireland has an undulating landscape and is surrounded by an edge of mountains and hills. This part of Ireland is dotted with lakes and lakes including Lough Corrib and Lough Neagh, the largest lake in Ireland and Great Britain combined. It is also the most fertile part of the country.

Here you will also find the "bogs", extensive peat areas. On the east coast are dunes and the emptyest and cleanest sandy beaches in Europe. The west coast is very irregularly shaped, with deep coves, high rocks and perpendicular cliffs. The highest "mountain" in Ireland is the Carrantuohill in the western county of Kerry, and is approximately 1040 meters high. A wide belt of small steep hills runs through the north, the "drumlins".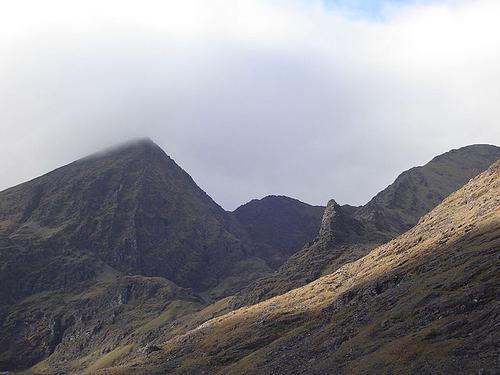 Carrantuohill, highest mountain of IrelandPhoto: Anthony Patterson CC 2.0 Generic no changes made
The longest river is the Shannon (370 km), which runs through the center of Ireland. The most famous islands in Ireland are the Aran Islands which are located in the Galway Bay on the west coast. Due to the shape and size of the island, no point on the island is more than 100 kilometers from the sea af.
---
Sources
Beek, D. van / Ierland
Gottmer
Europese Unie
Europees Platform voor het Nederlandse Onderwijs
Hendriksen, B. / Dublin en Ierland
Van Reemst
Ierland
Lannoo
Phenix, P. / Ierland
Kosmos-Z&K

CIA - World Factbook

BBC - Country Profiles
Last updated October 2023
Copyright: Team
The World of Info