GAMBIA
Population


Population
The Gambia had 2,051,5363 inhabitants in 2017. The population density is about 181 inhabitants per km2, making The Gambia the fourth most densely populated countries in Africa. Most Gambians live in the coastal region, where the major cities are. Most inhabitants live in the capital Banjul (504,000 people) and Banjul is one of the smallest capitals in Africa. Because it is located on an island, Banjul cannot actually get much bigger. The migration to the cities is great; in 2017, 60% of the population lived in cities. The birth rate is high; 29.4 children are born per 1000 inhabitants. Infant mortality is also high; 60 out of 1000 children die in the first year of life.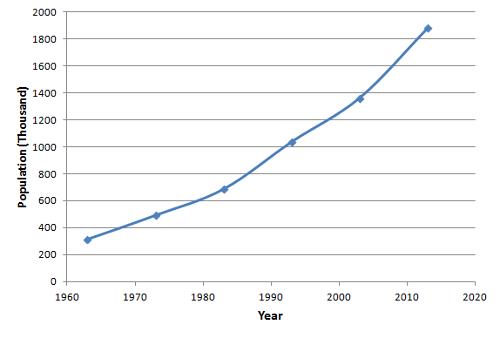 Population development GambiaPhoto: Michael Jester in the public domain
The population structure of The Gambia cannot be compared in any way with the West European one; children and young people up to the age of 14 make up 37% of the population. The average life expectancy is 65.1 years (women 67.5, men 62.8 years); 2017.
The population of The Gambia comes from many peoples, each with their own culture and language. These tribes are not only found in The Gambia, but in practically all West African countries. There are about fifteen different tribes in The Gambia who speak about 30 different languages.
The main tribes are: The Mandinka live in The Gambia, Senegal, Guinea, Guinea-Bissau, Mali and Nigeria. It is the largest population group, about 34% of the population.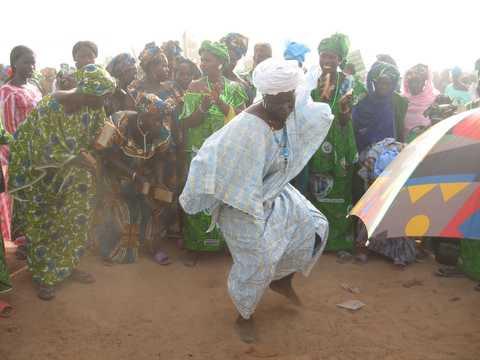 Mandinka dance, GambiaPhoto: Shaunamullally CC 2.0 Generic no changes made
The Fula lead a nomadic existence. They have a remarkably light skin color, so that their origin is very likely not in Africa, but that they descend from the Arabs. Nine very different dialects are spoken within the Fula tribe. Eighteen percent of the Gambian population belongs to the Fula.
The Wolof have always lived in Africa and came from the Sahara region. They were traders, so Wolof has always played an important role as a language. Most Wolof currently live in The Gambia and Senegal. Sixteen percent of the Gambians belong to the Wolof tribe.
From a historical point of view, little is known about the Jola. Yet they have long lived along almost the entire Atlantic coast of West Africa. Characteristic of the Jola is the formation of "clans", families that are independently established within a tribe. Ten percent of the Gambian population belongs to the Jola tribe.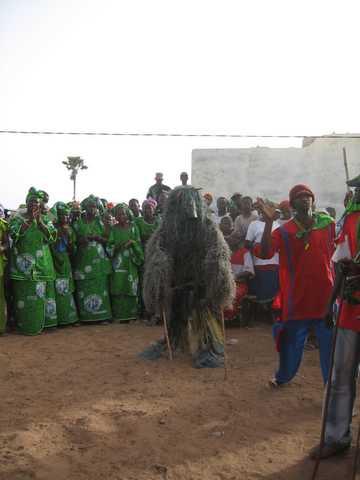 Jola dansers, GambiaPhoto: Shaunamullally CC 2.0 Generic no changes made
A small but important group are about 1000 Lebanese who control many bakeries, restaurants and an important part of the food import.
Furthermore, there are still about 25,000 Senegalese living there, mainly as workers. A separate group are the Aku, descendants of returned slaves and freed slaves. The Aku are generally Christians and often have an English surname.
---
Sources
Derksen, G. / Gambia, Senegal
Gottmer
Hesseling, G. / Senegal/Gambia : mensen, politiek, economie, cultuur
Koninklijk Instituut voor de Tropen
Waard, P. de / Reishandboek Gambia
Elmar

CIA - World Factbook

BBC - Country Profiles
Last updated October 2023
Copyright: Team
The World of Info