GAMBIA
Climate and Weather


Climate and Weather
The Gambia has a subtropical climate with a dry and a wet season. The dry season lasts from about mid-October to about mid-June. It often happens that during this period there really is not a drop of rain. March to May are the sunniest months, with an average of 10 hours of sunshine per day.
The northeasterly wind (Harmattan) blows from the Sahara in those months and can sometimes bring sand instead of rain. The temperature can reach up to 40 °C at the end of the dry season. The heat regularly causes whirlwinds called Tonkolong. Humidity can drop to 25% in the dry period.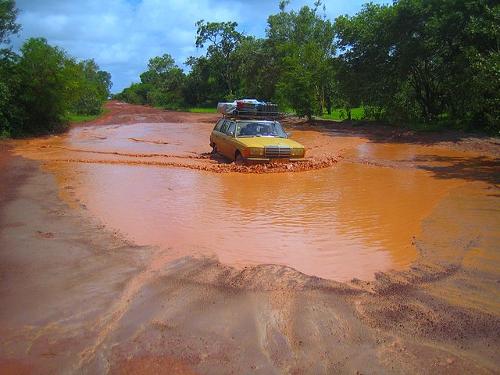 Gambia in the rainy seasonPhoto: Jurgen from Netherlands CC 2.0 Generic no changes made
The wet period lasts from about mid-June to mid-October. July, August and September are the wettest months in The Gambia. Half of all rain falls in August. The rain usually falls in showers, at night and in the morning. However, it does not always rain during the wet period, on average on about twelve days a month.
In the capital Banjul, located on the coast, about 1400 mm of rain falls annually. Georgetown, located in the interior, receives about 1050 mm of rain per year. The highest humidity, up to 95%, is measured in August. The water temperature in the Atlantic Ocean ranges from 20 to 27 °C.
Sources
Derksen, G. / Gambia, Senegal
Gottmer
Hesseling, G. / Senegal/Gambia : mensen, politiek, economie, cultuur
Koninklijk Instituut voor de Tropen
Waard, P. de / Reishandboek Gambia
Elmar

CIA - World Factbook

BBC - Country Profiles
Last updated January 2023
Copyright: Team
The World of Info