GAMBIA



Geography and Landscape
Geography
The Gambia (officially: Republic of The Gambia) is located on the westernmost tip of Africa on the Atlantic Ocean. The Gambia, with an area of 11,295 km², is the smallest country on the African mainland.

Satellite photo GambiaPhoto: NASA in the public domain
The Gambia measures approximately 320 km from east to west. The width varies from 20 to 50 km from north to south. The Gambia is enclosed on three sides by Senegal.
Landscape
The landscape is slightly sloping with some hills. The highest point is about 40 meters. The easily navigable river Gambia runs right through the country.
The Gambia River carries water all year round. There are many sandy beaches along the coast. The delta of the Gambia River is quite swampy with mangrove vegetation. The north of The Gambia has a parkland savanna landscape with long grasses, large shrubs and some trees. South of the Gambia River begins the forest savanna, grassland with groups of trees.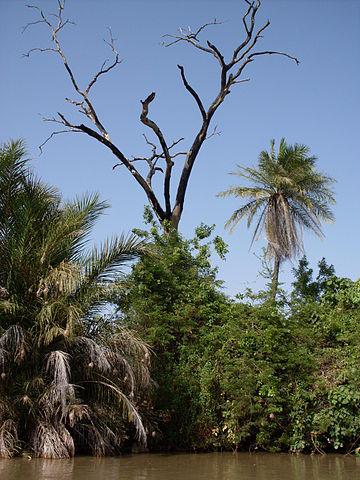 Gambia River east of Georgetown, GambiaPhoto: Mathiasv, CC 3.0 Unported no changes made
---
Sources
Derksen, G. / Gambia, Senegal
Gottmer
Hesseling, G. / Senegal/Gambia : mensen, politiek, economie, cultuur
Koninklijk Instituut voor de Tropen
Waard, P. de / Reishandboek Gambia
Elmar

CIA - World Factbook

BBC - Country Profiles
Last updated October 2023
Copyright: Team
The World of Info