FINLAND
Society


Cities in FINLAND
Society
State structure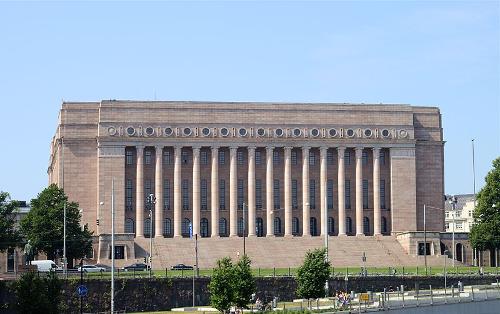 Parliament building in Helsinki, FinlandPhoto: Alvergaspar CC 3.0 Unported no changes made
Finland has been a parliamentary democracy since 1919. Legislative power rests with the president together with the 200-member parliament (Diet) elected for four years under universal suffrage on the basis of proportional representation. All citizens from the age of 18 have the right to vote and to stand as a candidate. Finland was the first European country to give women the right to vote (in 1906). The so-called Grand Committee (a kind of Senate), consisting of 45 members, has an advisory role and is elected by and from the Reichstag. Executive power lies in the hands of the president and the Council of State (the cabinet), formed by the prime minister and the ministers. The President of the Republic has been elected for six years by direct free elections since 1994. Re-election is only possible once. The Finnish president has great powers and a lot of authority. The president looks after foreign affairs, appoints the government, senior officials and judges and can temporarily block laws with his veto. The president is also the commander in chief of the military. The Åland islands are self-governing, while a governor appointed by the president represents the Finnish government. For the current political situation see the chapter history.
Administrative division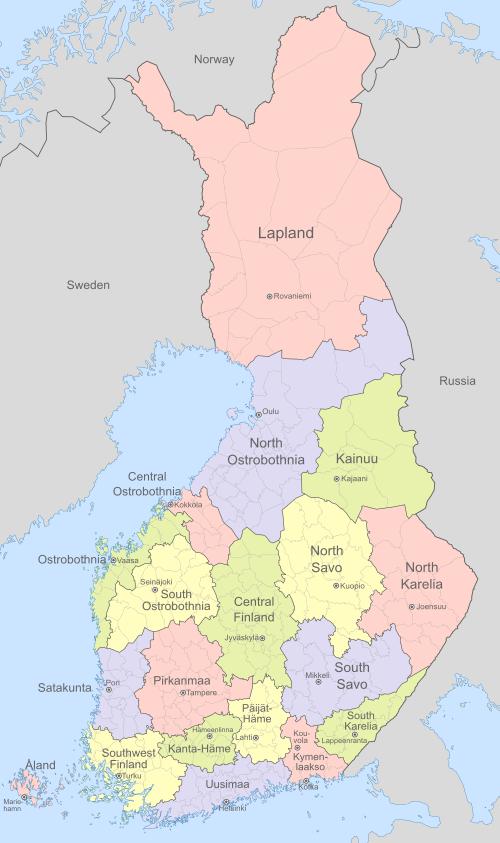 Districts of FinlandPhoto: Fenn-O-maniC CC 4.0 International no changes made
Finland is divided into 12 provinces or districts (lääni), 460 municipalities and 94 cities. Each district is headed by a governor or maaherra appointed by the president. The smallest administrative units, the municipalities, have a high degree of self-government.
Education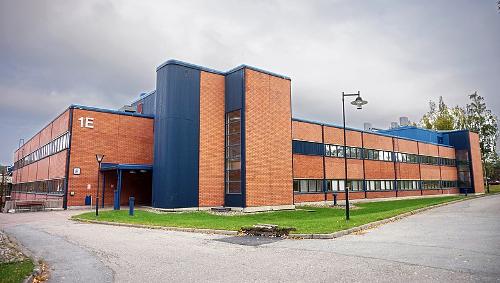 University of Eastern Finland in KuopiaPhoto: Tiia Monto CC 3.0 Unported no changes made
Illiteracy is almost non-existent in Finland. Children are required to attend nine-year primary school. The basement consists of three years and the superstructure of six years. From 1991 there is a new national curriculum for primary education. The intention is that the schools themselves give direction to the developments in the field of education. Schools are given the freedom to respond to all kinds of developments and to cooperate with local authorities and the economic activities in their community. Furthermore, there is a shift from knowledge-based education to learning skills, so that students can independently acquire knowledge and insight. There are Finnish and Swedish-language schools. As a result, the second national language is also taught in addition to the mother tongue. From grade three onwards, teaching begins in a foreign language, usually English. From grade eight it is possible to choose Russian. Primary education is free and so are the books, school meals and transport. After primary education, students can choose between higher secondary education or vocational education. Secondary education lasts three years and is concluded with an exam that gives admission to universities or higher professional education.
In Lapland, Sami is taught in schools alongside Finnish.
---
Sources
Encarta Encyclopedie

Europese Unie: Europees Platform voor het Nederlandse Onderwijs

Schaap, D. / Finland
ANWB

Tuovinen, E. / Finland
Gottmer

CIA - World Factbook

BBC - Country Profiles
Last updated November 2023
Copyright: Team
The World of Info