ENGLAND
Climate and Weather


Cities in ENGLAND
Climate and Weather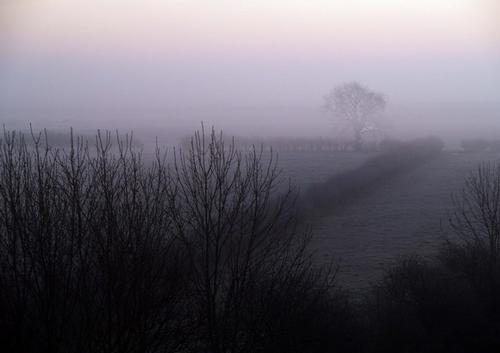 Foggy Fields in Yorkshire EnglandPhoto: Andy Beecroft CC 2.0 Generic no changes made
England has a very maritime climate because of its location in the middle of the North Atlantic Gulf Stream and especially because of the strong prevailing southwestern winds, which almost always supply moist sea air. The low annual temperature is also characteristic and in South East England is only 13 °C. The winters are generally mild and the summers cool, with relatively high humidity in both periods. Very low temperatures can only occur when the eastern winds supply air from the European mainland in winter.
Fog is quite common, for example in the industrial area of middle Engeland more than fifty days a year. The average number of hours of sunshine is not very high: 30 to 40% along the south and east coast, less to less than 20% along the west coast in the Scottish highlands. It is generally warmer in the south than in the north. In the south, the temperature fluctuates between 4 °C in January and 18 °C in July. Palm trees also grow here spontaneously, especially in the area also known as the "Cornish Riviera". Temperatures above 30 °C are sporadic throughout England.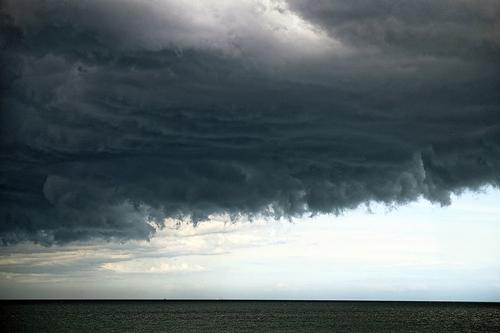 Cloud front over Kent, EnglandPhoto: Acabashi CC 4.0 International no changes made
It rains very often in England; in most places more than 200 days a year. The rainfall is mainly related to depressions passing over or to the north of the British Isles. These also cause the strong winds in the west and north: approx. 30 days a year with a wind force of 8 or higher. Due to propulsion, the precipitation amounts are greatest along the west coast and especially where it is mountainous. For example, parts of the Pennines and Lake District sometimes receive more than 4,500 mm of rain per year. In the east and in the lower areas it rains considerably less. There, an average falls between 1000 and 1500 mm per year. In London, and in parts of neighboring Essex and Kent, as little as 600mm per year. Most rain falls in the period from late September to late November, but it can also rain heavily in the middle of summer. In October 2000 and March 2001, extreme rain fell in certain parts of England, flooding entire areas.
The average number of snow days in South East England is over 15, along the west coast of Wales around 7.
WILTSHIRE (Southwest): 150 meters above sea level
jan
feb
mar
apr
may
jun
jul
aug
sep
oct
nov
dec
temperature
3.4
3.5
5.4
7.7
10.9
14.0
16.0
15.7
13.5
10.4
6.3
4.,3
precipitation (mm)
64
48
59
45
56
57
55
59
63
64
63
76
LONDON (Southeast): 62 meters above sea level
jan
feb
mar
apr
may
jun
jul
aug
sep
oct
nov
dec
temperature
3.5
3.8
5.7
8.0
11.3
14.4
16.5
16.1
13.8
10.7
6.4
4.5
precipitation (mm)
78
51
61
54
55
57
45
56
68
73
77
79
PLYMOUTH (Zuidwesten) 27 meter above sea level
jan
feb
mar
apr
may
jun
jul
aug
sep
oct
nov
dec
temperature
6.2
5.9
7.0
8.8
11.5
14.3
16.1
16.0
14.4
12.1
8.7
7.2
precipitation (mm)
115
92
87
58
64
57
54
69
77
95
96
116
MANCHESTER (Midden) 78 meter above sea level
jan
feb
mar
apr
may
jun
jul
aug
sep
oct
nov
dec
temperature
4.0
4.0
5.8
8.0
11.3
14.2
15.8
15.6
13.5
10.7
6.5
4.7
precipitation (mm)
69
50
61
51
61
67
65
81
71
78
78
78
---
Sources
Allport, A. / England
Chelsea House
Bowden, R. / Groot-Brittannië
Corona
Engeland, Wales
Lannoo
England
Lonely Planet
England
Rough Guides
Fuller, B. / Britain
Marshall Cavendish
Groot-Brittannië
Michelin Reisuitgaven
Locke, T. / Engeland
Van Reemst
Parsons, F.S. / Engeland
Van Reemst,
Schaedtler, K. / Highlights van Engeland en Wales
Gottmer
Somerville, C. / Groot-Brittannië
Kosmos-Z&K
CIA - World Factbook
BBC - Country Profiles
Last updated November 2023
Copyright: Team
The World of Info