EGYPT
Climate and Weather


Cities in EGYPT
Climate and Weather
Egypt has a desert climate with large temperature differences between day and night and between summer and winter.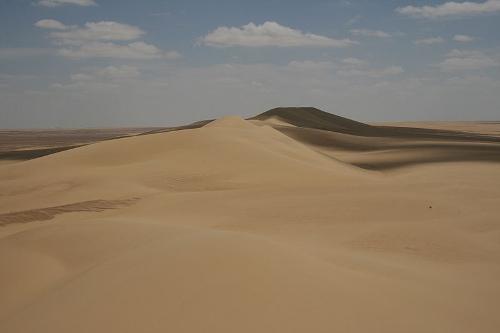 Desert Climate EgyptPhoto: Cheesy 42 CC 2.0 Generic no changes made
The weather is very steady; there are two distinct seasons: the hot summer from May to October and the cooler winter from November to April. In the desert, the temperature in summer during the day easily exceeds 38 °C in the shade, with tops of up to 50 °C. This heat escapes at night into the cloudless sky, with the temperature dropping by 10 to 17 °C. The temperature in winter is considerably lower: the average in January is 12-16 °C. The mountain areas in Sinai can be quite cold in December and January, and snow falls in the mountains almost every winter.
The rainfall is very low, Cairo has an average of six rainy days a year, Alexandria thirty. It hardly ever rains in the south of the country. In the spring, depressions now and then sweep Egypt, bringing with them the khamseen, a dry, scorching wind known for its sandstorms. For fifty days (khamseen = 50), from March to May, dangerous sand storms can emerge (wind speeds up to 150 km per hour).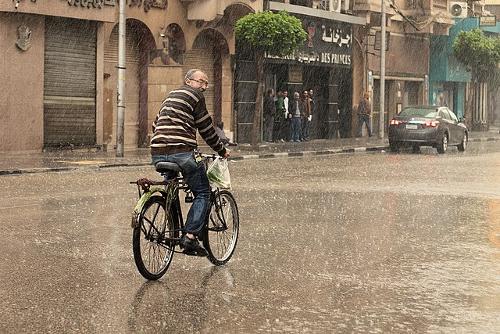 Heavy rainfall in Caïro, EgyptPhoto: Mohamed Hozyen CC 4.0 no changes made
Unlike inland, the Mediterranean coast has rainfall in the winter (100 to 200 mm). The coast also has milder winters and lower summer temperatures than inland, due to the moderating effect of the Mediterranean Sea. The temperature differences between day and night are also not nearly as great.
Alexandria is the coolest place in the country. Average temperatures in January fluctuate between 10.5 and 18 °C, in July between 23 and 29 °C. Alexandria and the western coast of the Delta are also the wettest area in Egypt, with more than a hundred millimeters of rain per year.
---
Sources
Ambros, E. / Egypte
Het Spectrum
Botje, H. / Egypte : mensen, politiek, economie, cultuur, milieu
Koninklijk Instituut voor de Tropen
Dunford, J. / Egypte
Van Reemst
Grünfeld, R. / Reishandboek Egypte
Elmar
Innemee, K. / Egypte
Gottmer/Becht
Kreissl, B. / Egypte
Elmar
Laet, R. de
Egypte
Rooi, M. de / Egypte
ANWB
Sattin, A. / Egypte
Van Reemst

CIA - World Factbook

BBC - Country Profiles
Last updated May 2023
Copyright: Team
The World of Info