CURACAO
Society

Cities in CURACAO
Society
State structure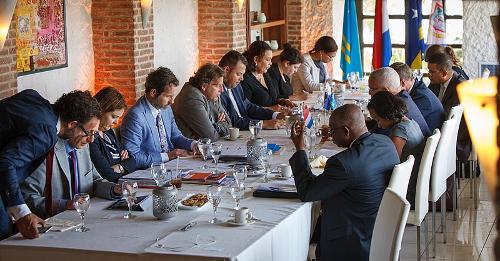 Minister Koenders visits Staten van CuracaoPhoto:Ministerie van Buitenlandse zaken CrC 2.0 Generic no changes made
The Netherlands Antilles are an autonomous part of the Kingdom of the Netherlands and have their own government. The Kingdom of the Netherlands is only responsible for defense and foreign affairs. The Netherlands Antilles have appointed a "minister plenipotentiary" who represents the islands in the Kingdom government in the Netherlands. The government of the Netherlands Antilles is located in the capital of the Netherlands Antilles and Curaçao, Willemstad and is formed by a council of ministers and a governor. The Antillean Council of Ministers is accountable to the parliament, the "States of the Netherlands Antilles". The Parliament of the Netherlands Antilles consists of 22 members (Curaçao 14, Bonaire 3, Sint Maarten 3, Saba 1 and Sint-Eustatius 1). Together with the governor, they form the legislative branch. The members of Parliament come from the island councils, which in turn form part of the administration of each island individually. For the current political situation, see chapter history.
Education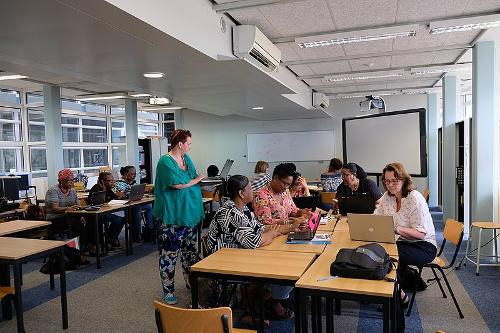 Wikipedia workshop for students and former students of the University of CuraçaoPhoto: Siryn CC 4.0 International no changes made
Catholic missionaries laid the foundation for today's education. The Dutch system with kindergarten, primary school and secondary education at different levels is still used. Besides the "normal" subjects, Papiamento is also taught. In addition, many schools teach English and Spanish in the upper classes. The language of instruction is Dutch, which causes problems for many children, especially in the first years of primary school. For the first years of their lives they hear almost only Papiamentu. A poverty study in 1999 shows that the number of children who do not finish school is increasing explosively. From 26% in the eighties, to 42% in the early nineties and more than half - over 55% - in 1999. Since 1979, Curaçao has its own university with a legal, technical and economic faculty. There is also a pedagogical academy and teacher training. Many students study in the Netherlands or the United States.
Sources
Bakker, J. / Nederlandse Antillen en Aruba
Koninklijk Instituut voor de Tropen

Encarta Encyclopedie

Erven Dorens, P. van / Curaçao
Bos & Co

Helm, R. van der / De Curaçao reisgids
Elmar

CIA - World Factbook

BBC - Country Profiles
Last updated February 2023
Copyright: Team
The World of Info