CAMBODIA
Vacations and Sightseeing

Basic information
Official language
Khmer
Capital
Phnom-Penh
Area
181.035 km²
Population
17,092,764 (2021)
Currency
riel (KHR)
Web
.kh
Code.
KHM
Tel.
+855

Cities in CAMBODIA
Vacations and Sightseeing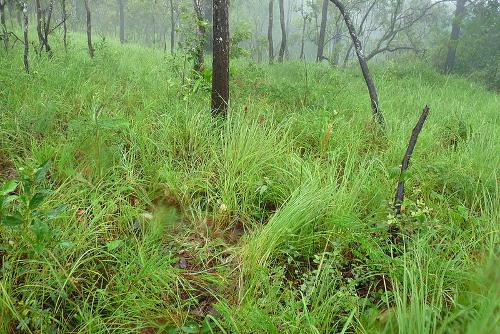 Kirirom National Park CambodiaPhoto: François Mey CC 3.0 Unported no changes made
Tourism is an important source of income, although this sector is still in its infancy. Tourists mainly come from the United States, China, France, Taiwan and Japan. Cambodia has beautiful scenery and a number of national parks.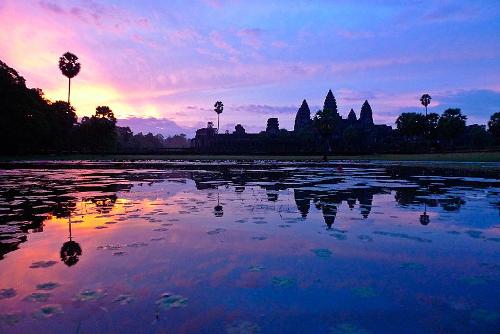 Cambodia Angkor Wat SunrisePhoto: David Sim CC 2.0 Generic no changes made
The biggest attraction in Cambodia and one of the most spectacular ancient sites on Earth is Angkor. That is a huge temple complex with the remains of various capitals of the Khmer Empire from the 9th to the 15th century AD. These include the famous temple of Angkor Wat, the largest religious monument in the world, the Bayon temple (in Angkor Thom) with the large and massive stone faces and Ta Prohm, a Buddhist temple ruin intertwined with towering trees.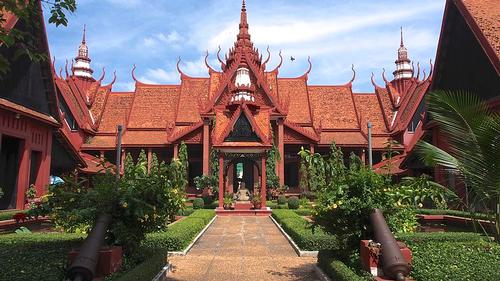 National Museum Phnom Penh CambodiaPhoto: Clay Gilliland CC 2.0 Generic no changes made
The capital Pnom Penhn is definitely worth a visit. You can admire the silver Pagoda here. The pagoda is located within the royal palace and is home to many national treasures such as gold and jeweled Buddha statues. Most notable is a small 17th century baccarat crystal Buddha (the Emerald Buddha of Cambodia) and a life-size gold Maitreya Buddha adorned with 9,584 diamonds. The inner wall of the Silver Pagoda is decorated with a richly colored and detailed mural depicting the Ramayana myth, painted in 1903-1904 by 40 Khmer artists.
---
Sources
Canesso, C. / Cambodia
Chelsea House Publishers
Colet, J. / Cambodia handbook
Footprint Handbooks
Green, R. / Cambodia
Lucent Books
Kleinen, J. / Cambodja
Koninklijk Instituut voor de Tropen ; Novib
Peterse, L. / Cambodja
Gottmer/Becht,
Wulf, A. / Cambodja, Laos
Het Spectrum

CIA - World Factbook

BBC - Country Profiles
Last updated November 2023
Copyright: Team
The World of Info