CAMBODIA
Climate and Weather


Cities in CAMBODIA
Climate and Weather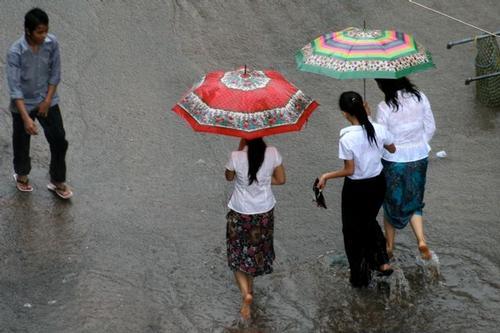 Cambodia MonsoonPhoto: Julie Rigsby CC 2.0 Generic no changes made
Cambodia has a tropical monsoon climate with a dry season from November to May and a wet season after that. There are significant differences in temperature and rainfall between the individual Cambodian regions. The average annual temperature is around 27 °C with slight differences between day and night.
Frost is not known, but in the hills it can cool down considerably at night.
In the rainy season, between May and November, the wet southwest monsoon carries very moist air through the Indian Ocean. More than three-quarters of the annual amount of precipitation falls in these months, with September as the wettest month.
The amount of rainfall varies per area, depending on the location and the altitude. On the central plain falls about 1400 mm per year, the hills and the coast receive about 3800 mm annually. The southwestern slopes of the Cardamom Mountains receive an annual rainfall of about 5000 mm.
The dry season from November to May has, under the influence of the northeast monsoon, a cool and a hot period. The "cool" dry period lasts from November to February, when the temperature rises to 28 ° C in the capital Phnom Penh.
From February to May it can be very hot, especially in the low-lying areas. During the hottest month, April, the temperature can rise to about 40 ° C.
Climate table with averages for all of Cambodia
| | | | | | | | | | | | | |
| --- | --- | --- | --- | --- | --- | --- | --- | --- | --- | --- | --- | --- |
| | jan | feb | mar | apr | may | jun | jul | aug | sep | oct | nov | dec |
| min. temp. in °C | 22 | 22 | 23 | 24 | 24 | 24 | 24 | 24 | 24 | 24 | 23 | 22 |
| max. temp. in °C | 31 | 33 | 34 | 35 | 34 | 33 | 32 | 32 | 31 | 31 | 30 | 30 |
| humidity % | 68 | 66 | 64 | 66 | 74 | 76 | 77 | 79 | 82 | 80 | 76 | 72 |
| rainy days p/m | 1 | 1 | 3 | 5 | 6 | 10 | 11 | 11 | 12 | 13 | 9 | 3 |
Sources
Canesso, C. / Cambodia
Chelsea House Publishers
Colet, J. / Cambodia handbook
Footprint Handbooks
Green, R. / Cambodia
Lucent Books
Kleinen, J. / Cambodja
Koninklijk Instituut voor de Tropen ; Novib
Peterse, L. / Cambodja
Gottmer/Becht,
Wulf, A. / Cambodja, Laos
Het Spectrum

CIA - World Factbook

BBC - Country Profiles
Last updated February 2023
Copyright: Team
The World of Info