CALIFORNIA
Religion


Cities in CALIFORNIA
Popular destinations USA
Religion
General
In California today, Protestants make up the largest faith community (36%), followed by Catholics (31%), Jews (3%), Buddhists (2%) Mormons (2%), Muslims (1%), Hindus (1%) and various other denominations (24%). California has the most Buddhists in its territory outside of Asia.
The 24% diverse traditionally includes all kinds of alternative religions and utopian societies, from modern pagans to new age healers. California scored worldwide in the 1960s with gurus from India, in the 1970s with Jim Jones' Peoples Temple and Erhard Seminars Training (EST, in the 1990s with the Heaven's Gate Doomsday UFO cult in San Diego, and in 2011. And since 1954, the Scientology Church has been trying to gain a foothold in California.
Religious buildings
Garden Grove: Christ Cathedral (previously Crystal Cathedral). Literally 'splendid' star-shaped church, consisting of white steel lattice girders, covered by more than ten thousand panes of crystal and silver-plated cut glass. The main church of the Reformed Church of America by the television chaplain ('The Hour of Power') Robert Harold Schuller, designed as a Crystal Cathedral in the period 1977-1980 by architect Philip Johnson. Bought in 2012 by the Diocese of Orange County for its 1.2 million Catholics and since June 2013 has continued under the name Christ Cathedral. The Hazel Wright pipe organ is the largest pipe organ in the world and separate from the church stands the 70-meter-high glass Crean Tower, built in 1990.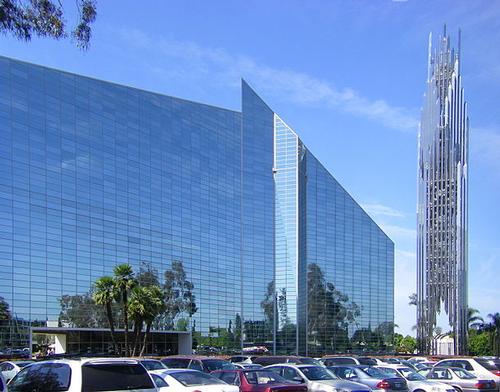 Crystal Church, Graden Grove, CaliforniaPhoto:Wattewyl CC 3.0 Unportedno changes made
Los Angeles: Cathedral of Our Lady of the Angels (also called COLA or Los Angeles Cathedral). Post-modern futuristic Roman Catholic cathedral, without spire, designed by Spanish architect José Rafael Moneo and consecrated in 2002. Mother Church with 3000 seats of the Archdiocese of Los Angeles and seat of the Archbishop. This cathedral replaced the Cathedral of Vibiana, badly damaged by the 1994 Northridge earthquake. Disputed both for design and for the high construction cost of $ 200 million. Angular on the outside, interior is sleek.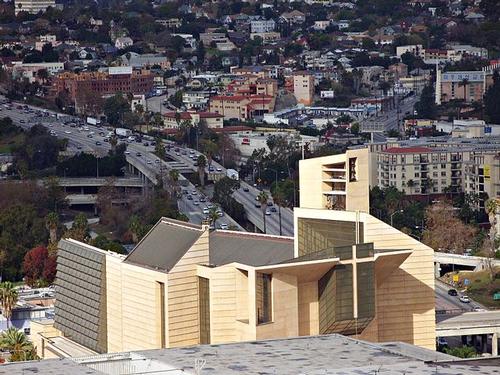 Cathedral of Our Lady of the Angels, Los Angeles, CaliforniaPhoto: Basil D Soufi CC 3.0 Unported no changes made
Los Angeles (suburb Rancho Palos Verdes): Wayfarers Chapel (also 'Glass Church'). Perched on a cliff top chapel, made of glass and redwood and designed in 1949 by architect Lloyd Wright (actually Frank Lloyd T. Wright, Jr.), son of renowned architect Frank Lloyd Wright. The building, built in 1951, belongs to the Swedenborgian Church, which is based on the theories and thoughts of the Swedish scientist, mystic, philosopher and theologian Emanuel Swedenborg (1688-1772).
Wayfarers Chapel, Los Angeles, CaliforniaPhoto: Russ Allison Loar CC 4.0 International no changes made
Oakland: Oakland Temple of the Church of Jesus Christ of Latter Day Saints of Oakland California Temple. Dedicated in 1964, the 15th Mormon Temple, the only one in Northern California. Designed by architect Harold William Burton (1887-1969), specialist in Mormon buildings. It is the only Mormon temple with five spiers and is further notable for its use of oriental motifs.
San Diego: Mission Basilica San Diego de Alcalá. This was the first Franciscan mission in California, founded on July 16, 1769 by the Spanish Father Junípero Serra. This is where the first Christian funeral took place in what was then Alta California and also the first public execution was carried out in 1778, Father Luis Jayme became California's first Catholic martyr. The current church is already the fifth to be built on this location.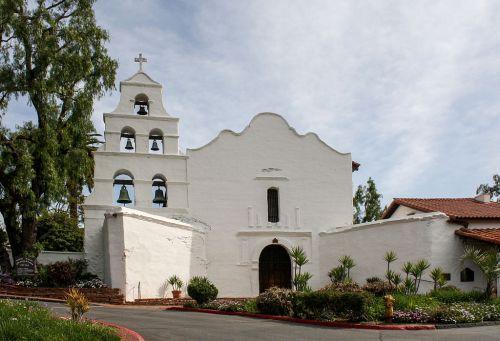 Mission Basilica San Diego de Alcalá in SanDiego, CaliforniaPhoto: Bernard Gagnon CC 3.0 Unported no changes made
San Francisco: Old St. Mary's Cathedral of the Immaculate Conception. San Francisco's first Roman Catholic cathedral built by Chinese, consecrated in 1854 and made of Chinese granite. In service as a cathedral until 1891, but was succeeded in that year by the Cathedral of Saint Mary of the Assumption. One of the few buildings that stood proudly after the earthquake of 1906, but partly burned down, only the outer walls and the bell tower remained; the renovation was completed in 1909. When opened, was the largest building in San Francisco and even all of California.
San Francisco: Kong Chow Temple. Founded in 1849 by the Cantonese community of San Francisco and dedicated to the deity Guan Yo (aka Guan Di), a famous general of the Late or Eastern Han Dynasty, 25-220 AD. Destroyed by the 1906 earthquake, but rebuilt by the Chinese community. In 1977 the temple moved to the top floor of a post office in Chinatown, also known as the Kong Chow Building.
Chinatown also has a number of Buddhist temples, including Tin How Temple, Jeng Sen Temple and Norras Temple.
San Francisco: Tien Hau Temple. Temple dedicated to sea goddess Tianhou or Mazu, protector of sailors, among others. Oldest in use Taoist temple in the United States, founded in 1852 by Day Ju, one of the first Chinese immigrants to San Francisco. In the 1950s, the temple was closed for about 20 years, but reopened in 1975. Current temple was built in 1910 on the top floor of a four-storey building.
San Francisco: Grace Cathedral. Main church in the French Gothic style of the Episcopalian Diocese of California and third largest episcopal cathedral in the United States, after the Cathedral of Saint John the Divine in New York City and the Cathedral Church of Saint Peter and Saint Paul in Washington DC ( also called Washington National Cathedral). Designed by the American architect Lewis Parsons Hobart (1873-1954) and based on the Notre Dame of Paris; construction began in 1928 but was not nearly completed until 1964. The stained-glass windows feature images of not only religious figures, but also American celebrities such as Albert Einstein and the astronaut John Glenn.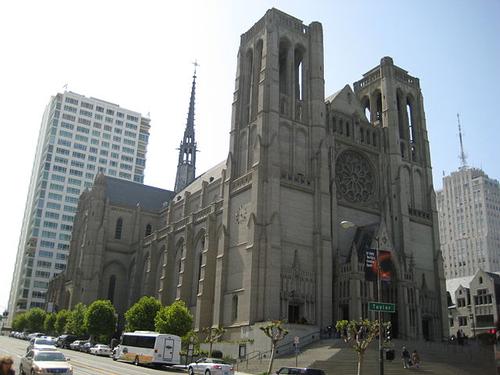 Grace Cathedral, San Francisco, CaliforniaPhoto: Marlith CC 3.0 Unported no changes made
San Francisco (North Beach): Saints Peter and Paul Church. Also called 'Italian Church', 'La Cattedrale d'Italia Ovest' or 'Fishermen's Church' due to the frequent use by the Italian community in San Francisco. This original late 19th century Roman Catholic church is managed by the Salesians of (Giovanni) Don Bosco (1815-1888). The first church of this name was destroyed in the 1906 earthquake; the current building was completed in 1924. The towers of the church are 58 meters high.
San Francisco: Cathedral of St. Mary of the Assumption. Architecturally very modern cathedral, designed by the Italian-American architect Pietro Belluschi (1899-1994) and the Italian engineer Pier Luigi Nervi (1891-1979), in collaboration with local architects. Popularly called St. Mary's Cathedral, the church was completed in 1971 and is very similar to St. Mary's Cathedral in the Japanese capital Tokyo.
Other special churches in San Francisco are the Holy Virgin Cathedral (Russian Orthodox Church of the Russian Church in Exile), the Glide Memorial United Methodist Church (Sunday mass attracts many drag queens) and the Temple Emanu-El, founded after the World War I Jews fled from Russia and Eastern Europe.
San Jose: Cathedral Basilica of St. Joseph. Located on the site where the first church was built in ca.1803 in the first Catholic parish in California. The church was ravaged by earthquakes in 1818, 1822 and 1868 and a fire in 1875. In 1997 the Vatican awarded the church the status of basilica.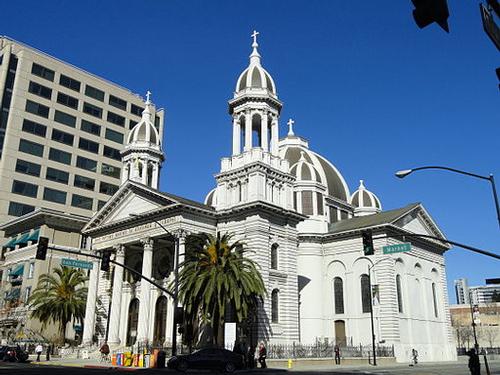 Cathedral Basilica of St. Joseph, San Jose, CaliforniaPhoto: Daderot in yhe public domain
San Miguel: Mission San Miguel Arcángel. The sixteenth of 21 mission posts in California founded by Franciscan monks, this mission was founded by Franciscan Father Fermin Francisco de Lasuen in 1797 and named after the Archangel Michael. The current building was completed in 1821; the frescoes were designed by the artist Esteban Munras and painted by Indians of the Salinas tribe. From 1834 the mission post was used as a hotel, warehouse and bar; in 1928 it was given a religious destination again and came back into the possession of Franciscan monks. In 2003 the building was badly damaged by the Salina earthquake; in 2009 the complex reopened to the public.
Santa Barbara: Mission Santa Barbara (10th). The only missionary post in California that has had a religious purpose since its founding in 1786. Built in the Spanish mission style, with Romanesque, Moorish and Spanish elements. The narrow church is built in a neoclassical style with imitation marble doors and columns on the walls and doors. The facade of the church was designed by 'padre' Antonio Ripoli. The accompanying cemetery contains more than 4000 monks and Indians.
All 21 Spanish missions in California:
| | | |
| --- | --- | --- |
| Number | Name | Founded |
| 1 | San Diego de Alcalá | 16 july 1769 |
| 2 | San Carlos Borromeo de Carmelo | 3 june 1770 |
| 3 | San Antonio de Padua | 14 july 1771 |
| 4 | San Gabriel Arcángel | 8 september 1771 |
| 5 | San Luis Obispo de Tolosa | 1 september 1772 |
| 6 | San Francisco de Asís | 9 october 1776 |
| 7 | San Juan Capistrano | 1 november 1776 |
| 8 | Santa Clara de Asís | 12 january 1777 |
| 9 | San Buenaventura | 31 march 1782 |
| 10 | Santa Bárbara | 4 december 1786 |
| 11 | La Purísima Concepción | 8 december 1787 |
| 12 | Santa Cruz | 28 august 1791 |
| 13 | Nuestra Señora de la Soledad | 9 october 1791 |
| 14 | San José | 11 june 1797 |
| 15 | San Juan Bautista | 24 june 1797 |
| 16 | San Miguel Arcángel | 25 july 1797 |
| 17 | San Fernando Rey de España | 8 september 1797 |
| 18 | San Luis Rey de Francía | 13 june 1798 |
| 19 | Santa Inés Virgen y Martír | 17 september 1804 |
| 20 | San Rafael Arcángel | 14 december 1817 |
| 21 | San Francisco Solano | 4 july 1823 |
Talmage, 3 km east of Ukiah, the capital of Mendocino County: City of Ten Thousand Buddhas. Since 1976 a Chinese Buddhist community founded by Hsuan Hua (1918-1995), an important figure in Western Buddhism. In the temple, 10,000 Buddha images are actually depicted on the walls. This temple competes with the Hsi Lai Temple of Hacienda Heights in Southern California for the title of 'Largest Buddhist Temple in the Western Hemisphere'.
City of Thousand Buddha's entrance in Talmage, CaliforniaPhoto: Kungming2 in the public domain
---
Sources
BBC - Country Profiles

Benson, Sara / California
Lonely Planet

Benson, Sara / Discover California
Lonely Planet

Californië
Uitgeverij Cambium B.V.

CIA - World Factbook

Elmar Landeninformatie

Hansen, Preben / 100% Californië & West-USA
Mo'Media

Heetvelt, Angela / Zuidwestelijke staten van Amerika
Gottmer/Becht

Mangin, Daniel / Californië : de reisgids voor een actieve & culturele vakantie
Wat & Hoe

Ominalowska, Malgorzata / Californië
Uitgeverij Unieboek/Het Spectrum

The Rough Guide to California
Rough Guides Ltd.

Schmidt-Brümmer, Horst / Lannoo's autoboek Californië en Zuidwest-USA : on the road
Lannoo

Vlahides, John A. / Northern California
Lonely Planet

Wikipedia

Zuidwest-USA
Uitgeverij Terra Lannoo






Last updated November 2023
Copyright: Team
The World of Info