BOSNIA AND HERZEGOVINA
Climate and Weather


Cities in BOSNIA AND HERZEGOVINA
Climate and Weather
Bosnia and Herzegovina has a continental climate with warm summers and cold snowy winters. And that is more like the climate of continental Europe than the Mediterranean climate of nearby countries like Italy or Greece. Cold or warm outliers can easily occur in spring. Moreover, the weather can also vary considerably per region.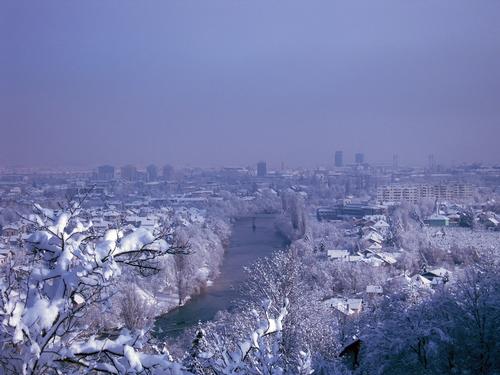 Banja Luka in winter Bosnia and HerzegovinaPhoto:Rade Nagraisalovic CC 4.0 International no changes
It is generally cooler in the north than in the south. For example, daytime temperatures in January in the northern Banja Luka are around 0 °C and in Mostar, near the Adriatic coast, around 6 ° C. In summer, it reaches a maximum of 22 °C in Banja Luka and 38 °C in Mostar.
In the mountains, the summers are cooler and the winters longer and more severe. The short coastline has a milder, Mediterranean climate.
In the north, most rain falls in the summer, in the south during the autumn and winter. Because westerly winds blow, most of the rain falls on the western side of the Dinaric Alps. Here an average of about 1500 mm falls, in some areas on the leeward side falls only about 500 mm.
---
Sources
Campschreur, W. / Bosnië-Herzegovina : mensen, politiek, economie, cultuur, milieu
Koninklijk Instituut voor de Tropen : Novib
Gabrielpillai, M. / Bosnia and Herzegovina
Gareth Stevens Publishing
Milivojevic, J. / Bosnia and Herzegovina
Children's Press
Phillips, D. / Bosnia and Herzegovina
Chelsea House Publishers

CIA - World Factbook

BBC - Country Profiles
Last updated October 2023
Copyright: Team
The World of Info