BOSNIA AND HERZEGOVINA
Religion


Cities in BOSNIA AND HERZEGOVINA
Religion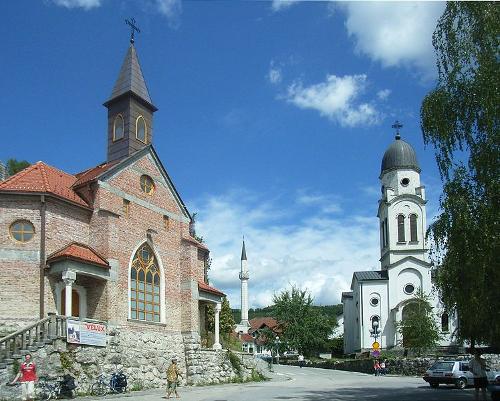 Three religions BosniaPhoto:Mazbln CC 3.0 Unported no changes made
Generally speaking, the Bosniaks have Islam (40% of the population) as their religion, which has its roots in the centuries-long rule by Ottomans, the Croats are Roman Catholic (15%) and the Serbs are Serbian Orthodox (31%). ). Characteristic of Bosnia-Herzegovina is the fact that the faith emphasizes ethnic identity.
Four percent of the population is Protestant and the other ten percent is Jewish, not religious or another religion.
Religious practice is on the back burner of all religions, caused by the communist regime when religion was discouraged. Religious practice has been reviving since the 1990s, especially among young Croatians in Herzegovina.
Hundreds of mosques and other sacred sites were destroyed during the war. About 200 Catholic and 30 Orthodox churches were also destroyed during that period. It is still the case that in areas where people form an ethnic or religious minority, the practice of one's religion is not always appreciated, sometimes leading to violence.
Medjugorje is a mountain village in southwestern Bosnia-Herzegovina. It became world famous for a series of apparitions of Mary that are said to have taken place there since 1981. Since then it has become a famous pilgrimage site. The Catholic Church has not recognized this pilgrimage site so far.
---
Sources
Campschreur, W. / Bosnië-Herzegovina : mensen, politiek, economie, cultuur, milieu
Koninklijk Instituut voor de Tropen : Novib
Gabrielpillai, M. / Bosnia and Herzegovina
Gareth Stevens Publishing
Milivojevic, J. / Bosnia and Herzegovina
Children's Press
Phillips, D. / Bosnia and Herzegovina
Chelsea House Publishers

CIA - World Factbook

BBC - Country Profiles
Last updated May 2023
Copyright: Team
The World of Info