BELIZE
Economy


Economy
General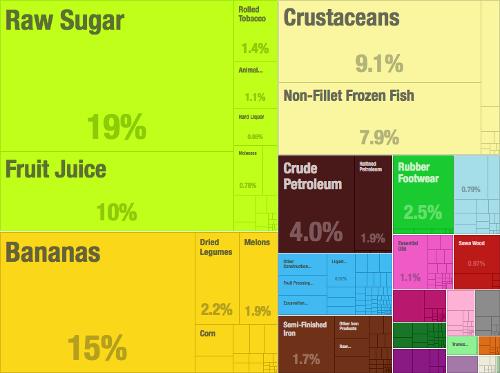 Belize ExportPhoto: R Haussman, Cesar Hidalgo, et. al CC 3.0 no changes made
GDP per capita is quite high by Central American standards: approximately $ 8,300 per year (2017). It should be remembered that many Belizeans are financially supported by family members who live and work abroad, especially in the United States. Most development aid comes from the United States.
Belize was long known as a true drug state, but by November 1999 it was no longer on the US blacklist of drug states.
Infrastructure improvement is high on the Belize government's priority list. In a relatively short time, it has been ensured that 98% of the remote villages are supplied with electricity.
The national debt amounts to 99% of the GNP (2017). Average GDP growth of about 1% in the coming years is expected due to investments in agricultural exports, hydroponics and tourism, as well as continued demand for informal sector goods and services. At the moment there is a lot of investment in the "cruise market". For example, an agreement has been reached with the Miami port authorities to strengthen know-how in this sector in Belize. US $ 50 million has also been invested in the construction of a new cruise ship terminal.
Agriculture, forestry, animal husbandry, fishing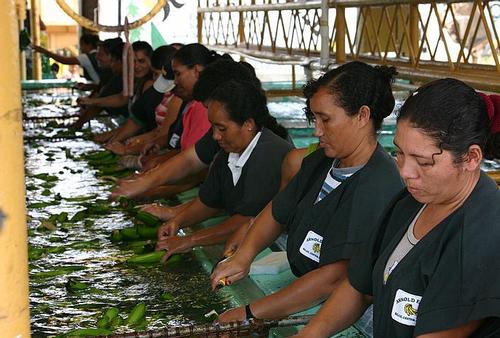 Belize Banana sortingPhoto: Paul Stokstad in the public domain
Until well into the 19th century, the production and export of tropical woods (especially mahogany) was the main economic activity. After 1860, commercial agriculture (especially sugar) developed in the north. In 1981 15% of the area suitable for agriculture had been put into production. Agriculture is an important sector of the economy: 10% of the working population is employed in agriculture, forestry and fishing. Exports (especially sugar and molasses - accounting for 40%, bananas, citrus fruits and, illegally, marijuana) are responsible for a lot of foreign exchange.
The annual production of sugar is approximately 80,000 tons per year. The banana plantations on the south coast of Belize (Stann Creek District) seem to be a hit. Fertile soil, a warm climate and adequate rainfall make this area perfect for growing bananas. Cocoa is becoming an increasingly important export product. For the domestic market, agriculture produces rice, beans, corn, tobacco and coffee. Belize was one of the major exporters of marijuana to the United States, but was removed from the US blacklist of drug states in November 1999.
Forestry is relatively much less important; hardwood and chicle are exported; coniferous wood (pine and cedar wood) is primarily exploited for the domestic market.
Animal husbandry is only carried out for domestic use, but is becoming more important because it has only recently been "learned" to put beef on the menu.
Also important is fishing in the Caribbean Sea, including tuna, lobster and shrimp. By working together they could start asking higher prices for the fish products. They are also aware that unlimited fishing is not possible all year round. For example, no more lobsters are allowed to catch between February 15 and June 15. Main export countries are the United States, Mexico and Jamaica. Canada has campaigned to modernize the Belizean fishing industry.
Marine animal farming is a new activity in Belize. For example, there are already several shrimp farms and Taiwan is helping Belize to further develop this economic activity. For example, they are now trying to grow shrimp larvae themselves, so that they no longer have to be bought expensive abroad.
Industry and trade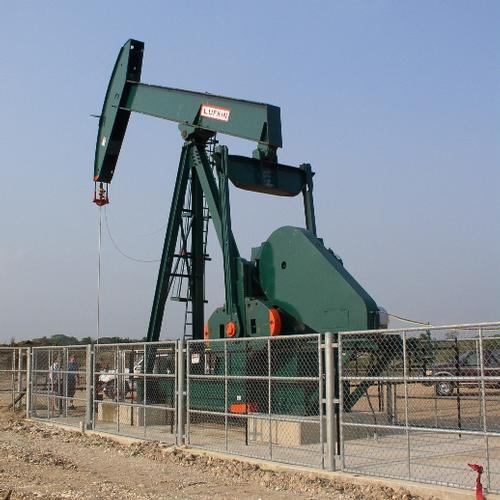 Belize OilPhoto: Belizian CC 3.0 Unported no changes made
The industrial sector is limited and mainly includes processing of agricultural and forestry products, including sawmill, veneer, plywood, furniture, shipbuilding, beer, rum, sugar refining and dairy. Oil was discovered in 1981, but not in commercially viable quantities.
Trade and balance of payments show a chronic deficit. All consumables, machines and energy carriers must be imported. Total exports generated USD 483 million in 2017 and the main export partners were the United States, Great Britain, the countries of the European Union, the Caricom countries, Canada and Mexico. Total imports amounted to $ 944 million in 2017 and the main import partners were the United States, Mexico, Great Britain, the countries of the European Union and the Caricom countries.
GDP was approximately $ 3.2 billion in 2017. Belize remains highly dependent on foreign financial support, particularly from Great Britain and the United States, and to a lesser extent Canada and the EU.
---
Sources
Belize
APA
Bradbury, A. / Belize
Bradt
Eltringham, P. / The rough guide to Belize
Rough Guides
Mallan, C. / Belize handbook
Moon Publications

CIA - World Factbook

BBC - Country Profiles
Last updated May 2023
Copyright: Team
The World of Info