BELIZE



Geography and Landscape
Geography
Belize (formerly British Honduras), is a parliamentary democracy within the Commonwealth of Nations, located in the Yucatán Peninsula on the east coast of Central America. Belize is bordered to the north by Mexico (250 km), to the west and south by Guatemala (266 km) and to the east by the Caribbean Sea.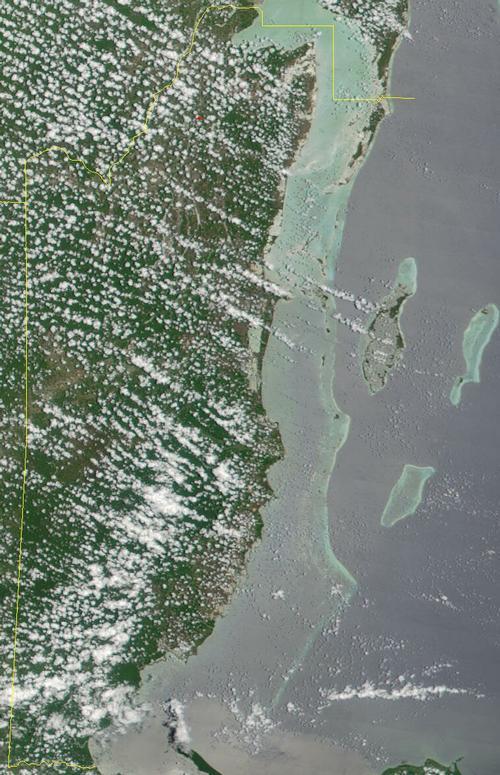 Satellite photo BelizePhoto: Public Domain
The total area of Belize is 22,965 km2. The mainland of Belize is 288 kilometers long and up to 109 kilometers wide. Belize is the smallest country in Central America after El Salvador. The American cities of Miami, Houston and New Orleans are approximately 1200 kilometers.
Coral reefs and more than 200 so-called "cays", consisting of coral, are sandy palm islands. Ambergris Caye is the largest and is 40 km long and up to 7.2 km wide. Off the coast of Belize is the second largest barrier reef in the world (360 kilometers long) and the largest in the Western Hemisphere. Only the Great Barrier Reef off Australia is longer. Three of four major atolls in the Western Hemisphere lie off the coast of Belize.
Landscape
The coastal region and the northern part of the mainland are flat, but the south and the west (Maya Mountains) rise quickly to an average height of 1000 meters. The highest point in Belize is Victoria Peak at 1120 meters. The Maya Mountains cover a total of approximately one third of the total area of Belize.
Belize Blue HolePhoto: Public domain
Belize is intersected by many rivers, most of which originate from the central mountain range, the Maya Mountains. Some rivers can be navigated and are used, among other things, for the transport of wood, e.g. Blue Creek, Rio Hondo, New River, Belize River, Sibun River, Macal River, Rio Grande, Moho River, Tumex River, and Sarston River. The Belize River divides the country into two halves. Swamps and shallow freshwater lagoons surround most of the rivers, especially in the northern coastal region.
The many caves and cave systems are special. They have been mapped and researched since the 1960s. To date, more than 300 have been explored and more than 150 kilometers of underground passages have been mapped, including the Cebada and Petroglyph caves, two of the largest caves in the world. Caves can be found all over the country but mostly in the south and west of Belize. There are also underwater caves off the coast, including the Blue Hole and the Giant Cave, one of the longest underwater caves in the world. All of these caves played an important role in Mayan mythology.
Tropical jungle covers about 45% of the area of Belize.
The capital of Belize is Belmopan with approximately 40,000 inhabitants. Belmopan was founded in 1970 after Belize City was largely destroyed by Hurricane Hattie. Other important cities are Corozal Town, Orange Walk Town, Belize City, San Pedro Town, San Ignacio, Benque Viejo del Carmen, Dangriga and Punta Gorda.
---
Sources
Belize
APA
Bradbury, A. / Belize
Bradt
Eltringham, P. / The rough guide to Belize
Rough Guides
Mallan, C. / Belize handbook
Moon Publications

CIA - World Factbook

BBC - Country Profiles
Last updated November 2023
Copyright: Team
The World of Info