BELIZE
Language


Language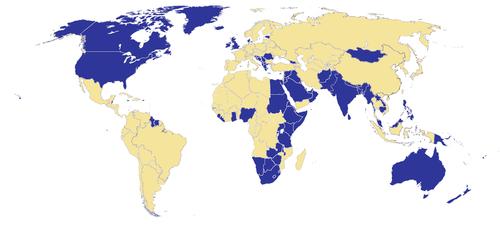 English Language MapPhoto: Kobolen CC 3.0 Unported no changes made
Belize is the only country in Central America where the official language is English. Spanish is the native language of about 15% of the population and English Creole is the colloquial language, the lingua franca. All Belizeans can communicate with each other via English Creole. This language is based on English but clearly influenced by Maya, African languages and Spanish. Although the differences are obvious, the Creole of Belize is most like that of Jamaica. The spoken Spanish of Belize has a strong Latin American sound. The soft s sound has disappeared and been replaced by a sharp, clear s sound.
In addition, some Indian languages are encountered in isolated regions.
Some Creole sayings and phrases clearly show the English background of this language:
Bad things never have owners - bad ting neda gat owner
Cows have no business in a horse race - cow no business a hare gylop
A chicken shits white and think she has laid an egg - fowl caca white an tink e lay egg
Why don't you leave me alone an mind your own business - weh mek unu no lef 'me' lone an 'mine unu own business (unu is of African origin)
What was that little boy eating? - da weh da lee bwai mi di nyam? (nyam is an Afrikaans word for food)
In the old days, things were different - dis-ya time no tan like befo time
We all make up Belize - all a we mek Belize
Nobody knows exactly where the name Belize comes from and what the name means. Some say it is a corruption of "wallis" from the pirate Peter Wallace who roamed the area centuries ago. Another theory is that the Mayan word "belix" is the origin: that word means mud river. The Mayan word "belikin", from a local type of beer, is also mentioned as the origin of the name.
---
Sources
Belize
APA
Bradbury, A. / Belize
Bradt
Eltringham, P. / The rough guide to Belize
Rough Guides
Mallan, C. / Belize handbook
Moon Publications

CIA - World Factbook

BBC - Country Profiles
Last updated November 2023
Copyright: Team
The World of Info