BELIZE
Climate and Weather


Climate and Weather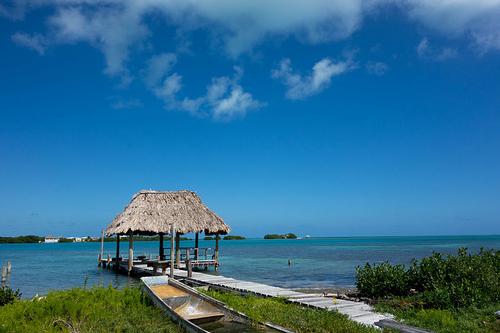 Belize Quay in the SunPhoto: Kent Wang CC 2.0 Generic no changes made
The climate of Belize is subtropical and divided into a rainy season and a dry season. Broadly speaking, the dry season runs from December to May. February, March, April and May are the driest months. During these months, precipitation only falls on an average of five days. The amount of rain can vary greatly from year to year.
The wettest months are June, July and August. The rainy season has a dry period of about six weeks, called the "mauger" season, in August and September. The rainfall varies greatly from north to south. On average there is 1295 mm in the north and 4445 mm in the south. The north has a dry season that starts in September and lasts three to four months, while the south has no more than one month of dry weather. Yet it can also rain heavily during a dry period. In the morning it is usually dry, after which most rain falls in the afternoon and in the evening.
In the swampy coastal area, the temperature ranges from 10°C on the coldest winter days to 35.5°C on the hottest summer days, but the heat is usually tempered by the easterly trade winds. From January to April the wind blows only slightly; in May and June the wind increases to a light breeze and from August to December the wind blows harder. Especially in November and December it can be very windy from the north, causing the temperatures to drop.
The average daily temperature in all of Belize is 26°C. The temperature fluctuations are much greater inland. The average minimum daily temperature in Belize City is 19°C in January and 24°C from May through August. The average maximum daytime temperature in Belize City is 24°C in January and 31°C in the months of May through August. On the offshore cays, the temperature is tempered year-round by the trade winds.
The humidity on the coast is very high all year round at 87%. In November, December and January it is very unpleasant due to the oppressive weather. This is especially true for the region around the capital Belmopan where it is hard to harden during the day during the summer. In the mountainous region around San Ignacio it cools down to about twelve degrees in the evening.
Belize lies west of the route most hurricanes follow, passing just around or past Belize. A good example is Hurricane "Mitch", which almost literally passed Belize in October 1998 and caused little damage. In the last thirty years, Belize has only suffered from four hurricanes. It is almost certain that Belize will be hit by another devastating hurricane. The most likely months for hurricanes are August through October.
---
Sources
Belize
APA
Bradbury, A. / Belize
Bradt
Eltringham, P. / The rough guide to Belize
Rough Guides
Mallan, C. / Belize handbook
Moon Publications

CIA - World Factbook

BBC - Country Profiles
Last updated November 2023
Copyright: Team
The World of Info