BAHRAIN
Society


Society
State structure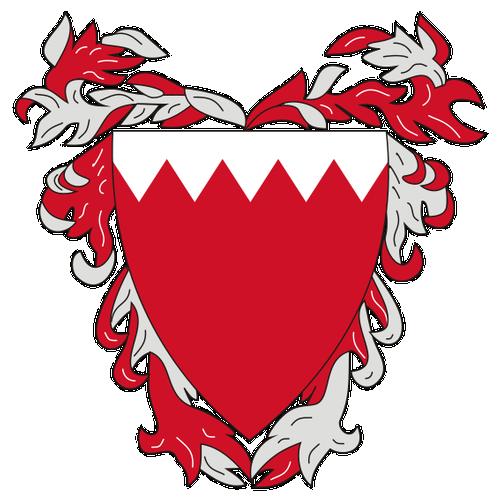 Bahrain Coat of ArmsPhoto: Public Domain
Bahrain is an absolute monarchy and the only Gulf state with very strict birthright rules that make the successor always the eldest son. The emir Sheikh Hamad bin Isa al-Khalifa is currently in power who succeeded his father Isa bin Sulman al-Khalifa in March 1999. The Emir's uncle, Sheikh Khalifa bin Sulman al-Khalifa has been the Prime Minister for years. The emir appoints and dismisses cabinet members, although this is uncommon.
In 1971, Isa bin Sulman al-Khalifa, ruler since 1961, proclaimed Bahrain an independent state. For the first time in Bahrain's history, the 1973 constitution provided for a parliament, in which the twelve cabinet members appointed by the sheik also sat ex officio. In August 1975, after an alleged coup attempt, parliament was dissolved and the 1973 electoral law, which declared all adult male Bahrainis eligible to vote, was suspended and political parties and trade unions were banned.
1996 was followed by Oman and Saudu Arabia established a Consultative Council appointed by the Emir, advising the government but not a legislative has power. This 40-member council meets once a week. The members are appointed by the emir for a period of four years and are a reasonable reflection of society, but they do not include women. The opposition operating at home and abroad finds this a typical form of sham democracy (political parties are still prohibited). The National Action Charter appointed a bicameral legislature on December 23, 2000, which was approved in a referendum on February 14, 2001. In November 2002 the sheik appointed six women to the first chamber of parliament. He wanted to give the women the opportunity to prove that they could make a significant contribution to politics.
Sheik Isa bin Sulman al-Khalifa has held the title of Emir (Prince) since August 1972. Many of his family members hold key positions in government and administration, including major ministerial posts. The emir and his ministers still hold traditional majlis sessions, in which the population can turn to them directly with petitions.
The population demands democratic reforms, including through demonstrations and bomb attacks, which have already killed 25 people since 1994. The turmoil has caused a lot of capital to flow away from the once thriving banking center. Bahrain consists of twelve regions: Central Bahrain, East Bahrain, Hamad Town, Hidd Town, Isa Town, Jidhafs, Manama, Muharraq, North Bahrain, Rifa'a, Sitra and West Bahrain. The current political situation is described in the chapter history.
Education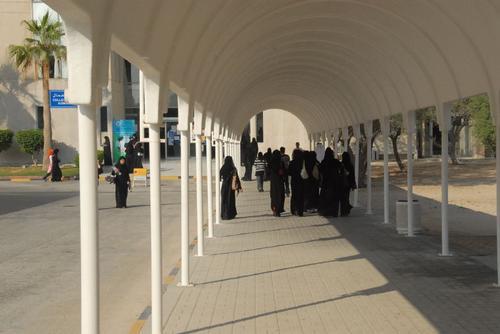 Bahrain UniversityPhoto: Rick's images CC 2.0 Generic no changes made
Education is free for all residents in Bahrain. School is compulsory from age six to fifteen. There are several international schools that teach in other languages, including English, Japanese, French, Hindi and other Asian languages. As a result, only 16% of the population is illiterate and education is the second largest cost item on Bahrain's budget after security and defense. Many children nevertheless go abroad for their studies, especially to the United States and Great Britain. Bahrain has two universities, Bahrain University with approx. 9000 students and the Arabic Gulf University with approx. 700 students.
---
Sources
Robison, G. / Bahrain, Kuwait & Qatar
Lonely Planet
Whetter, L. / Live & work in Saudi & the Gulf
Vacation Work
CIA - World Factbook
BBC - Country Profiles
Last updated August 2023
Copyright: Team
The World of Info