BAHRAIN



Geography and Landscape
Geography
Bahrain (officially: Dawlat al Bahrayn;Bahrayn for short) is an independent state in the Middle East consisting of a group of 33 islands in the Persian Gulf, located between the Qatar peninsula and the mainland of Saudi Arabia. Saudi Arabia is 22 kilometers and Qatar is 28 kilometers from Bahrain. Bahrain also includes the controversial Hawar Islands. Bahrain is the only island state in the Arab world and is simply referred to as "the island".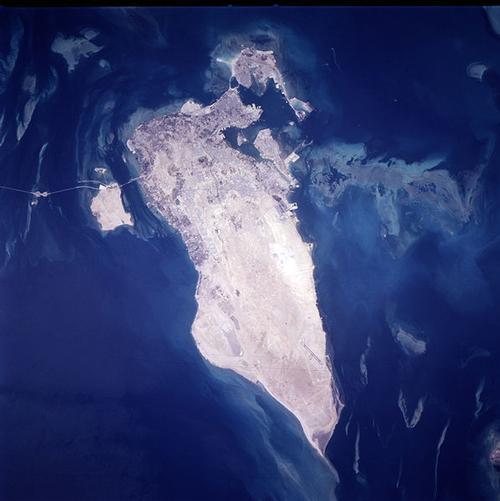 Bahrain Satellite PhotoPhoto: Public Domain
The total area of Bahrain is 695 km². Bahrain Island is the largest island and is 50 kilometers long and sixteen kilometers wide. Bahrain Island is linked by dams to the international airport on Muharraq Island and to Sitra Island, an industrial site.
Landscape
The rocky islands offer a desert-like appearance, except in the far north and northwest of the main island where freshwater sources allow fertile agricultural areas. Elsewhere, the vegetation consists only of desert plants. In particular, the sand-covered loamy soils in Central Bahrain are salty, dry and therefore hardly overgrown.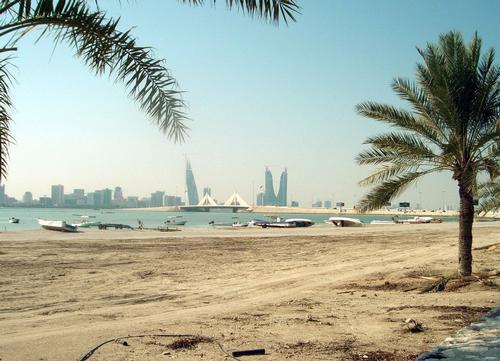 Bahrain LandscapePhoto: Soman CC 2.5 Generic no changes made
Bahrain's highest point is Jebel ad-Dukhan at 134 meters, which is located in the center of Bahrain Island. Most of the oil wells are located around this mountain. Bahrain beaches are not recommended as the water is not very clean due to the very shallow water. You can walk up to 500 meters into the sea and then you are only knee-deep in the water. The best beaches are man-made and owned by hotels and private clubs. Bahrain's best beach is Al-Jazayir. The capital of Bahrain is Manama. Other important cities are Muharraq, Rifa'a, Jidhafs, Sitra, Awali and Isa Town.
---
Sources
Robison, G. / Bahrain, Kuwait & Qatar
Lonely Planet
Whetter, L. / Live & work in Saudi & the Gulf
Vacation Work
CIA - World Factbook
BBC - Country Profiles
Last updated November 2023
Copyright: Team
The World of Info