AUSTRALIA
Vacations and Sightseeing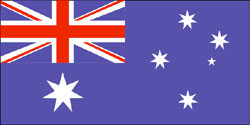 Basic information
Official language
English
Capital
Canberra
Area
7.741.220 km²
Population
25,788,215 (2021)
Currency
Australian dollar (AUD)
Web
.au
Code.
AUS
Tel.
+61
Cities in AUSTRALIA
Vacations and Sightseeing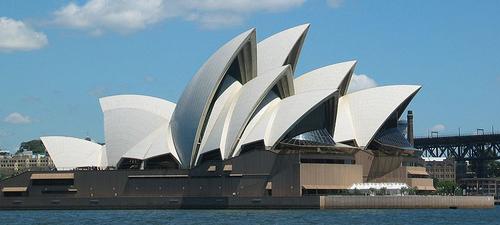 Sydney OperahousePhoto: Bjarte Sorensen CC 3.0 Unported no changes made
Tourism to Australia has developed explosively since the 1970s and is an increasingly important part of the Australian economy.
Most of the tourist attractions are in the east of Australia, in Queensland and New South Wales. Sydney is mainly visited for its wide, miles-long beaches located within the city limits, and for the nearby Kuringgai Chase National Park, a renowned wildlife sanctuary. Australia's most famous mammal, the platypus, can be seen in the Healesville Game Reserve, 65 km from Melbourne. South of Canberra are the Snowy Mountains, where the ski season begins in June, Thredbo and Perisher are the main winter sports centers.
Australia's biggest tourist attraction is the Great Barrier Reef off the northeast coast. Great Keppel Island in the south is famous for its white beaches. The Gold Coast is the Australians' favorite holiday destination, 80 km south of Brisbane.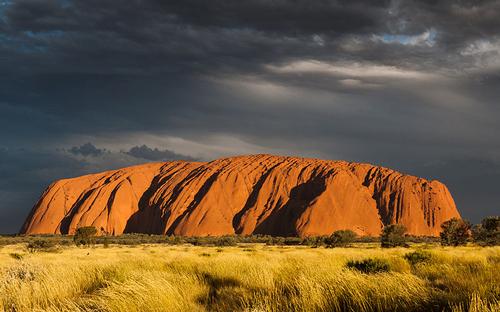 Ayers Rock AustraliaPhoto: Weyf CC 1.0 no changes made
In the middle of the Australian "outback" lies the old settler town of Alice Springs, the only city in a radius of hundreds of kilometers. More than 350 km west of this city are Ayers Rock (with prehistoric drawings) and the brightly colored rocks of Mount Olga.
The landscape of green and fertile Tasmania offers a completely different view than anywhere else on the continent. Cradle Mountain in Lake St. Claire National Park is the largest nature reserve here and very popular with trout fishermen. In Port Arthur, 100 km southeast of Hobart, the capital of Tasmania, there are still the ruins of prisons and guard houses from the time when Australia was a penal colony.
Tourists need a visa for Australia. The best times to visit vary by region, for South Australia from September to December, for Queensland from June to September, for New South Wales from September to May, for Western Australia from August to November.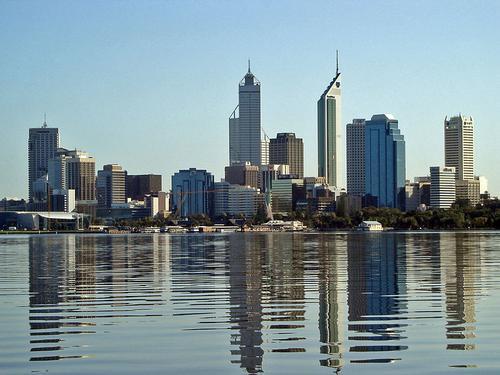 Perth AustraliaPhoto: Public domain
Perth, all the way to the west of Australia, is the favorite city of most Australians due to its beautiful location on the Swan River, the beautiful beaches and hills of the Darling Ranges.
About 25% of all tourists visiting Australia come from New Zealand, Europe and Asia. Most tourists go to Australia for the east and a slightly smaller part for the west of Australia.
Sources
Australië
Cambium
Blutstein, H. / Insider's guide Australië
Kümmerley & Frey
Dolce, L. / Australia
Chelsea House Publishers
Elder, B. / Australië
Van Reemst
Ivory, M. / Australië
Van Reemst
Jansen van Galen, B. / Reishandboek Australië
Elmar
Viedebantt, K. / Australië
Van Reemst
CIA - World Factbook
BBC - Country Profiles
Last updated January 2023
Copyright: Team
The World of Info