AUSTRALIA
Climate and Weather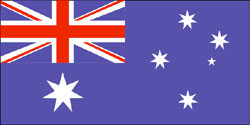 Cities in AUSTRALIA
Climate and Weather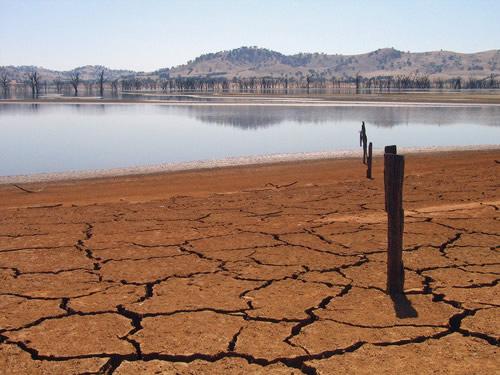 Australia Lake Hulme Global WarmingPhoto: Tim J Keegan (CC BY-SA 2.0) no changes made
The seasons in Australia are opposite to those of the Northern Hemisphere. Spring lasts from September to November, summer from December to February, autumn from March to May, and winter from June to August. The seasons as we know them in Europe are only evident in the south.
Due to its location, Australia has a subtropical climate for the most part.
There is only a tropical climate in the far north. This area is characterized by dry, hot summers and very precipitation-rich winters. The so-called 'early storm season' runs from October to late November. The humidity will already increase then, but the precipitation amounts are still not too bad. December and January is the time of the 'early monsoon', when it can be very wet, but there are also dry periods, depending on the trade winds. February and March are the days of the 'late monsoon', which is accompanied by very heavy rainfall. The 'late storm season' of April and May is characterized by strong wind storms. In June and July, the climate is very pleasant with the lowest humidity and a falling temperature. It is hot and dry in August and September. The heaviest showers occur near Darwin, in the far north of Australia. In the rainy season cyclones also occur regularly, on average about five a year. On average, approx. 1470 mm of precipitation falls here. Mount Bellenden Ker in Bellenden Ker National Park in the fertile tropical part of Queensland is Australia's wettest place. In 1979 11,250 mm of rain fell.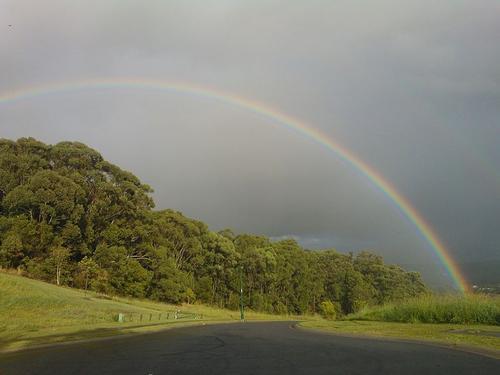 Australia RainbowPhoto: Nikko73 CC 3.0 Unported no changes made
Central Australia or the "outback" (70% of the Australian continent) has a real desert climate. In some places it practically never rains. In summer, temperatures can get very high. In the winter period it can cool down a lot at night. Alice Springs has the highest average daytime temperatures that rise in December / January to 35 to 36 °C. Temperatures can sometimes rise above 45 °C there. The highest temperature ever recorded is 53.1 °C at Cloncurry in 1880.
The hamlet of Marble Bar keeps the heat record above 37.8 °C for 161 consecutive days. Central Australia has less than 250 mm of rainfall per year and the dry season lasts more than eight months. Around this area with very little rainfall is a semi-arid zone where there is so much rain that sheep and cattle can be kept.
The north of New South and the south of Queensland have a subtropical climate with pleasant weather all year round, although it can get quite warm in summer. Large cities such as Sydney, Perth and Adelaide have a Mediterranean climate with warm summers and mild winters.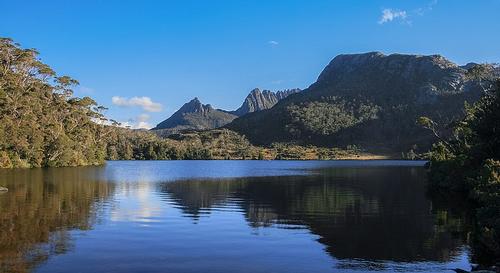 Australia TasmaniaPhoto: Diego Delso CC 3.0 Unported no changes made
Victoria and Tasmania in the south have a moderate climate. In winter it can get quite cold with snowfall in the higher areas. The rest of the year it is sunny and warm with a chance of heat waves in Victoria. The lowest average daily temperatures of Australia occur in Hobart, Tasmania in January / February with 21 to 22 °C. The average rainfall in Victoria and Tasmania is about 760 mm per year.
Canberra in southeastern Australia has the lowest temperatures in winter. Minimum temperatures are around 1 °C from June to August. The average maximum temperature in Sydney ranges from 15.9 °C to 25.8 °C and that of Melbourne is between 13.3 °C and 25.8 °C. Adelaide has the lowest total rainfall of all capitals and the average temperature ranges from 12.5 °C to 21.5 °C. In summer it can be between 30 °C and 40 °Cf or days in Perth. Brisbane has a subtropical climate and it is warm all year round. The average temperature in winter is 20.4 °C and in summer 29.4 °C. Darwin has a wet season from November to April and the rest of the year it is dry. It is warm all year round and the temperatures are between 19 ° C and 30 °C.
Tropical cyclones occur in the summer and autumn on both the northwest and northeast coasts of Australia (Willy Willies). One of the worst storms in history occurred on December 25, 1974, when a cyclone and floods destroyed the city of Darwin, leaving 20,000 people homeless.
---
Sources
Australië
Cambium
Blutstein, H. / Insider's guide Australië
Kümmerley & Frey
Dolce, L. / Australia
Chelsea House Publishers
Elder, B. / Australië
Van Reemst
Ivory, M. / Australië
Van Reemst
Jansen van Galen, B. / Reishandboek Australië
Elmar
Viedebantt, K. / Australië
Van Reemst
CIA - World Factbook
BBC - Country Profiles
Last updated May 2023
Copyright: Team
The World of Info