MADAGASCAR
Language


Language
Malagasy and French are the two official languages of Madagascar. Malagasy belongs to the Malay-Polynesian language family. The main colloquial language is Hova, spoken by the Merina, the largest population group.
French is mainly spoken in cities and in business. French lessons are also taught in education, especially in secondary education. English is really only spoken in the capital and the tourist centers. The Malagasy alphabet consists of 21 letters. The C, Q, U, W and X do not appear in the alphabet. In recent years, books and newspapers have also been published in Malagasy.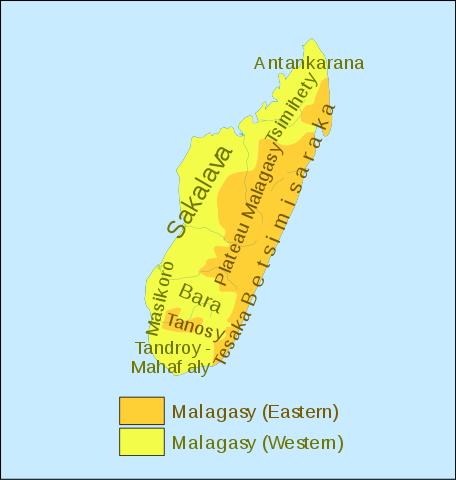 Map of the dialects of the Malagasy language Photo: User:SUM1 CC 4.0 International no changes made
To give an impression of Malagasy the following words:
House - trano
Water - rano
Rice - vary
Bread - mofo
Milk - ronono
Eggs - atody
Village - vohitra
City - tanana
Hello - manao ahoana
Thank you - misaotra.
---
Sources
Bradt, H. / Madagascar
Bradt
Greenway, P. / Madagascar & Comoros
Lonely Planet
Lanting, F. / Madagascar : een wereld verdwaald in de tijd
Fragment
Rozeboom, A. / Madagaskar: mensen, politiek, economie, cultuur, milieu
Koninklijk Instituut voor de Tropen/Novib
Stevens, R. / Madagascar
Chelsea House Publishers
CIA - World Factbook
BBC - Country Profiles
Last updated November 2023
Copyright: Team
The World of Info