BOSNIA AND HERZEGOVINA
Geography and Landscape

Basic information
Official language
Bosnian, Serbian, Croatian
Capital
Sarajevo
Area
51.197 km²
Population
3,263,466 (2021)
Currency
Bosnian convertible mark (BAM)
Web
.ba
Code.
BIH
Tel.
+387

Cities in BOSNIA AND HERZEGOVINA
Geography and Landscape
Geography
Bosnia and Herzegovina (officially: Republika Bosna i Hercegovina) is a republic in the western Balkans.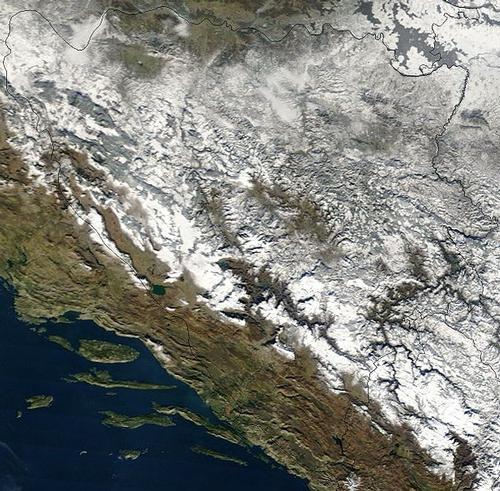 Bosnia and Herzegovina Satellite photoPhoto:Public domain
The total area of Bosnia-Herzegovina is 51,129 km2. Bosnia-Herzegovina is bordered to the west and north by Croatia (932 km) and to the east and south by Serbia and Montenegro (527 km). In the southwest, Bosnia-Herzegovina just borders the Adriatic Sea (20 km).
Landscape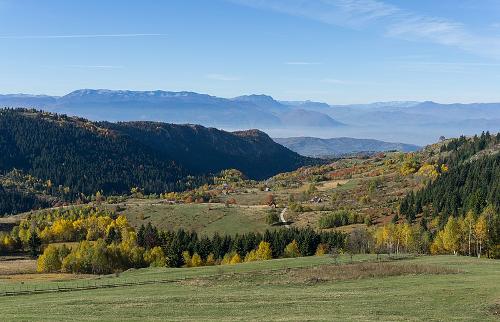 Bosnia and Herzegovina LandscapePhoto:Michal Klajban CC 4.0 International no changes made
Most of the country is hilly and mountainous in many places. The border area with Croatia is formed by the porous limestone Dinaric Alps, which are part of the Yugoslav karst region. This karst landscape consists of jagged rock formations, which are characterized by many caves and rivers. The rivers are a continuation of underground waterways.
The northern part, between the higher parts and the river Sava, is largely covered with forest. The eastern landscape is determined by high plains (polje) with impermeable soils and many lakes, between steep mountain walls. The often very fertile "polja" can sometimes be hundreds of square kilometers in size. Some examples of large poljes are the Livansko Polje near the city of Livno and Popovo Polje near the city of Trebinje.
The main rivers are the Sava (945 km), a tributary of the Danube, and the Drina (346 km). The Sava forms the border with Croatia in the north and the Drina along the eastern border with Serbia. The north-south flowing Vrbaš (240 km) and Bosna (245 km) are tributaries of the Sava. Almost all of Bosnia-Herzegovina's major rivers run from the mountains to the low plains in the north, where they end in the Sava. Only the Neretva (218 km) ends in the Adriatic Sea towards the south. Europe's longest underground river, the Trebisnjica, flows underground through Bosnia and rises above the ground at Dubrovnik, Croatia.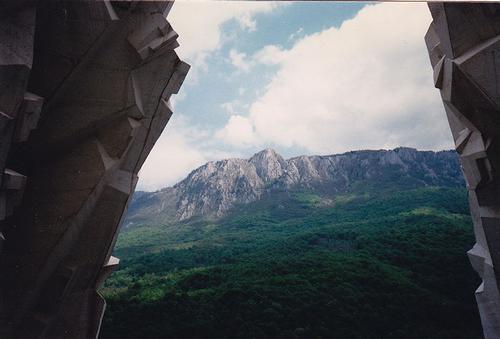 Sutjeska Bosnia and HerzegovinaPhoto:Xinem Creative Commons Attribution 2.0 Generic no changes made
Some lakes in Herzegovina only exist during the winter; when the snow melts and the underground rivers find their way up, they fill up. In the dry summer months the lakes completely disappear again.
In the southeast of Herzegovina is Sutjeska National Park, the oldest national park in Bosnia and Herzegovina. Here is also the highest mountain in Bosnia-Herzegovina, the Maglic (2387 m). There are also peaks of over 2000 meters around Mostar in the south and around the capital Sarajevo. In the southwest on the border with Croatia are the Dinaric Alps with peaks of an average of 1500 meters.
Bosnia-Herzegovina also regularly has weak earthquakes that cause little damage. An exception to this happened in 1969, when an earthquake destroyed most of the buildings in the northern city of Banja Luka.
---
Sources
Campschreur, W. / Bosnië-Herzegovina : mensen, politiek, economie, cultuur, milieu
Koninklijk Instituut voor de Tropen : Novib
Gabrielpillai, M. / Bosnia and Herzegovina
Gareth Stevens Publishing
Milivojevic, J. / Bosnia and Herzegovina
Children's Press
Phillips, D. / Bosnia and Herzegovina
Chelsea House Publishers

CIA - World Factbook

BBC - Country Profiles
Last updated November 2023
Copyright: Team
The World of Info