BONAIRE
Society


Society
State structure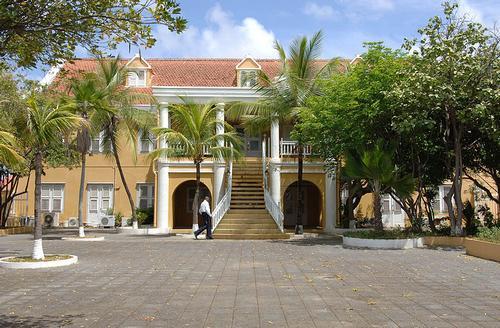 Kralendijk Governor's HousePhoto: JERRYE AND ROY KLOTZ MD CC 3.0 Unported no changes made
The municipalities of Bonaire, Saba and St. Eustatius have a separate status within the Netherlands since October 10, 2010. The three special municipalities have two administrative layers and are governed as a public body by:
- The island government, which is under the control of the Island Council. Local representatives sit on this council.
- The Dutch National Government. The Rijksdienst Caribisch Nederland performs the tasks for the national government on the 3 islands, for example managing the fire brigade.
Education
There is almost no illiteracy in Bonaire. This is due to the good education that is provided. The education system is roughly the same as the Dutch. In addition to the "normal" subjects, students also receive Papiamentu and often English and Spanish. After primary education, one can follow secondary education up to and including HAVO level. Higher and university education is mainly followed in Curaçao, the United States and the Netherlands.
Politics
There are no national political parties standing up for all Antilles. Each island has its own parties and leaders. Almost all parties are formed by one strong leader with often ethnic ties. These leaders are, of course, highly dependent on their supporters on the island for elections. The voter therefore finds it normal that the elected person only represents his interests, this is called "patronage". A positive aspect of this is the personal bond between citizen and politician. However, corruption and favoritism are also lurking. For the current political situation, see chapter history.
Sources
Bakker, J. / Nederlandse Antillen en Aruba
Koninklijk Instituut voor de Tropen
Helm, R. van der / Reishandboek Bonaire
Elmar
Encyclopedie van de Nederlandse Antillen
Walburg Pers

CIA - World Factbook

BBC - Country Profiles
Last updated December 2022
Copyright: Team
The World of Info