BONAIRE
Economy


Economy
General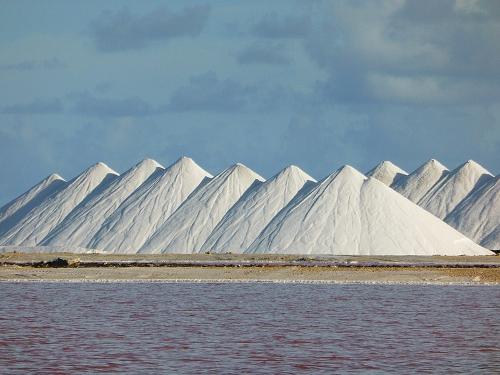 Bonaire Salt PansPhoto: Paul Arps CC 2.0 Generic no changes made
Agriculture (corn) and fishing occupy a much larger place in the economy of Bonaire than in Aruba and Curacao. Livestock farming is extensive and mainly concerns goats, sheep and pigs. Economically important is tourism. Especially the growth of "diving tourism" offers excellent prospects for developing into an attractive destination for tourists. For some years now, the salt industry has contributed to the island's modest economic position. In addition, there is a traditional textile industry, especially important for the employment of women on Bonaire. Since 1975, the (natural) port of Kralendijk has been made suitable for handling oil tankers of 500,000 tons and a tank park has been built for the storage and transhipment of petroleum and petroleum products destined for the United States.

In 2007 it was announced that Bonaire will be the first Caribbean island to switch completely to renewable energy. EcoPower Bonaire is going to build a wind-biodiesel system on the island. To this end, the consortium signed a contract with Water & Energy Company Bonaire.
The largest employer on Bonaire is the government. More than 75% of the working population works in the service sector.
Tourism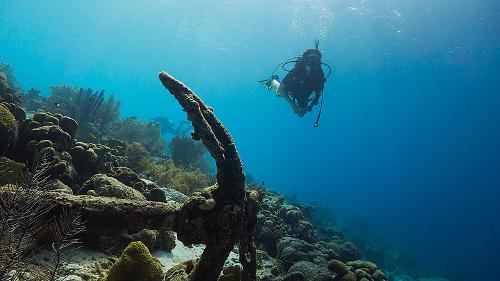 Bonaire Diving TourismPhoto: Kris Mikael Krister CC 3.0 Unported no changes made
Bonaire already started with measures to conserve nature in the 1970s. For example, in 1971 laws were developed to ban spear fishing for tropical fish. Since 1975 it has been forbidden to take or damage coral. And in 1979 the sea around the island was declared a protected area. No more than a hundred thousand dives per year are allowed in the park. The number of hotel beds will also not be expanded, so that a limit has been set for the number of tourists who come to the island. Bonaire has noticed that setting a limit does not mean that less money comes in. Going on vacation to Bonaire has become exclusive. Bonaire is not a mass destination. Tourists now have more money to spend on a holiday to Bonaire. Instead of less, more money is being received by the population.
In mid-2000, parliament decided that Dutch nationals may settle freely in the Netherlands Antilles (National Ordinance Admission and Deportation). The only conditions that are set are that the Dutch have a certificate of good conduct and can prove that they have accommodation and sufficient means of support.
By opening the borders, the Antillean government wanted to stimulate the economy. The relaxation of the national ordinance also makes it easier for companies to acquire additional knowledge. This also has a favorable effect on the competitive position, because the economy could be revived, partly due to the influx of economically active persons.
---
Sources
Bakker, J. / Nederlandse Antillen en Aruba
Koninklijk Instituut voor de Tropen
Helm, R. van der / Reishandboek Bonaire
Elmar
Encyclopedie van de Nederlandse Antillen
Walburg Pers

CIA - World Factbook

BBC - Country Profiles
Last updated May 2023
Copyright: Team
The World of Info