BHUTAN
Economy


Economy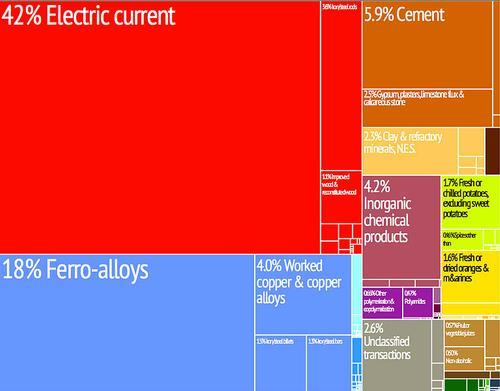 Export BhutanPhoto: R Haussmann, Cesar Hidalgo, et. al. CC 3.0 Unported no changes made
Over the past thirty years, Bhutan has pursued vigorous economic policies and economic progress has been significant, always in keeping, of course, with the aim of maximizing Gross National Happiness. The institutional structure of a modern economy has been established with significant help from donors. The basic infrastructure has also been installed to reduce the country's isolated position and to improve internal and external communication. Bhutan has a good reputation for macroeconomic policy. The liberalization process in the financial and industrial sectors is a big positive step in reducing government activity in the economy and also increasing tax revenues. Bhutan is making effective use of the aid offered by donors in the further development of the country and cooperates mainly with India in the economic field.
Although Bhutan is outside the economic top 100, the country's small population is free from hunger and malnutrition, provides for its own food supply and the entire population is reasonably housed.
Extensive government development programs put pressure on the budget. The export of energy (electricity generated from hydroelectric power stations) will generate greater income in the future, in 2008 this was already 40%.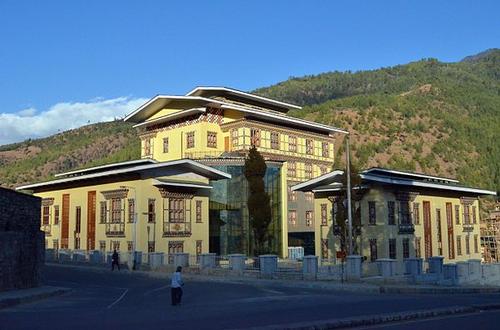 Bhutan Power Corporation headquartersPhoto: Christopher J. Fynn CC 3.0 Unported no changes made
In addition, tourism, although still subject to strict conditions, is growing strongly. Recent five-year plans have focused on exploiting Bhutan's natural resources, including forestry, agriculture, mining and electricity. The last known five-year plan (2009-2013) focused mainly on the expansion of hydropower plants, information technology and improving prosperity in rural Bhutan. Bhutan will always remain dependent on foreign countries for oil and gas.
In particular, the government of Bhutan sees the exploitation of hydropower as a key to the development of Bhutan's prosperity. Together with India, a number of hydroelectric power stations have been set up on fast-flowing rivers: Chukha and Tala on the Wang-chu River, Mongar on the Kuri-chu and Wangdu Phodrang on the Baso-chu.
Approx. 70% of the population provides its own food, although less than 10% of the country consists of agricultural land. The Pema Gatshel district in eastern Bhutan is Bhutan's main agricultural area. More than half of the area of the district is used for agriculture. The main products grown are corn, rice, millet, buckwheat, potatoes, green vegetables and oranges.
Potato production in the region around Gangte town in Central Bhutan's Phobjikha Valley is one of the main exports to India. Bhutan has more than a hundred edible mushroom varieties, of which the 'matsutake' is exported to Japan and Southeast Asia.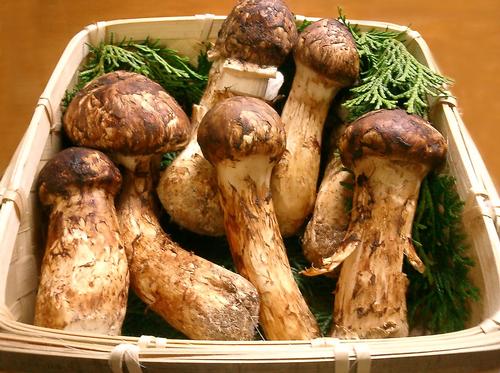 Matsutake, edible fungus and export product from BhutanPhoto: Tomomarusan CC 3.0 Unported no changes made
The building of Bhutan's infrastructure actually started in 1961 at the initiative of the third king, Jigme Dorji Wanchuck, who started a five-year plan system. The consequences of this approach have been expressways, airports and modern communication systems via satellites that connected Bhutan to the outside world and brought it out of isolation. The first television station was only taken into use in 1999, less than 50,000 cars drive on approximately 5000 km of paved roads.
Another important source of income is the gypsum mines. Other industrial products, which are mainly exported to India and Bangladesh, include cement, calcium carbide, ferro-silicon, spirits and stamps.
From 1974 onwards, tourism revenues play an increasingly important role in Bhutan's economy and currently more than 20,000 people are employed in this sector. Initially, no more than 2000 tourists were admitted per year, but that number has long since been abandoned. Yet the number of tourists is naturally kept 'low' by the inadequate tourist infrastructure and the all-inclusive pricing system, which keeps budget travelers out of the country. At present, more than 100,000 foreign tourists a year visit Bhutan, which excludes Indian tourists, who have somewhat easier access to Bhutan. Bhutan is increasingly focusing on tourism, as proven by the construction of a number of airports (Gelekphuk, Bumthang, Tashigang) and the improvement of the road network. Paro Airport is currently Bhutan's only international airport.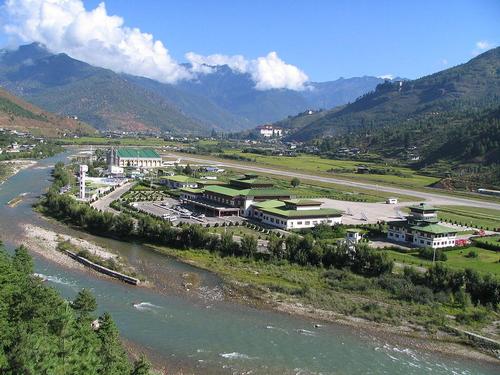 Paro International Airport (Bhutan)Photo: Douglas J. McLaughlin CC 3.0 Unported no changes made
Sources
BBC - Country Profiles

Brown, Lindsay / Bhutan
Lonely Planet

CIA - World Factbook

Dorje, Gyurme / Bhutan Handbook
Footprint

Elmar Landeninformatie

Jordans, Bart / Bhutan : a trekker's guide
Cicerone

Pommaret, Françoise / Bhutan : Himalayan mountain kingdom
Odyssey

Te gast in Bhutan
Informatie Verre Reizen
Last updated January 2023
Copyright: Team
The World of Info