BHUTAN
Population


Population
Population demographics of Bhutan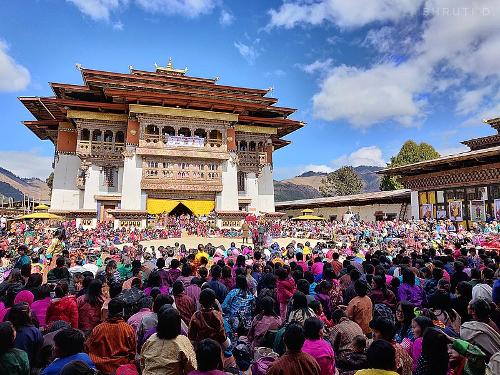 Bhutan Population during the Black Crane festivallPhoto: ShrutiAD CC 4.0 International no changes made
Bhutan was home to approximately 758,288 people in 2015 and the country is the least populated country in South Asia at only 20 people per km2. Most people live along Bhutan's southern border and in the high valleys of Central Bhutan.
The two main populations are the Ngalops or Western Bhutanese, closely associated culturally with Tibet, and the Sharchops or Eastern Bhutanese. The Lhotshampa, meaning 'Bhutanese from the south', is a heterogeneous group of Nepalese origin.
The highest permanently inhabited village in Bhutan is Thanza (4100 m), located in the Lunana region.
Demographic data (2017)
-natural population growth 1.07%.
birth rate per 1000 inhabitants is 17.3
mortality rate per 1000 inhabitants is 6.5
life expectancy is on average 70.6 years, for men 69.6 years and for women 71.7 years.
Bhutan's 10 largest cities
| | |
| --- | --- |
| Thimphu | ca. 62.500 |
| Phuntsholing | ca. 60.400 |
| Punakha | ca. 21.500 |
| Samdrup Jongkhar | ca. 13.800 |
| Geylegphug | ca. 6.700 |
| Paro | ca. 4.400 |
| Tashigang | ca. 4.400 |
| Wangdiphodrang | ca. 3.300 |
| Taga Dzong | ca. 3.100 |
| Trongsa | ca. 2.300 |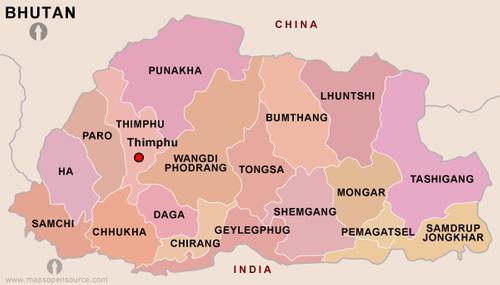 Map showing districts of BhutanPhoto: Public domain
General information districts of Bhutan
| | | | |
| --- | --- | --- | --- |
| district | capital city | surface | number of inhabitants (2005) |
| Bumthang | Jakar | 2831 km2 | 16.116 |
| Chhukha | Chhukha | 1791 km2 | 74.387 |
| Dagana | Dagana | 1387 km2 | 18.222 |
| Gasa | Gasa | 4561 km2 | 3.316 |
| Haa | Haa | 1746 km2 | 11.648 |
| Lhuntse | Lhuntse | 3022 km2 | 15.395 |
| Mongar | Mongar | 1946 km2 | 37.069 |
| Paro | Paro | 1310 km2 | 36.433 |
| Pemagatshel | Pemagatshel | 518 km2 | 13.864 |
| Punakha | Punakha | 977 km2 | 17.715 |
| Samdrup Jongkhar | Samdrup Jongkhar | 2312 km2 | 39.961 |
| Samtse | Samtse | 1585 km2 | 60.100 |
| Sarpang | Sarpang | 2362 km2 | 41.549 |
| Thimphu | Thimphu | 2067 km2 | 98.676 |
| Trashigang | Trashigang | 2316 km2 | 51.134 |
| Trashiyangtse | Trashiyangtse | 1643 km2 | 17.740 |
| Trongsa | Trongsa | 1807 km2 | 13.419 |
| Tsirang | Damphu | 641 km2 | 18.667 |
| Wangdue Phodrang | Wangdue Phodrang | 4046 km2 | 31.135 |
| Zhemgang | Zhemgang | 2126 km2 | 18.636 |
Bhutanese peoples
BROKPAS or Dakpas (highlanders): semi-nomadic population group of about 6000 people from the East Bhutanese Merak and Sakten, close to the border with the Indian Arunachal Pradesh and about 80 km east of Trashigang at an altitude of about 3000 meters. Originally from the Tshona in southern Tibet, this nomadic people still has its own dialect, culture and dress, of which the 'shamo' stands out most, a black beret-like hat made of yak hair and a kind of tentacles that drain rainwater.

LAYAP: predominantly semi-nomadic mountain people, at an altitude of almost 4000 meters, from the village of Laya in the Ghasa district in northwestern Bhutan. In 2003 the population consisted of just over 1000 people. Ethnically related to the Tibetans, the Layap speak Layakha, a Tibetan-Burmese language. The costume of the Layap resembles, except for a few small parts, Tibetan clothing. Most special is the conical bamboo hat of the Layap women, which points towards the sky with a sharp point. The Layap are mainly yak herders, but they also grow wheat, barley, mustard and turnips.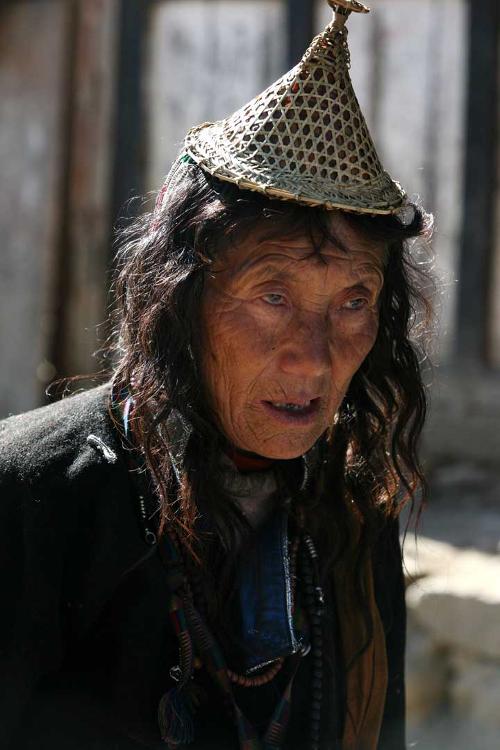 Layap woman with typical headdress BhutanPhoto: Steve Evans CC 2.0 Generic no changes made
LHOPS or Doya: small people, maximum length 1.50 meters, from the southern hill area of Duars and living in the Amochhu valley of the Samtse and near Phuntsholing. Grow oranges and cardamom, among other things. Simple white clothing, generally animists worshiping spirits that live in rocks, waterfalls, lakes, caves and mountains. Unique burial ritual: the dead body is embalmed, placed in a fetal position and 'buried' above the ground in a round wooden box. Then the box is buried under a pile of stones, a bull is sacrificed if it is a man, a cow if it is a woman.

LHOTSHAMPAS: people in the south of Bhutan, mainly ethnic Nepalese. They are generally Hindus, although the Tamang and Gurung minorities are mainly Buddhists, and the Rai and Limbu minorities are primarily Animists.

MONPAS: animistic (worshiping sun, moon and numerous spirits) population group of about 3000 people on the mountain slopes of the 'Black Mountains' above the Mangde Chhu River in the villages of Jangbi, Wangling and Phumzur. The Monpas are arguably the oldest ethnic group in Bhutan.

NGALOPS or Ngalongs: Tibetan immigrants who have settled in Central and Western Bhutan and adhere to the Drukpa Kargyupa variety of Tibetan Buddhism. They grow mountain rice, potatoes and barley, among other things.

SARCHOPS or Tshangla: Tshangla-kha speaking people from Eastern Bhutan. Make beautiful woven clothes from raw silk and cotton. Using almost everything from the maize plant and what is left of it is converted into 'ara', a local alcoholic beverage that is consumed all over Bhutan. Besides animists, there is also a group that adheres to Tibetan Nyingmapa Buddhism with animistic and shamanistic elements.
Gross National Happiness
The pursuit of Gross National Happiness was introduced in 1972 by the fourth King of Bhutan, Jigme Singye Wangchuck. Despite the progress that is spreading faster and faster in Bhutan as well, people in Bhutan are very aware of the dangers that modern times entail. The government has thereby established itself as the protector of the Bhutanese people; From now on, progress was measured on the basis of four pillars: conservation of nature, good governance, sustainable development in both social and economic spheres and the preservation and promotion of cultural values.
Bhutan was not only the first country where smoking was prohibited in public, but the sale of tobacco was also banned. Things like Western billboards and plastic bags were also banned. Much more important, however, are matters such as education, health care, the environment, cultural heritage and Buddhism as the basis of legislation. Every development and every project is examined for the impact it has on the local population, religion and the environment. Bhutan's commitment to tourism development is a good example; tourism is fine but should not have a major impact on the lives and well-being of the Bhutans. Bhutan is one of the few places in the world where compassion is considered more important than capitalism and the well-being of the population is more important than boosting productivity. This unique view of society is the basis of the concept of 'Gross National Happiness'.
In 2016, the United Nations published its 'World Happiness Report', and Bhutan was ranked 84th among happiest countries in the world.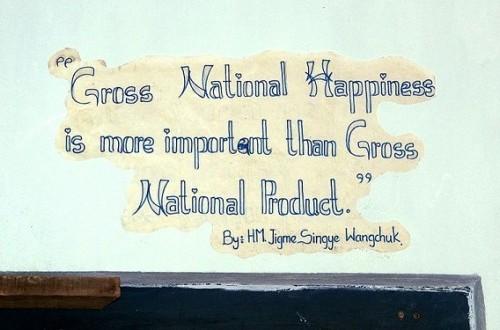 Motto about Gross National Happiness BhutanPhoto: Public domain
National sport of Bhutan: archery
Archery is Bhutan's national sport and is played practically all year round. Archery is also an integral part of many celebrations that involve plenty of food and drink.
Bows and arrows are made from the special type of bamboo. The two painted wooden goals measuring 30x120 cm are at a distance of 120 meters. Alternately, one of the targets is fired by teams of eleven archers. Each archer shoots two arrows, and the first team to score 33 points wins the match.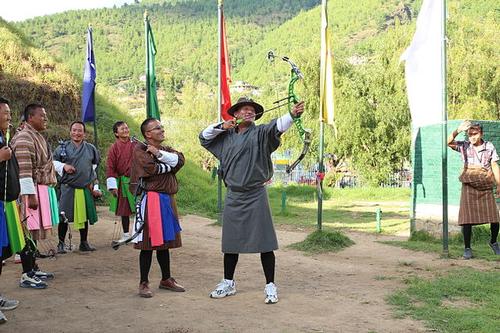 Bhutanese archersPhoto: Dvizero CC 3.0 Unported no changes made
Women should not touch the arches. Western archery styles were introduced in the 1980s and competitions are entered by both men and women. Since that time Bhutanese archers have also taken part in international competitions and from 1984 (Los Angeles) Bhutan has sent archers to the Olympic Games. However, no medals have been won yet.
Yeti or Terrible Snowman
Like other countries in South-East Asia, Bhutan also has a mythical Yeti or terrible snowman, here it is called ape-like phenomenon, which also has a female variant, Migoi or Gredpo. The Migoi lives at an altitude of over 3500 meters, is about 2.5 meters tall with feet up to 30 cm long. The Migoi has a human, hairless face, a conically shaped head and a body that is completely hairy with brown / red / black hair. The Bhutanese Yeti has two main characteristics, he can make himself invisible and his feet are backwards, which makes it more difficult to follow him. The Migoi 'lives' in the north of Bhutan, especially in the Sakteng Wildlife Sanctuary. The Bhutanese government has even appointed Migoi watchers.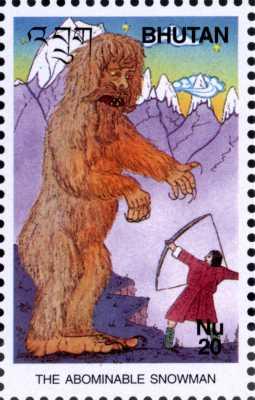 Yeti or Migoi, the terrible snowman also lives in BhutanPhoto: Public domain
Sources
BBC - Country Profiles

Brown, Lindsay / Bhutan
Lonely Planet

CIA - World Factbook

Dorje, Gyurme / Bhutan Handbook
Footprint

Elmar Landeninformatie

Jordans, Bart / Bhutan : a trekker's guide
Cicerone

Pommaret, Françoise / Bhutan : Himalayan mountain kingdom
Odyssey

Te gast in Bhutan
Informatie Verre Reizen
Last updated February 2023
Copyright: Team
The World of Info