REUNION
Geography and Landscape

Basic information
Official language
French
Capital
Saint-Denis
Area
2.510 km²
Population
906,463 (2021)
Currency
euro (EUR)
Web
.re
Code.
REU
Tel.
+262

Geography and Landscape
Geography
Réunion is an overseas department of France and includes the island of the same name and several smaller islands in the western Indian Ocean. Reunion is part of the Maskarene Archipelago, along with Mauritius and Rodrigues. Réunion lies slightly north of the Tropic of Capricorn and is about 800 km east of Madagascar and 220 km southwest of Mauritius. It has an area of 2510 km2 and a circumference of 207 km, making it slightly larger than Mauritius. The capital of Reunion is Saint-Denis.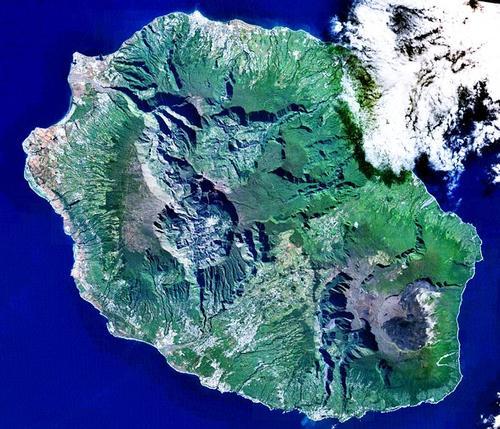 Reunion Satellite PhotoPhoto: Public Domain
Landscape
There are two mountainous regions on Réunion. The oldest mountain range covers almost the entire western part of the island. The highest peak in Réunion and also in the entire western region of the Indian Ocean is the Piton des Neiges (3069 metres). This mountain is surrounded by three immense cirques: Cilaos, Mafate and Salazie. These long broad valleys have steep ravines with winding peaks and valleys, the eroded remains of the volcanic shield that once surrounded the Piton des Neiges.
The smaller mountain range lies in the southeast with several dead volcanoes and one that still works regularly, the Piton de la Fournaise (2525 metres). The Piton de la Fournaise is even one of the world's most active volcanoes with three eruptions in 1998. Furthermore, lava continuously flows out of the volcano on the east coast.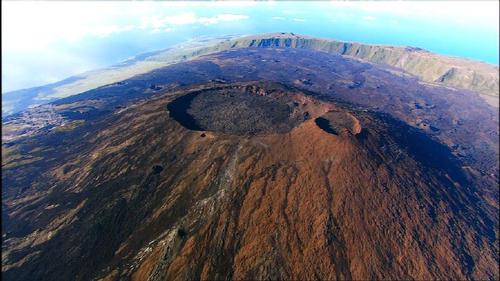 Piton des Neiges, the highest mountain in ReunionPhoto: Jennifer_greatoutdoors in the public domain
The two mountain zones are split by plateaus, while the coast is surrounded by a rolling coastal plain that varies greatly in width. Many small rivers flow from the Piton des Neiges through the cirques to the coastal plain.
---
Sources
Ellis, R. / Mauritius, Rodrigues & Réunion : the Mascarene Isles
Bradt
Mauritius, Réunion & Seychelles
Lonely Planet

CIA - World Factbook

BBC - Country Profiles
Last updated November 2023
Copyright: Team
The World of Info