RODRIGUES


Popular destinations MAURITIUS
Geography and Landscape
Geography
Rodrigues is the smallest island in the Maskarene archipelago and is located 550 km east of Mauritius, 900 km northeast of Reunion and 1540 km northeast of Madagascar. The island is of volcanic origin and is "only" 1.5 million years old. The island is surrounded by fourteen smaller islands, including Île Cocos, Île aux Sables, Île aux Chats, Île aux Crabes and Île Hermitage. Rodrigues has a total area of 108 km2 and is eighteen kilometres long from east to west and no more than eight kilometres wide from north to south. Mauritius is eighteen times larger than Rodrigues.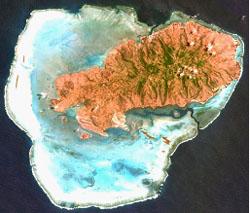 Rodrigues Satellite photoPhoto: Public Domain
Landscape
The landscape is quite hilly with steep slopes and narrow valleys. The two highest points are the Limon (393 metres) and Malarctic (326 metres) hills. The whole island is surrounded by ancient coral reefs and a huge lagoon of 200 km2 provides shelter to the best beaches, the most beautiful being "Trou d'Argent". The number of tourist beaches is very limited; most of them are rocky. Furthermore, Rodrigues has many coral caves of which the 795 metres long Caverne Patate is the most visited one. Narrow streams and rivers flow through the deep valleys.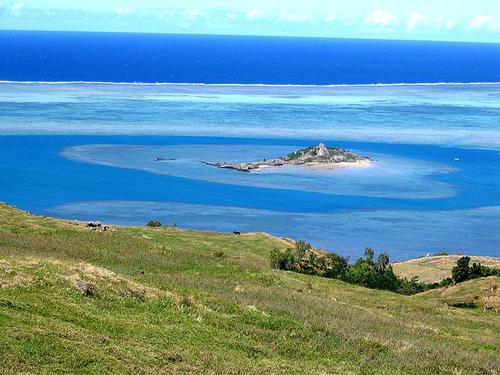 Coastal landscape of Rodrigues with the island of Ile de HermitagePhoto:Ashwin CM CC 2.0 Generic no changes made
Most of the sometimes rocky ground of the island is covered with grass and bushes. Most of the forested areas are small. The landscape in the southwest is arid, rugged and barren, in contrast to the region running from the north to the central part of the island. This green part of Rodrigues is lushly vegetated.
---
Sources
Ellis, R. / Mauritius, Rodrigues & Réunion : the Mascarene isles
Bradt
Mauritius, Réunion & Seychelles
Lonely Planet

CIA - World Factbook

BBC - Country Profiles
Last updated November 2023
Copyright: Team
The World of Info