MOROCCO
Population


Cities in MOROCCO
Population
Nearly 34 million people live in Morocco in 2017. Approx. 99% of the population consists of Arabs, Berbers or a mixed form. Half of the foreigners (approximately 60,000) are French. Spaniards and Algerians also live there. The Berbers mainly inhabit the areas of the High Atlas and the Middle Atlas and its foreland, the Sous basin, as well as the Rif. 2.8% of the population (in the south) is black. The number of Jews fell from 162,000 to 30,000 between 1969 and 1989. The population is unevenly spread across the country.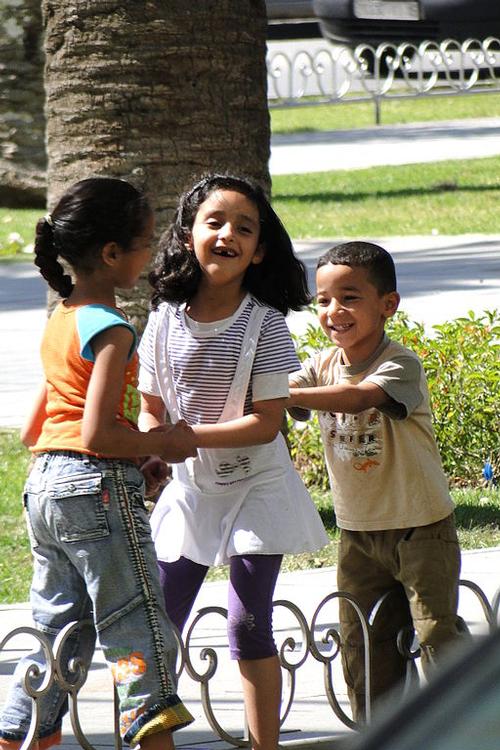 Morocco has a young populationPhoto: Adam Jones, Ph.D. CC 3.0 Unported no changes made
On 1/10 of the area, 2/3 of the population lives in the northwest and west of the country. The most populated are the fertile areas on the coast. The migration to the city increases the population in the cities by 5% annually. In 2017, more than 62% of the total population lived in cities (in 1960: 29%). Many Moroccans work as guest workers abroad, of whom 40% in France and approximately 400,000 in the Netherlands.
The annual population increase is estimated at about 1% (2017). The birth rate in 2017 was 17.7 per 1000 and the death rate was 4.89. The average life expectancy is 77.1 years. 26% of the population is under 15 years old, 67% is between 15 and 65 years old and 7% is over 65 years old (2017). The largest cities in 2017 are Rabat (1.8 million inhabitants, Casablanca (3.6 million), Marrakech (1 million), Fes (1.3 million), Tangier (800,000).
Sources
Encarta Encyclopedia

Lehmann, L. / Marokko
Van Reemst
Macguinness, J. / Morocco handbook
Passport Books
Wilkins, F. / Morocco
Chelsea House

CIA - World Factbook

BBC - Country Profiles
Last updated May 2022
Copyright: Team
The World of Info