MONACO



Cities in MONACO
Geography and Landscape
Geography
The Principality of Monaco (official name: La Principauté de Monaco) is located on the southern coast of France, near the Italian border (15 km) and 18 km east of the French resort of Nice.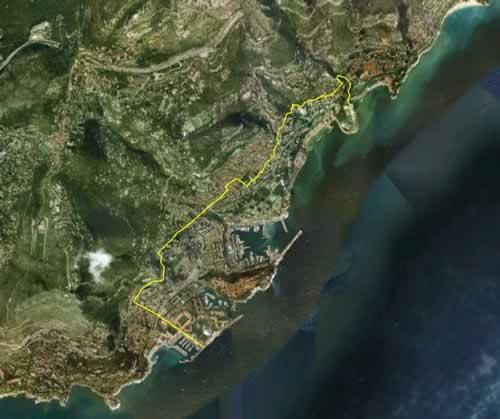 Monaco Satellite PhotoPhoto:Public domain
Monaco is almost entirely enclosed by the French municipalities of Cap d'Ail, La Turbie, Beausoleil and Roquebrune Cap-Martin in the Alpes-Maritimes department. Monaco is so fully built up that it merges imperceptibly with the French town of Beausoleil. The surface area of Monaco is 195 ha, of which 40 ha have been drained in the last 20 years. This makes Monaco the second smallest independent country in Europe after Vatican City. Monaco has a length of 3.2 km and a width of 135 to 910 metres. The coastline measures a total of 4100 metres.
Landscape
Monaco is actually a peninsula with a small natural harbour (20 ha large and 27 m deep).
Monaco lies at the foot and against the terraced slopes of the 573 m high rock 'Tête de Chien'. Monaco-Ville is the oldest district and lies on the 60 m high rock 'Le Rocher'.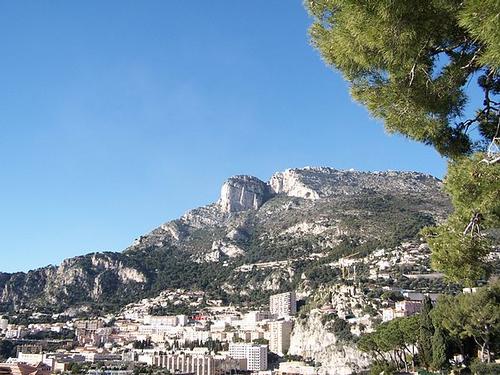 Tête de Chien, MonacoPhoto: DarioSpagnolo CC 1.0 Generic no changes made
Monaco also consists of a strip of land on the coast, where the rocky ground of Alpes-Maritimes changes into artificial sandy beaches. There are also some caves here (les Grottes de l'Observatoire), the only ones in Europe where it gets warmer the further you descend.
---
Sources
Côte d'Azur
Lannoo
Eck, N. van / Provence, Côte d'Azur
Gottmer/Becht
Gauldie, R. / Provence & Côte d'Azur
Van Reemst
Noe, B.A. / Provence en Côte d'Azur
Kosmos-Z&K
Provence, Côte d'Azur
ANWB
Simons, J. / Minilanden : een presentatie van de vijf kleinste landen ter wereld: Vaticaanstad, Monaco, Nauru, Tuvalu, San Marino
Conquistador
Zwijnenburg, H. / Provence, Côte d'Azur
ANWB

CIA - World Factbook

BBC - Country Profiles
Last updated November 2023
Copyright: Team
The World of Info