ICELAND



Cities in ICELAND
Geography and Landscape
Geography
Iceland is the second largest island in Europe. Iceland is located in the northern part of the Atlantic Ocean just south of the Arctic Circle. 300km west of Iceland is Greenland and 1000km east of Iceland is Norway.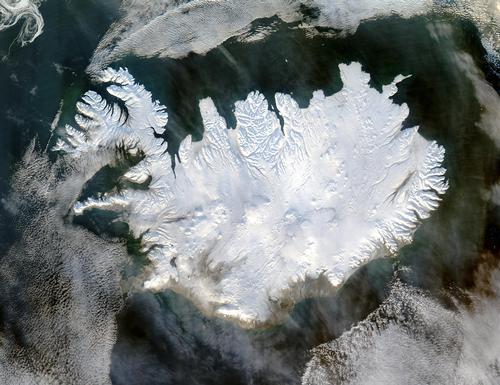 Iceland Satellite photoPhoto: Public domeain
Geologically Iceland is not very old, the oldest rocks are less than twenty million years old (the oldest rocks on earth are 4600 million years old !!). Volcanic eruptions, lava flows and earthquakes still give Iceland a different look. Three quarters of the country consists of sandy and gravel deserts, glaciers, rocks and lava fields. This means that only a quarter of Iceland is permanently undergrowth. Due to the heavy rainfall and the water from the many melting glaciers, there are many rivers in Iceland, none of which are navigable due to the fast current. There are glacier rivers and rainwater rivers. Iceland has many, often small lakes formed by subsidence, lava dikes, ice dams and water basins eroded by glaciers.
Landscape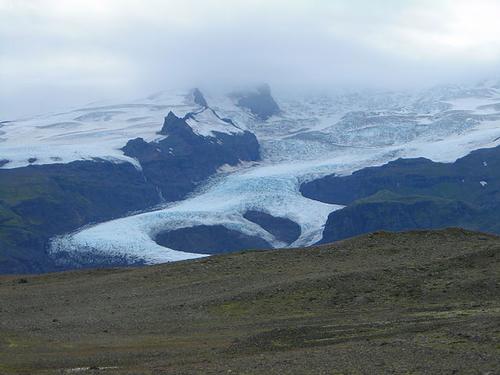 View of the Vatnajökull, the largest glacier in IcelandPhoto: Bultro CC 3.0 Unported no changes made
Waterfalls are also characteristic of the Icelandic landscape and come in all shapes and sizes. The highest (190 meters) waterfall in Europe is located in Iceland, the Glymur. Glaciers cover about 11% of Iceland. The largest glacier, Vatnajökull, is located in South Iceland and is larger than all glaciers of the Alps, Norway and other Icelandic glaciers combined (8,456 km2). However, due to the warmer climate, the glaciers are getting thinner and some small glaciers have already disappeared.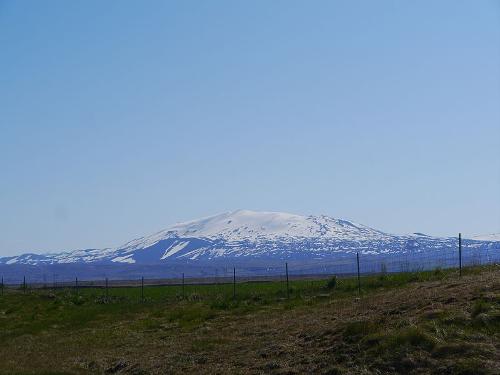 Hekla volcano, IcelandPhoto: Zairon CC 3.0 Unported no changes made
Volcanoes come in many types and they all occur in Iceland. Of all the volcanic material released worldwide in the last 500 years, about half is in Iceland. The most famous volcano in Iceland is Hekla, which has erupted at least 20 times since the year 1104. The last time dates back to 1991. The volcano is about 7,000 years old and 1,491 meters high. Volcanic eruptions also take place below sea level.
Geysers are created because underground water is converted into steam in one fell swoop. Because the volume of steam is many times greater than that of water, the water still present above the steam is pushed upwards with enormous force. This causes the water to spray upwards, sometimes as high as sixty to seventy meters.
Öræfa-Jökull, Iceland's highest pointPhoto: Kristinnstef CC 3.0 Unported no changes made
The whole island consists of an average 400-800 m high plateau, on which there are a number of shields, table-shaped elevations and volcanic cones. About 7% of the area consists of lowlands. The virtually uninhabited central part of the plateau consists for the most part of lava and glacial fields. The volcanic cone Öræfa-Jökull (2119 m high) in this massif is the highest point in Iceland.
---
Sources
Blijderveen, W. van / IJsland
Gottmer
Encarta Encyclopedie
Jansen, A. / Reishandboek IJsland
Elmar

CIA - World Factbook

BBC - Country Profiles
Last updated April 2023
Copyright: Team
The World of Info