HONGKONG
Economy


Economy
General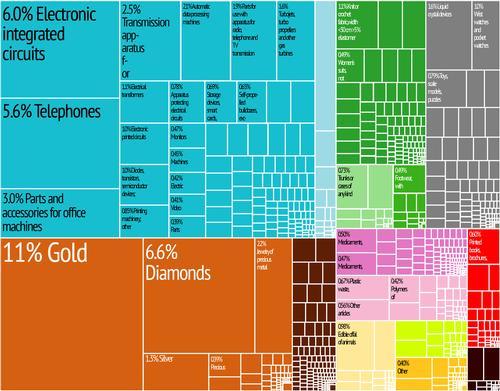 Hongkong ExportPhoto: R. Haussmann, Cesar Hidalgo, et.al. CC 3.0 no changes made
Hong Kong is the most important centre for industry, trade and finance in the Far East and one of the most important financial centres in the world. It is also an increasingly important centre for trade between China and the West. Hong Kong is a free port and one of the largest container transhipment ports in the world.
Agriculture, livestock and fisheries
One quarter of domestic needs are met by agriculture. Only three to four per cent of the total land area is suitable for growing crops through mainly intensive vegetable farms. Most of the crops grown are leafy vegetables and cut flowers.
Animal husbandry is becoming less and less important to the Hong Kong economy, partly because of the manure problem, which is also becoming more acute in Hong Kong. Furthermore, the trend is towards fewer but larger farms.
The fishing fleet of about 4,500 boats provides work for 34,000 fishermen. In 1998, 180,000 tonnes of sea fish were caught.
A notable export product is sewage sludge, which is exported to China and used as agricultural fertiliser.
Industry
Industrial production accounts for about 7.6% of Hong Kong's gross national product (b2017) and is the second largest employer. About 80% of manufactured goods are for export. The main industries are the garment and textile industry, the electronics industry and the production of watches and clocks.
The garment industry is the largest industrial employer (about half of all factory workers!) and generates the most foreign currency. Hong Kong is the third largest exporter of clothing in the world.
The electronics industry employs about 45,000 people and ranks second in terms of foreign exchange earnings.
More than $538 billion worth of goods were exported in 2017. The main export partners are China, the United States, Japan, Germany, Great Britain and Singapore.
In 2017, $562 billion worth of goods were imported. The main import partners are China, Japan, United States, Taiwan, South Korea and Singapore.
Foreign countries are investing heavily in Hong Kong industry. Aircraft repair is becoming increasingly important for Hong Kong. The aircraft of most airlines are repaired or maintained in Hong Kong.
Ship repair and shipbuilding is also expanding. Both activities provide a lot of work for Hong Kong people in the dry docks and shipyards. Ships are brought to Hong Kong from far and wide for repair and maintenance, as well as for the scrapping of shipwrecks. This branch of industry started just after the Second World War. In the port of Hong Kong, there were many wrecks that formed a danger to the shipping traffic. These wrecks were demolished and the scrap metal was reused for, among other things, the construction industry. This still happens today, only now the wrecks are bought from all over the world and brought to Hong Kong.
Service sector
The service sector has expanded enormously over the past two decades, accounting for about 92% of GDP in 2017. Finance companies, insurance companies, brokerage and business services grew almost 20% per year.
Tourism income was 8% of GDP. Hong Kong is visited by about 10 million tourists every year, half of whom come for shopping!
Traffic
Kai Tak Airport and Chep Lap Kok, are the main airports in Hong Kong.
The Kowloon-Canton Railway is 34 km long, but carries about 1,000,000 passengers daily. The underground system includes three lines with a total length of 43.2 km. There is also a Light Rail Transit System in the New Territories.
There are about 2000 kilometres of paved roads in Hong Kong. Two tunnels run under the harbour connecting Hong Kong Island with the Kowloon peninsula. There are 4,600 buses and 163 trams.
Hong Kong has one of the most beautiful natural harbours in the world with excellent facilities for handling all types and sizes of ships. There are also many opportunities to repair and maintain ships up to 150,000 tons. From Hong Kong, ships sail to all ports in the world. Kwai Chung Container Terminal is one of the busiest in the world, handling an enormous amount of containers annually and there are plans to expand to a capacity of more than 350 million containers.
---
Sources
Bernstein, K. / Hong Kong
Kosmos-Z&K
Groth, P. / Hongkong
Deltas
Lyle, G. / Hong Kong
Chelsea House Publishers
Storey, R. / Hong Kong, Macau & Guangzhou
Lonely Planet

CIA - World Factbook

BBC - Country Profiles
Last updated May 2023
Copyright: Team
The World of Info